==================
Affiliate Statement
Best Baking Tips is supported by our audience. When you purchase through one of our links, we may earn a small affiliate commission.  As an Amazon Associate I earn from qualifying purchases. Your cost is not affected.
==================
Are you in the mood for a sweet treat that won't derail your fitness goals? If so, Banana Oatmeal Fitness Cookies are just what you're looking for! Packed with healthy ingredients like oats and mashed bananas, these delicious cookies provide lots of good-for-you benefits. Crave something sweet after working out? Eating one (or two!) of these guilt-free treats will satisfy your cravings without sacrificing your nutrition plan. Read on to learn more about why this simple recipe is great for kiddos, athletes, and health fanatics alike! Plus, It's vegan!
Banana Oatmeal Fitness Cookies: Packed full of energy!

Not all healthy snacks have to be boring! Banana Oatmeal Fitness Cookies are a 5-ingredient recipe that makes it easy to satisfy your sweet tooth while still eating healthily. All you need is a ripe banana, rolled oats, raisins, walnuts, and cinnamon. In under 25 minutes, you'll have delicious oatmeal cookies packed with natural sweetness and protein.
The banana adds a hint of sweetness without needing any additional sugar or sweeteners, leaving a snack guilt-free yet satisfying. With all the nutrition of bananas and oats plus walnuts for crunch and raisins for sweetness, these cookies offer tasty nutrition in the perfect portion size.
Health Benefits
Banana
Eating a banana can be one of the healthiest and most enjoyable choices you make each day. Not only are they incredibly delicious, but bananas are full of essential vitamins, minerals, and antioxidants that keep your body functioning properly and reduce inflammation. Eating a banana for breakfast helps to regulate your blood sugar levels and provides the energy needed to kick-start the day ahead.
Oats
Rolled oats are a healthy, versatile addition to any daily diet. Whether you choose to enjoy them as oatmeal or use them in a batch of cookies, they can provide your body with numerous health benefits. Thanks to the high amount of dietary fiber they contain, they help slow down the digestion process and make you feel full between meals. Furthermore, they are packed with protein and minerals such as manganese, phosphorus, and copper.
Raisins
Raisins are a nutritious snack packed with amazing health benefits. Not only are they excellent sources of dietary fiber and antioxidants, but they can also be beneficial to overall heart health. Studies have shown that consuming raisins as part of an overall healthy diet can help reduce both systolic and diastolic blood pressure. Plus, the dietary fiber found in them has been linked to lower cholesterol levels and improved digestive regularity, making them a great choice for those seeking to lead a healthier lifestyle.
Walnuts
Bursting with healthy fats, antioxidants, and essential minerals, walnuts are a nutritional powerhouse of health benefits! This nut is incredibly versatile and can be enjoyed as a snack or added to salads and baked goods. Studies have shown that eating walnuts on a regular basis can help reduce cholesterol levels and lower the risk of heart disease, stroke, and type 2 diabetes. Additionally, walnuts are a great source of energy due to their high level of healthy fats. They also contain tryptophan which helps create serotonin in your brain and increase overall happiness.
Banana Oatmeal Fitness Cookies
If you want to try this Banana Oatmeal Fitness Cookies Recipe, share your photo and experience with us. In addition, let us know what you think in the comments below by using #bestbakingtip and #bananaoatmealfitnesscookies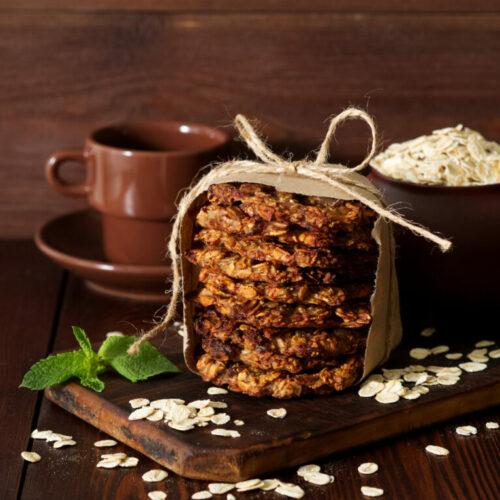 Oatmeal Banana Fitness Cookies
Calling all health nuts, vegans, snack enthusiasts, and oatmeal aficionados: the ultimate healthy cookie has arrived! Greeting you with the tantalizing aroma of ripe banana and warm oats, these Banana Oatmeal Fitness Cookies are a delectable treat that will satisfy your taste buds while providing energy to fuel your active lifestyle. With their unique blend of natural ingredients and powerful nutrients, you'll find yourself coming back for more time after time!
Ingredients
Let's gather the ingredients!
2

bananas

ripe

1

cup

rolled oats

¼

cup

raisins

¼

cup

walnuts

chopped

½

tsp

cinnamon

ground
Instructions
Let's Begin!
Preheat oven to 350°F, then line a baking sheet with parchment paper. Set aside.

In a medium bowl, mash the bananas using a fork, then add the rolled oats, raisins, walnuts, and cinnamon. Mix all the ingredients until well combined.

Scoop and portion the cookie dough, about 2 tbsp each, then flatten them on the prepared baking sheet.

Bake the cookies for 15-20 minutes until slightly browned on the edges.

Cool completely before serving.

Enjoy with family and friends!
Nutrition
Calories:
68
kcal
Carbohydrates:
12
g
Protein:
2
g
Fat:
2
g
Saturated Fat:
0.3
g
Polyunsaturated Fat:
1
g
Monounsaturated Fat:
0.4
g
Sodium:
2
mg
Potassium:
131
mg
Fiber:
2
g
Sugar:
3
g
Vitamin A:
13
IU
Vitamin C:
2
mg
Calcium:
9
mg
Iron:
0.5
mg
Must-Read Articles
Below are the must-read articles about baking. You will enjoy them reading as they are full of information and helpful tips. Read them and share your thoughts.
2. Steamed Rice Cake Muffins with Cheese
3. Chocolate Dulce de Leche Cheesecake
4. Filipino Bread Rolls (Pandesal)
5. Chocolate Champagne Cupcakes
To Wrap It All Up
If you're looking for a satisfying, delicious cookie that's packed with nutrients and perfect for a pre-workout snack or breakfast on the go, look no further than these banana oatmeal fitness cookies. And because they're made with simple, healthy ingredients that you probably already have in your pantry, there's really no excuse not to try them! We hope you enjoy this recipe as much as we do – please leave us a rating and comment below letting us know how it turned out for you. Happy baking!
Connect With Us
If you've tried this Banana Oatmeal Fitness Cookies Recipe, please don't forget to leave a rating on the recipe card. In addition, Take a ? and tag us on our social media accounts: Facebook, Twitter, Instagram, and Pinterest. For more baking recipes make sure you subscribed to our weekly newsletter. ?
Read More
Hungarian Walnut Roll (Beigli)
All About Whole Grain Breakfast Cookies