==================
Affiliate Statement and a Caveat 
First off, a little caveat: within my articles you will find affiliate links, meaning if you buy them, I get a small commission. Your cost is not affected. In addition, I am an Amazon Associate and I earn from qualifying purchases on Amazon.
And yes, if I say that I recommend a product here, it means I truly believe it is a good product. I refuse to recommend any product that I have not researched and believe to be a good value.
Even better, I provide you with a very clear picture of the product, it's use, and the probable value.
Earning your trust is important to me. I run this website myself and the commissions and donations help support the site.
Sound reasonable and fair enough? Let's continue to the article.
==================
Bread Rolls with Sweetened Coconut Filling (Pan de coco) is a Filipino sweet bun filled with sweetened coconut filling. The dough is filled with a sweet and sticky shredded coconut and baked until golden brown. The resulting bread is soft, fluffy, and subtly sweet. In addition to being a popular dessert, pan de coco is also often eaten as a snack or breakfast food. It pairs well with coffee or tea, and its portability makes it a convenient grab-and-go option for busy mornings. Whether you enjoy it as an occasional treat or a daily ritual, pan de coco is a delicious way to start your day.
Bread Rolls with Sweetened Coconut Filling (Pan de Coco): Sweet and Sticky Filipino Treat!

Filipino bread rolls, or pan de coco, are a type of sweet bun filled with shredded coconut and topped with sugar. The bun is soft and fluffy, with a subtly sweet flavor that comes from the coconut filling. Moreover, Pan de coco is a popular snack in the Philippines, where it is often sold by street vendors. It can also be found in Filipino bakeries around the world. The filling for pan de coco is typically made from shredded coconut that has been mixed with sugar and coconut milk. This mixture is cooked until it thickens, then spooned into the center of the dough before the buns are baked. And once they come out of the oven, the buns are rolled in more sugar. This gives them a sticky, sweet coating that is irresistible to many Filipino sweet tooths.
Also, If you're looking for something new to try, pan de coco is definitely worth a taste. You may just find yourself addicted to these Filipino favorites.
Best Baking Tips; Ingredient Tips!
Filipino bread rolls, or pan de coco, are a delicious treat that can be enjoyed any time of day. While there are many ways to make pan de coco, there are a few key ingredients that you will need to create the perfect dough and filling.
Dough
The dough for pan de coco is typically made with all-purpose flour, yeast, milk, sugar, and butter. additionally, for lighter and fluffier sweet buns, the dough should be rolled out as thinly as possible. Furthermore, for a smooth and even surface, the dough should be well-kneaded before being rolled out. Lastly, the dough should be covered and left to rest for at least 30 minutes before being used. This will allow the gluten to relax and make it easier to work with.
Coconut Filling
The filling for pan de coco is usually made with coconut milk, sugar, and shredded coconut. Also, it is important to use fresh, shredded coconut. This will give the filling a refreshing flavor and ensure that it is nicely moist. If you find that the filling is too dry, you can definitely add a little bit of coconut milk or condensed milk to moisten it up. Once the filling is made, it should be spooned into the center of each dough round. The dough should then be folded over and sealed before baking.
Bread Rolls with Sweetened Coconut Filling (Pan de Coco)
If you want to try these Filipino Bread Rolls with Sweetened Coconut Filling or Pan de Coco, share your photo and experience with us, and let us know what you think in the comments below by using #bestbakingtips and #pandecoco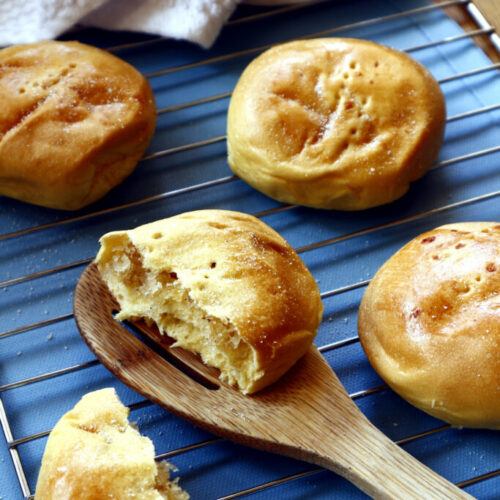 Bread Rolls with Sweetened Coconut Filling (Pan de Coco)
If you're looking for a delicious and unique bread recipe, look no further than Filipino pan de coco! This sweet roll is made with a coconut filling that will tantalize your taste buds. Also, it's easy to make, so don't be afraid to give it a try!
Ingredients
Let's gather the ingredients!
Dough
4

cups

all-purpose flour

¾

cup

granulated sugar

1 ½

tsp

instant dry yeast

1 ¼

cups

whole milk

lukewarm

½

cup

unsalted butter

melted

½

tsp

kosher salt
Coconut Filling
2

cups

desiccated coconut

or freshly grated

¾

cup

brown sugar

packed

1

cup

coconut milk

1

cup

water

3

Tbsp

unsalted butter

½

Tbsp

vanilla extract

1

Tbsp

all-purpose flour

dissolved in 1/4 cup milk
Egg Wash
1

egg

fresh, beaten

1

Tbsp

water
Instructions
Coconut Filling
First, In a pan, combine desiccated coconut, brown sugar, coconut milk, water, butter, and vanilla extract. Over low heat, bring to a simmer. Cook until liquid is mostly absorbed.

Next, Add flour dissolved in 1/4 cup of milk. Continue to cook, stirring regularly, until thick and sticky.

Remove filling from heat and allow to slightly cool.
Dough
In a large bowl, sift together the flour and sugar. Next, add the instant dry yeast, and mix.

Slowly add the lukewarm milk, butter, and salt. Then mix until it sticks together and forms a dough.

Transfer the dough to a flat surface lightly dusted with flour and knead for 5 minutes. As you continue kneading, the dough should be less and less tacky and easier to handle.

Place the dough in a greased bowl and cover it with plastic wrap or a clean kitchen towel. Then leave it to rise for 30 minutes to an hour. until it has doubled its size.
Let's Assemble!
Gently deflate the dough and transfer it to a flat surface. Roll it into a log and cut it in half. Roll each half again and cut it into two. Divide each log into 6 equal parts for a total of 24 pieces.

Flatten each dough into circular shapes, then add about 1 tablespoon of coconut filling in the center, and then pinch the corners together to fully enclose the filling.

Arrange the filled dough, pinched side down, on a baking sheet lined with parchment paper at about 1 inch apart.

Using a fork, poke small holes in the center of each filled dough. Then, cover them with a clean kitchen towel and let them rest for another 20-30 minutes.
Let's bake and serve!
Bake in a preheated 350°F oven for 10 minutes. Remove from the oven and then brush with egg wash. Return to oven and bake for another 5 minutes or until golden brown.

Serve warm, and enjoy with family and friends!
Nutrition
Calories:
250
kcal
Carbohydrates:
32
g
Protein:
4
g
Fat:
13
g
Saturated Fat:
9
g
Polyunsaturated Fat:
0.4
g
Monounsaturated Fat:
2
g
Trans Fat:
0.2
g
Cholesterol:
22
mg
Sodium:
63
mg
Potassium:
115
mg
Fiber:
2
g
Sugar:
14
g
Vitamin A:
192
IU
Vitamin C:
0.2
mg
Calcium:
31
mg
Iron:
2
mg
Must-Read Articles
Below are the must-read articles about baking. You will enjoy them reading as they are full of information and helpful tips. Read them and share your thoughts.
3. Things to Make Your Baked Goods Better
4. Decadent Tiramisu Crepe Cake
To Wrap It All Up
If you're looking for a delicious and unique new bread to add to your rotation, we highly recommend giving this Filipino version a try. Pan de Coco is perfect for satisfying any sweet tooth, and it's surprisingly easy to make at home. Also, it's always fun to experiment with new flavors and cuisines – so what are you waiting for? Give this recipe a try today!
Connect With Us
If you've tried these Filipino Bread Rolls with Sweetened Coconut Filling (Pan de Coco), please don't forget to leave a rating on the recipe card. Take a ? and tag us on our social media accounts: Facebook, Twitter, Instagram, and Pinterest. ?? For more baking recipes make sure you subscribed to our weekly newsletter. ? besides, moreover, whereas, also, too
Read More
Portuguese Egg Tarts (Pastel de Nata)
Frosted Mini Cinnamon Roll Bites Recipe
Vegan Strawberry and Cherry Galette