==================
Affiliate Statement and a Caveat 
First off, a little caveat: within my articles you will find affiliate links, meaning if you buy them, I get a small commission. Your cost is not affected. In addition, I am an Amazon Associate and I earn from qualifying purchases on Amazon.
And yes, if I say that I recommend a product here, it means I truly believe it is a good product. I refuse to recommend any product that I have not researched and believe to be a good value.
Even better, I provide you with a very clear picture of the product, it's use, and the probable value.
Earning your trust is important to me. I run this website myself and the commissions and donations help support the site.
Sound reasonable and fair enough? Let's continue to the article.
==================
Challah is a traditional Jewish bread that is often made for special occasions. It takes effort to make, but the results are definitely worth it! This blog post will walk you through the basics of making Challah, from mixing the dough to braiding it before baking. By the end, you'll be an expert at making this delicious bread!
Challah
Challah is a twisted, sweet, almost brioche-like bread that immigrants from Central and Eastern Europe introduced to the United States. The round challahs, which are often mixed with raisins, are frequently served to celebrate the New Year and the fall harvest. While on the hand, the straight braided challah loaves are consumed all year round.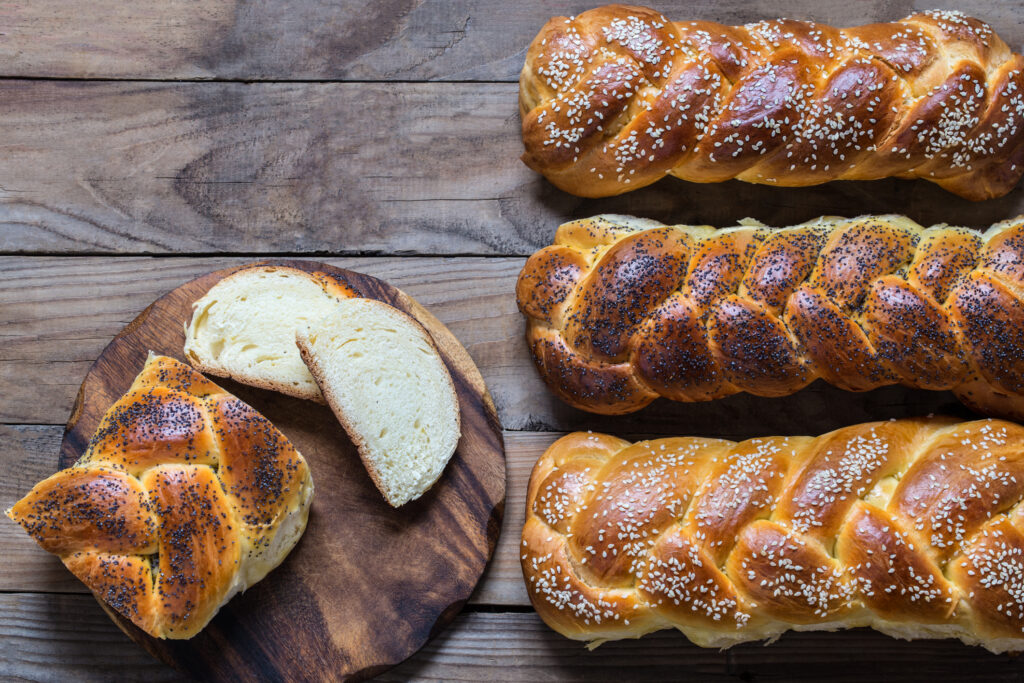 Throughout the years, there are already tons of challah varieties globally. They all vary in different shapes and sizes, techniques, and toppings. But one thing that still remains is the trick to a glossy loaf still involves brushing it twice with egg wash: once right after braiding and once more right before baking.
Let's Make It Vegan 
It was said that Challah is naturally vegan because the original recipe does not contain dairy. However, the brioche type with egg is a more widely known variety, especially in the US. There are tons of options on the internet for a vegan version with different ratios and methods. Since this vegan eggless Challah is a water challah, no egg substitute is required, but it still produces an exquisitely soft, fluffy, flavorful, and slightly sweet dough just like the regular one. 
Storage
Challah is a versatile yeast bread that can be baked, cooled, wrapped tightly, and frozen for up to three months. However, before serving it, allow thawing Challah at room temperature for at least 3 hours. If you love it with a bit of toast, you can toast Challah before serving, or why not make it into a sandwich? 
Challah
Everyone like challah because of its delicious, slightly sweet flavor, golden crust, and pillowy interior; it is not just for Jewish holidays but also perfect for everyday snacking!
Ingredients
4¼

cups

all-purpose flour

add more for dusting

1

tbsp

instant/rapid-rise yeast

¾

cup

lukewarm water

2

tsp

salt

¼

cup

+ 2 tbsp honey

¼

cup

+ 2 tbsp oil

1

egg yolk at room temperature

3

eggs at room temperature
Instructions
Combine the flour, yeast, and salt in a mixer with a dough hook attachment

For 30 seconds, blend at low speed. Meanwhile, combine lukewarm water, oil, honey, two eggs, and the egg yolk in a different bowl.

Add to the dry ingredients and mix on low to medium speed for 5 to 7 minutes or until you have a sticky dough that sticks to the bottom of the bowl. Although the dough can seem too wet, that should be normal.

Scrape the sticky, elastic dough onto a lightly dusted work surface. Make sure you dust your hands too liberally. The dough should be lightly dusted with flour and quickly kneaded into a smooth, soft ball.

Grease a large bowl with a nonstick cooking spray or lightly with oil. Put the dough into the bowl, adding more oil on top, then cover it with plastic film.

Let the dough rest and rise in a dry, warm place until it has doubled its size. This will take about 2 to 3 hours.
Scaling and Shaping:
Once done, place the dough onto a floured work surface and dust it with more flour. Allow the dough to release gas as it deflates slowly.

Divide the dough into four equal pieces measuring 9 ounces each, and then make four parallel strands (vertically).

At the top, tightly pinch them together before spreading them out. Stretch the ropes back to their original length if they shrink slightly.

Start by weaving the strand that is furthest to the right through the other strands in the following pattern: over, under, over. Repeat weaving the dough using the same pattern again: over, under, over, using the strand that is furthest to the right.

Until the entire loaf is braided, repeat this pattern, always beginning with the furthest to the right strand. Give the loaf a polished appearance by tucking the ends under.

Transfer the braided loaf gently to a 13 x 18-inch prepared baking sheet. The loaf should be loosely covered with plastic wrap and let to rise for one to two hours in a warm, draft-free area until it has roughly doubled in size.
Baking:
Set an oven rack in the center of the oven and warm it to 350°F toward the end of the rising period. (Take note that the bread will continue to rise dramatically while baking.)

The remaining egg should be whisked in a separate bowl before being generously brushed on top of the dough that has risen. Note: To prevent the bottom crust from over-browning, place the baking sheet on top of another baking sheet. Sprinkle poppy or sesame seeds on the challah before placing it in the oven.

Bake for 25 to 35 minutes, or until the crust is a solid brown color, with a temperature between 190°F and 200°F. After taking the bread out of the oven, set it on a wire rack to cool.

Although leftover challah is best appreciated when fresh, it can be stored in a tight plastic bag for a few days.
Notes
You can use active dry yeast instead of the instant version. However, it will take the dough longer to rise,
The rising time may vary depending on your kitchen's temperature, outdoor humidity, and the kneading process.
You may also prepare the dough ahead of time until the braiding process and proofing it. Place it in the refrigerator overnight and cover it with greased plastic wrap. The following day, take the braided dough out of the fridge and place it on the counter (keep it covered). Before baking as instructed, allow it to rise for about an hour at room temperature.
Nutrition
Calories:
121
kcal
Carbohydrates:
25
g
Protein:
3
g
Fat:
0.3
g
Saturated Fat:
0.1
g
Polyunsaturated Fat:
0.1
g
Monounsaturated Fat:
0.03
g
Sodium:
291
mg
Potassium:
36
mg
Fiber:
1
g
Sugar:
0.1
g
Calcium:
5
mg
Iron:
2
mg
More Easy Dessert Recipe
Love healthy baking recipes? You could try these simple recipes at home to impress your loved ones. Perfect for after-meal treats, coffee, and tea parties with friends and family!
Italian Christmas Cookies (Ricotta Cookies)
To Wrap It All Up
Challah is a traditional Jewish bread that is often made for special occasions. It's a bit of a process to make, but the results are definitely worth it! This blog post will walk you through the basics of making challah, from mixing the dough to braiding it before baking. By the end, you'll be an expert at making this delicious bread!
Connect With Us
If you've tried this Challah recipe, remember to leave a rating on the recipe card. Tag us on our social media accounts, subscribe to our weekly newsletter, and follow the Best Baking Tips and Vegan Globetrotter sites for more delicious ideas!
Read More
How to Bake with Whole Grain Flours, Top Tips