==================
Affiliate Statement and a Caveat 
First off, a little caveat: within my articles you will find affiliate links, meaning if you buy them, I get a small commission. Your cost is not affected. In addition, I am an Amazon Associate and I earn from qualifying purchases on Amazon.
And yes, if I say that I recommend a product here, it means I truly believe it is a good product. I refuse to recommend any product that I have not researched and believe to be a good value.
Even better, I provide you with a very clear picture of the product, it's use, and the probable value.
Earning your trust is important to me. I run this website myself and the commissions and donations help support the site.
Sound reasonable and fair enough? Let's continue to the article.
==================
Chicago Style Pizza Recipe – Best Deep-Dish Pizza
Our Chicago Style Pizza recipe may produce the very best deep-dish pizza. Imagine a deep crust filled with layers of cheese and vegetables, topped with a thick, flavor-infused tomato sauce. Bake until bubbly. The aromas draw everyone near to have a taste of this incredible cuisine.
Created in Chicago, most likely at a UNO restaurant, the Chicago-Style Pizza recipe quickly became an American favorite. Serve it alongside a green salad for nutritional balance. Don't forget the knife and fork. This is not your fold and eat-in-hand New York-style pizza. In fact, with the tall 1 1/2 " crust holding the saucy filling, you may need extra napkins.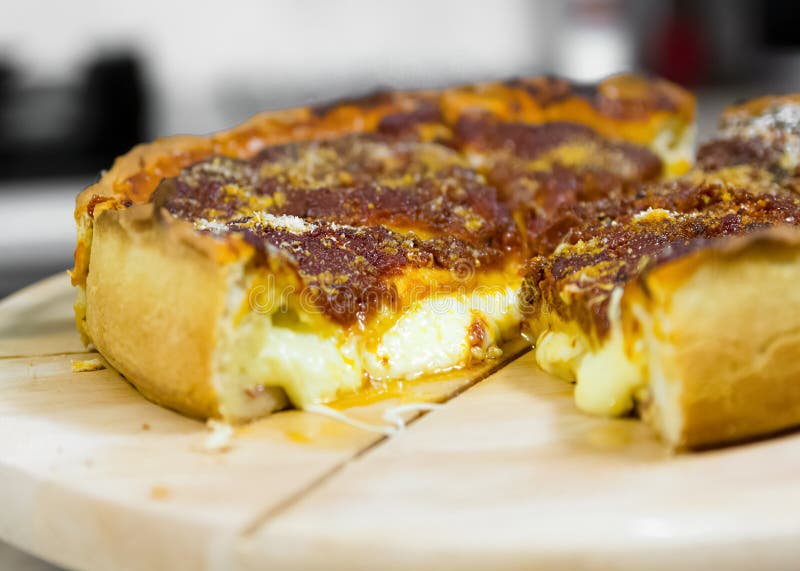 Where is the cheese?
Of course, most of us look for the cheese on top of the pizza. Some even add cheese over the toppings to give an extra finish. That cheese, melted over the sauce-topped crust means pizza.
But not with Chicago-style. No, we consider the Chicago-style as an upside-down built pizza. For the crust, add the cheese first, then the toppings, followed by that thick, delicious tomato sauce.
If you top your pizza with a hefty dose of cheese, it would result in dark, burnt mozzarella. But, by tucking the cheese beneath that herb-flavored sauce, you prevent that possibility.
And so, this best deep-dish pizza needs extra time to bake to perfection. In fact, you need to plan at least 35 minutes of total baking time. But don't worry. The flavor and texture make the wait worth the extra time.
And why the flaky crust?
True, the deep-dish Chicago-style pizza seems strange for pizza. In fact, the unusual flaky/tender texture resembles a dessert pie crust. The three types of fat: vegetable oil, olive oil, and butter, combine to create an interesting texture and great taste. . Also, the tiny bit of cornmeal adds a subtle but delightful crunch.
The Filling
Traditionally, Chicago Deep Dish is filled with sausage, pepperoni, or both, often with some peppers and onions tossed in. And you certainly can use your own blend of those ingredients. However, we suggest you try this with a mix of your favorite vegetables. Some options that we find delicious are:
Mushrooms, sliced thick
Onions, chopped or sliced
Bell peppers, chopped into large chunks
Eggplant, chopped. Our family really loves this breaded and pre-cooked for a bit more texture.
Vegetarian sausage crumbles or sliced
Chopped broccoli
Spinach or kale, chopped
Your favorites!
We recommend sauteeing them before adding them to your pie. In fact, we usually sauteed in a bit of olive oil, infused with Italian seasoning, especially the oregano, basil, thyme, and garlic.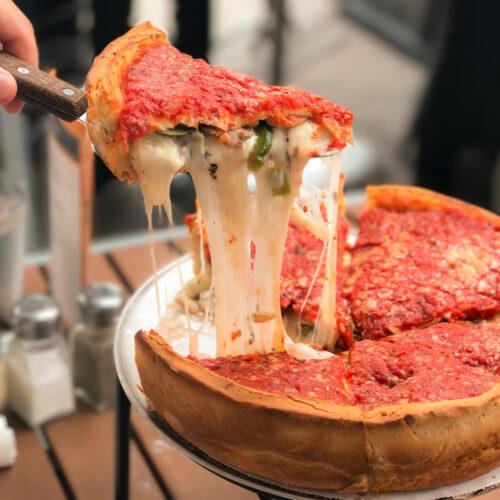 Chicago Style Pizza
Chicago style pizza, a deep dish, hunger-satisfying creation that brings together your favorite flavors.
Ingredients
Crust
4

cups

flour

1/4

cup

yellow corn meal

2

tsp

salt

1

tbsp

yeast

2

tbsp

olive oil

4

tbsp

butter

melted

2

tbsp

vegetable oil

1 1/8

cup

water

110°F-115°F

1

tbsp

honey

or use sugar
Topping
1

pound

mozzarella cheese

shredded or sliced

3

cups

mixed vegetables

your choice of vegetables, lightly sautéed

28

oz

tomatoes

canned diced or chopped

4

cloves

garlic

minced

1

tbsp

Italian Seasoning blend

1

cup

Parmesan, cheese, shredded

2

tbsp

olive oil
Instructions
In your mixer bowl, stir honey into water, making sure temperature remains at or above 110°f.

Sprinkle yeast over water and gently stir to mix. Allow to develop a foam, about 5 minutes.

Add remaining ingredients. Mix on low speed. Then knead on medium-low speed until it forms a smooth ball and pulls away from the sides of the mixing bowl. This will take about 5-7 minutes.

Place dough in a lightly oiled bowl. Let rise about 1 hour, until about double in size.

Prepare a 14" deep-dish pizza pan. Grease generously with butter or olive oil, making sure the bottom and up the sides are well-coated.

On a lightly oiled baking mat, stretch the dough into a large circle.

Put the dough in the pan and stretch it toward the edges until it shrinks back. Cover and let it rest for about 15 minutes. Preheat oven to 425°f

After the 15 minutes, stretch the dough to cover the entire bottom of the pan. Gently push it up the sides of the pan. Rest it again for 10-15 minutes.

Bake the crust for 10 minutes, until it is set and barely starting to brown.

While the crust bakes, prepare the filling.
Filling Directions
Drain the tomatoes completely. Reserve the liquid for soups or seasoning, if you choose.

Combine with the seasoning and garlic. Add salt to taste.

Cover the bottom of the pre-cooked crust with the mozzarella. Add the sautéed vegetables.

Spread the tomato mixture over the vegetables. Sprinkle with the grated Parmesan and drizzle with the olive oil.

Bake for about 25 minutes, until the filling is bubbly and the topping is a golden brown.

Remove from the oven. Carefully lift the pizza out of the pan and set on a rack to cool. A large spatula proves helpful with this step.

Cool for about 15 minutes, or slightly longer if you want it to stay firmer.
Nutrition
Calories:
426
kcal
Carbohydrates:
46
g
Protein:
19
g
Fat:
19
g
Saturated Fat:
9
g
Cholesterol:
38
mg
Sodium:
785
mg
Potassium:
362
mg
Fiber:
4
g
Sugar:
4
g
Vitamin A:
3197
IU
Vitamin C:
14
mg
Calcium:
315
mg
Iron:
3
mg
Options and Tips
Many restaurants fill their deep-dish pizza with sausage or other meats. We use vegetables to give you a bit more nutrition, while still providing great flavor and texture. Vegetarians might opt for a vegetarian sausage option.
If you don't have a 14″ pizza pan, use two 9″ round cake pans. Your baking times will be less, but the result will still be delicious!
For individual deep-dish pizzas: Grease the wells of an individual hamburger bun pan. Divide the risen dough into 12 equal pieces, about 2 1/2 ounces each. Roll each piece into a tight ball.

Then cover six of them and transfer them to the refrigerator. Allow the remaining six balls of dough to rest, covered, at room temperature for 20 minutes.
Stretch an unrefrigerated dough ball to cover the bottom of a well, then push it up the sides of the pan. Repeat with the remaining balls of dough.
After a 15-minute rest, bake the individual crusts for 10 minutes until they're set and just beginning to turn brown.
Fill in the directions. Then bake the pizzas for another 20 to 25 minutes, until the filling is bubbly, and the topping is golden brown. Repeat with the remaining (refrigerated) dough.

Avoid cutting the pizza until it has set (at least 15 minutes). Cutting when it's too hot can cause the tomato sauce to soak into the crust, causing it to become mushy.
We've found this pizza freezes well. Choose one of two ways.

You may freeze the entire pie, without the sauce topping. When ready to use, thaw it completely, top with the sauce, and bake.
Alternatively, freeze the entire assembled pie, being careful to prevent the cover from touching the sauce. Again, thaw completely before baking.

For extra pizzazz, grate Parmesan cheese over the top, after baking.
Read More