==================
Affiliate Statement and a Caveat 
First off, a little caveat: within my articles you will find affiliate links, meaning if you buy them, I get a small commission. Your cost is not affected. In addition, I am an Amazon Associate and I earn from qualifying purchases on Amazon.
And yes, if I say that I recommend a product here, it means I truly believe it is a good product. I refuse to recommend any product that I have not researched and believe to be a good value.
Even better, I provide you with a very clear picture of the product, it's use, and the probable value.
Earning your trust is important to me. I run this website myself and the commissions and donations help support the site.
Sound reasonable and fair enough? Let's continue to the article.
==================
Nothing says indulgence quite like a decadent chocolate cheesecake. It's creamy, rich, sweet, and oh-so scrumptious! But why stop there? Today we are taking things to the next level with our Chocolate Dulce de Leche Cheesecake, A show-stopping dessert that is sure to be the highlight of any gathering or party. The combination of smooth cream cheese, semi-sweet chocolate, and sticky caramelized dulce de leche make this an irresistible treat everyone will love! So come along as we get ready to bake up one delicious masterpiece, complete with lots of tips and tricks for success. Let's get started!
Chocolate Dulce de Leche Cheesecake: two delicious dessert flavors in one delectable treat!

Chocolate Dulce de Leche Cheesecake brings together two delicious dessert flavors in one delectable treat. This cheesecake is a showstopper, combining sweet and creamy caramel dulce de leche with a chocolate graham cracker crust and topped with melted semi-sweet chocolate. It's finished off with smooth swirls of dulce de leche, making this cheesecake an unforgettable dessert experience.
This chocolatey delight pairs perfectly with a glass of wine or simply some fresh berries for an added burst of flavor. If you're looking for a decadent dessert, this Cheesecake recipe won't let you down, it will be sure to satisfy even the most discerning palette!
What inside this Chocolate Dulce de Leche Cheesecake that makes it so delectable?
Chocolate Dulce de Leche Cheesecake is an incredibly delectable dessert that starts with a Chocolate Graham Cracker Walnut crust. The creamy middle is then made of cream cheese combined with dulce de leche, two ingredients that pair perfectly to make a velvety sweet concoction. Finally, melted chocolate tops off this remarkable and delicious treat, creating an incredible texture once cooled to give the cake its ideal consistency. Chocolatey Dulce de Leche Cheesecake is a perfect balance of Chocolate, cream cheese, and sweet dulce de leche, making it the beloved favorite of many!
Chocolate Dulce de Leche Cheesecake
If you want to try this Chocolatey Dulce de Leche Cheesecake Recipe, share your photo and experience with us. In addition, let us know what you think in the comments below by using #bestbakingtip and #chocolatedulcedelechecheesecake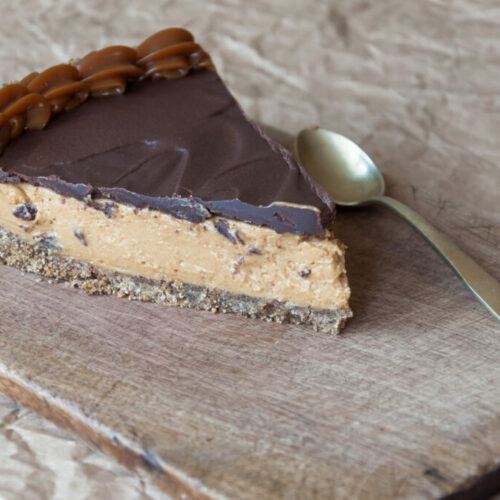 Chocolate Dulce de Leche Cheesecake
This cheesecake recipe is the perfect combination of sweet dulce de leche and rich chocolate, blending together to create one unique and unbelievably delicious dessert. Not only will it win over every crowd with its decadent flavor palette; it won't take you more than a few simple steps to create this stunning treat. So keep reading and find out just how easy it is to make your own heavenly Chocolatey Dulce de Leche Cheesecake!
Ingredients
Let's gather the ingredients!
Crust
2

cup

graham crackers

crushed

¼

cup

walnuts

finely chopped

1

tbsp

cocoa powder

1

tbsp

granulated sugar

½

tsp

cinnamon

ground

6

tbsp

unsalted butter

melted
Cheesecake
3

packages

cream cheese

8 ounces each, softened

½

cup

light brown sugar

¼

cup

whole milk

2

tbsp

all-purpose flour

1

tsp

vanilla extract

3

large

eggs

beaten

1

can

dulce de leche

13.4 ounces
Toppings
1

cup

semi-sweet chocolate chips

½

cup

dulce de leche
Instructions
Let's begin!
Preheat oven to 350°F. Place a greased 9-inch springform pan on a double thickness of heavy-duty foil. Securely wrap foil around the pan.

In a large bowl, combine graham crackers, walnuts, cocoa powder, sugar, cinnamon, and butter. Press onto the bottom and 2 in. up sides of the prepared pan.

In a large bowl, beat cream cheese and sugar until smooth, then beat in milk, flour, vanilla, and dulce de leche. Add eggs, then beat on low speed just until combined. Pour into crust.

Place the springform pan in a large baking pan, then add 1 in. of hot water to the larger pan. Bake for 60-70 minutes or until the center is just set and the top appears dull.

Remove the springform pan from the water bath. Cool on a wire rack for 10 minutes. Carefully run a knife around the edge of the pan to loosen, then cool for 1 hour.

In a microwave-safe bowl, melt the chocolate chips, then stir until smooth. Spread over cheesecake. Refrigerate overnight. Remove the sides of the pan.

Garnish with piped dulce de leche on the borders of the cheesecake.

Serve and enjoy with family and friends!
Nutrition
Calories:
360
kcal
Carbohydrates:
26
g
Protein:
6
g
Fat:
27
g
Saturated Fat:
14
g
Polyunsaturated Fat:
2
g
Monounsaturated Fat:
7
g
Trans Fat:
0.2
g
Cholesterol:
90
mg
Sodium:
226
mg
Potassium:
183
mg
Fiber:
2
g
Sugar:
16
g
Vitamin A:
763
IU
Vitamin C:
0.03
mg
Calcium:
77
mg
Iron:
2
mg
Must-Read Articles
Below are the must-read articles about baking. You will enjoy them reading as they are full of information and helpful tips. Read them and share your thoughts.
2. Angel Wing Cookies (Chrusciki)
4. Scottish Shortbread Biscuits
5. Hungarian Nut Roll (Beigli)
To Wrap It All Up
This Dulce de Leche Cheesecake is the perfect dessert for your next gathering! Rich, creamy cheesecake filling infused with chocolate and dulce de leche, all nestled on top of an easy chocolate graham cracker walnut crust. It's a showstopping dessert that is sure to impress your guests! If you try this recipe, be sure to let us know in the comments how it turned out for you. Enjoy!
Connect With Us
If you've tried this Cheesecake Recipe, please don't forget to leave a rating on the recipe card. In addition, Take a 📷 and tag us on our social media accounts: Facebook, Twitter, Instagram, and Pinterest. For more baking recipes make sure you subscribed to our weekly newsletter. 📧
Read More
Bread Rolls with Sweetened Coconut Filling (Pan de Coco)
Portuguese Egg Tarts (Pastel de Nata)