==================
Affiliate Statement
Best Baking Tips is supported by our audience. When you purchase through one of our links, we may earn a small affiliate commission.  As an Amazon Associate I earn from qualifying purchases. Your cost is not affected.
==================
If you're like me, then you probably love croissants. They're fluffy, buttery, and just all-around delicious. But they can seem a bit daunting if you've never made them at home. Never fear! With this step-by-step guide, even beginners can create beautiful croissants at home. Let's get started!
Croissants: Classic French Favorite
Do you love the smell of fresh croissants in the morning? Biting into a warm, flaky croissant is one of life's simple pleasures. But what exactly is this pastry? A croissant is a yeast-leavened, laminated pastry with layers of dough and rolled-in fat that give it a flaky, crunchy mouthfeel. If you've ever wondered how to make these delicious pastries at home, wonder no more! In this post, we'll walk you through everything you need to know to make your own homemade croissants. It will be a little more tedious than usual, but trust me, it's worth the effort. 
Croissant And Its Origin 
Contrary to everyone's popular belief, the croissant is not originally from France. It has been said that this pastry comes from the Austrian town of Vienna way back centuries; thus, it was called a Viennoiserie. It was only French bakers who adopted and reinvented the pastry according to their version that has become an icon of French gastronomy even up to this day. Originally, croissants were primarily a luxury commodity reserved for the bourgeois and aristocratic classes. It was only during the nineteenth century that this pastry became more broadly available to all types and accessible during the First World War.
Like traditional bread and pastries, croissants have undergone various modifications as they have become known globally, even to neighboring countries. The commercialization of croissants is not something that most french people are proud of. It is because they still claim to have high standards when it comes to this pastry. Nevertheless, this classic elegant pastry has already come a long way.
Croissant Ordinaire

VS

Croissant Au Beurre
Upon making this pastry available in local markets, the puff pastry croissant evolved into two distinct varieties: the croissant au beurre, which is more expensive and prepared with pure butter, and the croissant ordinaire, which is frequently made with margarine or other less costly fats which people call the ordinary or the plain croissant. 
Both versions are still available in most boulangeries to this day. To distinguish the difference between croissants ordinaire and croissants au beurre, boulangerie has placed a distinction: croissants ordinaire are usually presented in the shape of a crescent, while croissants au beurre are typically baked in the form of a semi triangular loaf. For obvious reasons, many still need clarification when trying to place an order at a boulangerie.
Few Tweaks and Tricks
Though we love our croissants, plain, buttery, and simple, there are already tons of ways to serve them. Some will add some filling to it, like jam or preserves. Others will infuse it with pastry creams or chocolates. You can also make it into a sumptuous sandwich with cold cuts and greens. This pastry is perfect for special dinners or everyday snacking.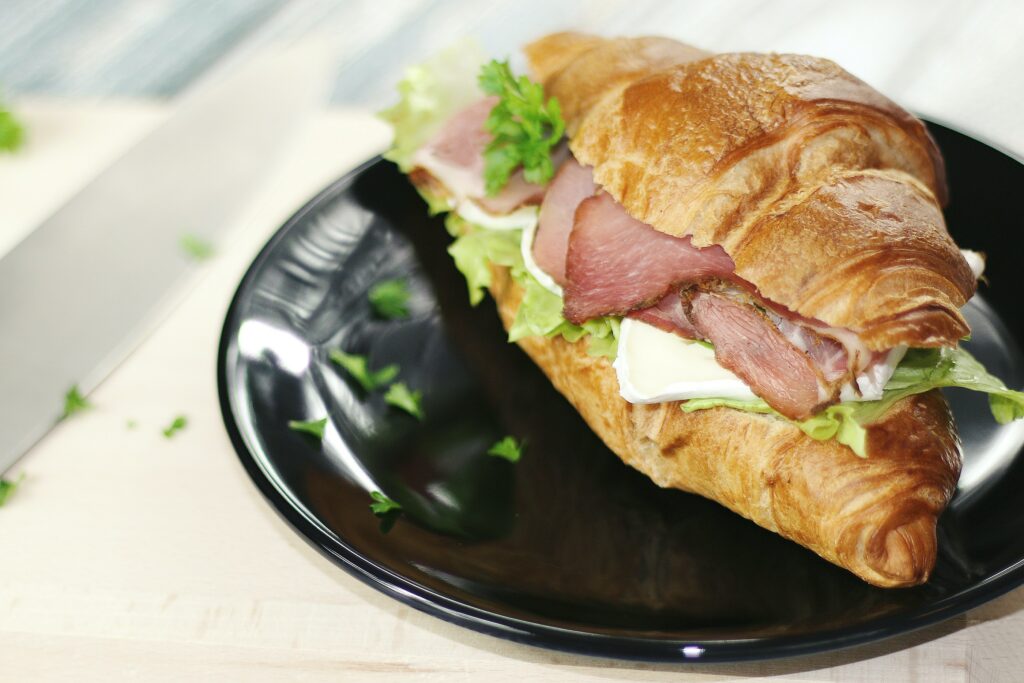 Let's Make It Vegan 
Finding vegan croissants in your area may be quite a challenge, so why not stock up with your own stash at home? Bake the vegan version of this pastry by simply replacing pure butter with a vegan alternative or margarine. Use plant-based milk and use milk wash instead of egg. At this point, you can create your own vegan french classic in the comforts of your kitchen.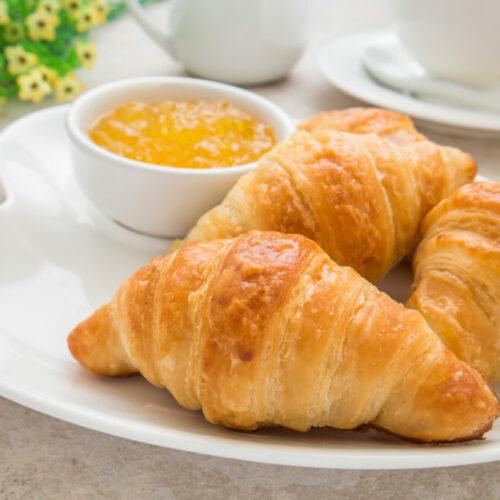 Croissants
Are you looking for a delicious, flaky pastry to make at home? Then you need to try croissants! These wonderful treats are not as difficult to make as you might think, and they are well worth the effort. In this post, we'll show you how to make your own croissants step by step. By the end, you'll be an expert at making these tasty pastries!
Ingredients
1

oz

fresh yeast

3 1/2

cups

flour

unbleached

1/4

cup

white sugar

2

tsp

salt

1

cup

milk

or more

1

pound

butter

unsalted

2

tablespoons

flour

for dusting

1

egg

1

tbsp

milk
Instructions
Mixing:
Mix the yeast, flour, sugar, salt, and milk in a stand mixer fitted with a dough hook for two minutes or until a soft, moist dough forms on the hook.

If necessary, add additional milk, one tablespoon at a time, until the majority of the flour is soaked and smooth, up to four tablespoons total.

Adjust the mixer on high and continue mixing for another 4 minutes until the dough becomes smooth and elastic.

Remove the dough from the bowl, place it on a floured surface, cover it with a moist tea towel, and left to rest for 15 minutes to allow the gluten to relax.

With the towel removed, roll the croissant dough into a size 10 by 9-inch rectangle 5/8-inch thick. Wrap it in plastic, then chill for an hour or overnight.

Meanwhile, prepare the butter for at least ten minutes before the dough is done resting inside the fridge.

Using a rolling pin, beat the block of butter on a floured surface to soften it. Place it between parchment paper and form a 6 by 8 1/2 inches rectangle, then set it aside.
Laminating:
Take the dough out of the refrigerator and rolled into a 10 by 15-inch rectangle that is 1/4 inch thick.

Wipe off any extra flour from the dough. Lay the dough on the work area with the shorter side parallel to your front.

After brushing off any extra flour, place the butter in the center long ways. Fold the bottom over the butter and top over the butter to overlap and encapsulate the butter.

With your rolling pin, press it down lightly to push all the layers together and ensure it is properly sealed.

Roll the layered dough again to create a 10 by 15-inch rectangle, filling in any gaps where the butter may have poked through with a light dusting of flour.

Into your third fold, make it into the shape of a letter, brush off any excess flour and mark it indicating that you have finished the first turn.

Cover and wrap the dough in plastic and chill to rest for about 1 hour or overnight.

Once done, repeat the process of folding and stretching the dough up into 4 turns, each time labeling it appropriately and chilling in between each turn.

After the fourth turn, wrap it again with plastic wrap and chill the dough overnight or at least for one hour. You can shape it in a 13 by 24-inch square, just under 1/4-inch thick.
Cutting and Shaping:
Using your rolling pin, roll out the dough into a floured surface.

Cut it into 6-inch strips, then into triangles with a base 4 inches broad, using a large, sharp knife (or for a more curved croissant, cut the triangles 6 inches wide).

Once done cutting, stretch the triangle-shaped dough to at least 9 inches long and roll it into shape.

Repeat the process with your remaining triangle dough.

Then place each croissant in a baking pan with parchment paper 2 inches apart. Make sure that the tip of the fold is tucked under to prevent it from spreading out and losing its shape.

At this stage, you can freeze the croissants or brush them with egg wash.
Proofing:
Put a pan of heated water in the oven that is not switched on.

Place the croissants inside the oven. The steam coming from the pan with hot water will create a moist environment like a proof box.

Allow them to proof for up to two hours or until puffed and soft to the touch, then remove them from the oven.
Baking:
Before putting the croissants in the oven, spritz some water into your preheated oven at 425 degrees F, close the oven door and allow it to steam.

Place the croissants in the oven, give them another spritz, shut the door, and lower the temperature to 400 degrees F.

For even cooking, you can turn the baking pan after 10 mins and turn down the oven temperature to 375 degrees F. Continue baking for another 5 to 8 minutes until golden brown.
Notes
Timing, patience, and hard work are key to successful croissants. This pastry can be a little intimidating at first, but once you get the hang of it, you will be able to produce tasty, buttery, and flaky croissants that are worth the effort.
The right timing in making the butter, the right temperature, and the measurement are also critical, so take note of that.
To make the croissant more plump in the center, you can fill it with some scrap dough or trimmings before rolling it into shape.
Nutrition
Calories:
118
kcal
Carbohydrates:
21
g
Protein:
4
g
Fat:
2
g
Saturated Fat:
1
g
Polyunsaturated Fat:
0.2
g
Monounsaturated Fat:
0.4
g
Trans Fat:
0.001
g
Cholesterol:
12
mg
Sodium:
380
mg
Potassium:
86
mg
Fiber:
1
g
Sugar:
2
g
Vitamin A:
70
IU
Vitamin C:
0.002
mg
Calcium:
47
mg
Iron:
1
mg
More Easy Dessert Recipe
Love healthy baking recipes? You could try these simple recipes at home to impress your loved ones. Perfect for after-meal treats, coffee, and tea parties with friends and family!
To Wrap It All Up
Croissants are delicious and flaky pastries that can be enjoyed for breakfast or as a snack. Though they may seem daunting to make at home, with this recipe, you can bake croissants in your own kitchen successfully. Be sure to follow the instructions carefully and enjoy the process of making these tasty pastries. Try baking croissants at home today!
Connect With Us
If you've tried these Croissants recipes, don't forget to leave a rating on the recipe card. Tag us on our social media accounts, subscribe to our weekly newsletter, and follow the Best Baking Tips and Vegan Globetrotter sites for more delicious ideas!
Read More
Best Type of Bakeware to Use? 6 Types
What are the Pros and Cons of Silicone Bakeware?