==================
Affiliate Statement
Best Baking Tips is supported by our audience. When you purchase through one of our links, we may earn a small affiliate commission.  As an Amazon Associate I earn from qualifying purchases. Your cost is not affected.
==================
Mini Cinnamon Roll Bites Recipe,
An Easy Mini Cinnamon Roll Recipe
The aroma of cinnamon rolls baking brings a sense of calmness and tranquility, even as it draws everyone to the kitchen.  Cinnamon is one of my favorite foods.  However, it's more than just aromatic. Ceylon Cinnamon has some pretty incredible health benefits, too. Now, I'm not suggesting that these cinnamon rolls, filled with sugar and butter, are healthy food. But it is nice to know that some parts of them will benefit our health, while the aromas and flavors dance around on our taste buds.
Ingredients in our mini cinnamon roll bites recipe
This cinnamon roll recipe doesn't require a ton of ingredients. However, I do recommend following the recipe as it is written. Sometimes deviating on a new recipe makes a big difference in the outcome. Here's what you'll need to make the best cinnamon rolls:
Milk: I recommend 2% or whole milk for great texture but we use plant-based milk with equal success.  A house favorite here is oat milk which has a creamy texture. Water will work, but you will notice a taste and texture difference.
Granulated sugar: this is used to sweeten the cinnamon rolls and to help activate the yeast. We try to reduce refined sugars so in our baking we often substitute Allulose or Swerve.
Yeast: I use active dry yeast but you can use quick-rising yeast if you prefer. With the active dry yeast, the rise is a bit slower, but I find the flavor develops quite well during that rise time.
Butter: the one and only. If you prefer non-butter, I recommend a coconut oil vegan substitute to provide the needed texture. I prefer to use salted butter but unsalted is great too. You'll need it for the dough, filling, and icing.
Egg + egg yolk: this recipe calls for 1 egg and 1 egg yolk for the perfect texture and rich consistency in the dough. You can leave these out or substitute them with applesauce. However, you will notice a distinct difference in the texture.
Bread flour: to help keep these cinnamon rolls soft and fluffy, we're using bread flour. The higher protein level helps lighten the cinnamon roll texture. The higher amounts of protein in the form of gluten give the cinnamon roll their chewy, soft texture that everyone craves.
Brown sugar: personally, I love using dark brown sugar. Quite simply, it has a more robust molasses sweet flavor that it imparts to those cinnamon swirls. However, light brown sugar works, too.
Cinnamon: It just makes the rolls burst with flavor. Choose Ceylon Cinnamon, if possible, for it's health benefits and flavor.
Salt: cinnamon rolls made without salt tastes very plain. In addition, salt also helps the yeast in our mini cinnamon roll bites recipe. Please don't skip it.
This icing is truly unforgettable too! Just cream cheese, butter, powdered sugar, and vanilla. A simple combination that takes this easy mini cinnamon roll recipe to new heights!
Welcome to the wide wide world of cinnamon roll love.
These fluffy PERFECT cinnamon rolls packed with a cinnamon brown sugar filling and glazed with a vanilla cream cheese glaze that drips into the middle and soaks every single bite. Our easy mini cinnamon roll recipe has a special component, bread flour. That's right. Using bread flour ensures they bake up extra light and fluffy.
So why make them mini sized? Why not enjoy them in a full-sized edition? Indeed, you can, if you choose. However, we love the minis for a few reasons. For one, you can opt for one or perhaps two for a snack or a light dessert. That yum flavor doesn't have to be extra calories, does it?
Also, with our mini cinnamon roll bites recipe, you simply get more of that cinnamon sugar WOW factor! They bring that perfect touch to a special moment. Or maybe they just make that moment special.
Important tips for making this mini cinnamon roll bites recipe
Your milk needs to be about 110°f to 115°f. Hotter temperatures will kill the yeast. And then your rolls won't rise. For safest results, use a food thermometer.
Your ingredients, including the butter and eggs, need to be at room temperature. Melting butter changes the texture and might cause your filling to leak out before baking. Cold ingredients don't mix as well. And temperature variations, higher or lower, will affect the yeast.
Rub the brown sugar into the butter, after your spread the butter out. You want to make sure those flavors meld together into the dough.
Use bread flour. It truly makes a great difference. Your rolls will be softer and fluffier.
Don't forget to flour your work surface and rolling pin. This dough should be slightly sticky to make the best rolls.
More Tips for our easy mini cinnamon roll recipe
Plan a delicious fresh-baked breakfast. Make these rolls the day before, then bake in the morning. To do this, just arrange the rolls in a parchment-lined pan and cover them with plastic wrap. Place in the refrigerator overnight. When you are ready to bake them, bring them up to room temperature first. Then let them rise for about an hour. Bake as directed and enjoy!
These rolls freeze quite well, too. For best results, form the rolls but don't let them rise for the second rise. Place into your pan (see instructions for refrigerator above) and place in the freezer. You will need to plan ahead for baking. Thaw them overnight in your refrigerator, place them in a warm spot on your counter for that final rise of about an hour. Bake as directed.
You might also choose to freeze them after baking, either in the pan or individually. When you are ready to enjoy them bring to room temperature first, then warm them in a preheated 350°f oven for about 10 minutes. It's best to frost them just before you are ready to eat them, although the frosting will freeze well if you prefer.
Mini Cinnamon Roll Bites
Fresh-baked homemade cinnamon rolls bring that comfort feeling to your breakfast or dessert table. This mini-version provides the same delicious flavors in a more manageable size. You can always have a second one!
Ingredients
Dough
1 ½

cups

milk

about 110°F (may substitute water or plant-based milk)

1

tbsp

active dry yeast

2

tbsp

honey

1

egg

at room temperature

1

egg yolk

at room temperature

3 ½

cups

bread flour

we prefer white-wheat

1

tsp

salt
Filling
4

tbsp

butter

softened but not quite melted

⅓

cup

sugar

You may substitute Allulose or Swerve with excellent results if you are trying to cut the total sugars

⅓

cup

brown sugar

measured packed; again the Swerve product substitutes well, if need be.

2

tbsp

cinnamon

more or less to preferred taste
Frosting
2

tbsp

butter

softened

2

ounces

cream cheese

softened

1

tsp

vanilla

3

cups

powdered sugar

To reduce your sugars, you may use Swerve confectioners sugar

3

tbsp

cream

or milk
Instructions
Prepare the Roll Dough
Preheat oven to 375. Lightly grease a muffin pan

Dissolve honey in the milk, making sure it stays near 110°F. You might need to heat the milk slightly more if it drops below 105°f but do not proceed with the next step until it is between 105-115°f.

Stir in yeast. Allow yeast to activate until it foams and is bubbly. This may take 5-15 minutes. If it fails to foam, the yeast is probably not active and will not work in your recipe.

Add flour and salt to the yeast mixture.

Mix in the egg and egg yolk.

Use the dough hook with your stand mixer and mix on low until the ingredients are combine.

Turn the speed up to medium-low and mix for an additional 5 minutes.

Dough will be slightly sticky but should pull away from the sides of the bowl. If needed, add flour, a small amount at a time, to reach the right consistency.

Remove from bowl and place on floured surface. Cover with a damp towel and allow to rest for about 30 minutes.
The filling
Put the sugar, brown sugar, and cinnamon in a medium-sized bowl.

Whisk until completely combined.
Assemble the rolls
Roll the dough out into a 9 x 15 rectangle. Trim the edges if not perfectly rectangular.

Spread the butter over the entire surface of the dough.

Sprinkle the sugar mixture evenly over the butter.

Starting from the long side (15" side) tightly roll the dough into a long log. It's essential to keep it tightly rolled.

Pinch the seam closed. You might use a little water on your fingers to seal it smoothly.

Using a very sharp knife or a pizza cutter (see my favorite in the description) cut the log into 24 equal pieces.

Place each in a muffin cup. Cover and let rise about 20 minutes or until they fill the muffin cup.

Bake for 15-20 minutes, until lightly browned.
Prepare the Frosting while rolls are baking
Cream together the butter and cream cheese.

Mix in the powdered sugar in small amounts, mixing in completely.

Add cream, mixing in one tablespoon at a time to reach a thick frosting consistency. You may need more of less than the given amount.
The finishing touches
Allow the rolls to cool slightly and put onto a serving tray or rack.

While still warm, spread the frosting over each roll.

We love these served warm but they are also good cooled.
Nutrition
Calories:
187
kcal
Carbohydrates:
37
g
Protein:
4
g
Fat:
3
g
Saturated Fat:
1
g
Polyunsaturated Fat:
1
g
Monounsaturated Fat:
1
g
Trans Fat:
1
g
Cholesterol:
22
mg
Sodium:
121
mg
Potassium:
65
mg
Fiber:
1
g
Sugar:
23
g
Vitamin A:
113
IU
Vitamin C:
1
mg
Calcium:
39
mg
Iron:
1
mg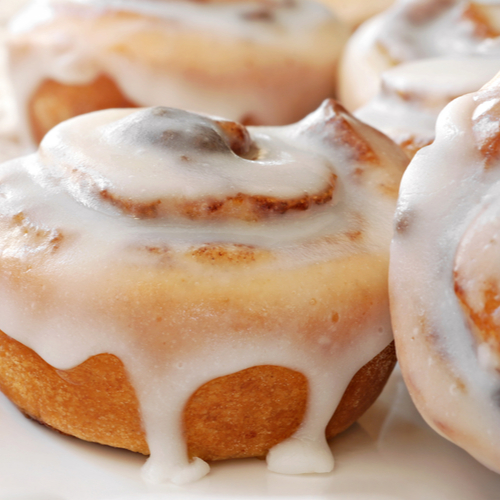 Read More
Best Type of Cinnamon for Baking Our Best Baking Tips 7 Basic Baking Ingredients