==================
Affiliate Statement
Best Baking Tips is supported by our audience. When you purchase through one of our links, we may earn a small affiliate commission.  As an Amazon Associate I earn from qualifying purchases. Your cost is not affected.
==================
Melt-In-Your-Mouth Shortbread Cookies, Grandma's Version
My Grandma loved to bake and she loved the holidays. Combining the two, she always had something delicious coming from her oven during the holiday months. When she baked these melt-in-your-mouth shortbread cookies, we clamored to the kitchen before they even emerged from the oven. Grandma ensured they cooled a bit before handing one to each of us. What an incredible delight her shortbread cookies were!
Thankfully, Grandma's recipe box contained her original version, probably handed down from her Mom. At the time, I'm not sure I appreciated the treasures that the recipe box contained.
This cookie recipe bakes up quickly and easily. Grandma made it on days when she also baked other, more demanding projects. She seldom baked without humming a favorite tune. In fact, whenever I think of her baking, I still hear those light humming notes. Yes, baking made Grandma very happy. Truthfully, it seemed that she thought of all the smiles her sweet treats brought forth in all of us.
Try this easy version of shortbread cookies.
Grandma's Melt-In-Your-Mouth Shortbread Cookies, the divine recipe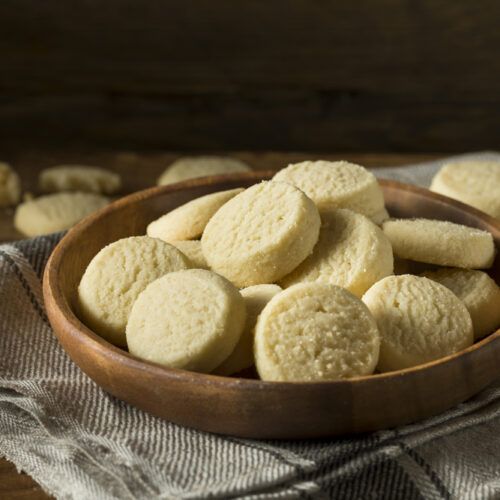 Melt-In-Your-Mouth Shortbread Cookies
My Grandma had some very special recipes that she reserved for special occasions. This one was one of her favorites. They are sweet little bites that indeed seem to melt so smoothly and deliciously in your mouth. Are these a cookie or a candy?
Ingredients
2

cups

butter

1

cup

confectioners sugar

½

cup

cornstarch

3

cups

flour

2

tsp

vanilla
Instructions
In a large bowl, cream together the butter, sugar, and vanilla until very creamy.

In a separate bowl, mix the cornstarch and flour.

Add about a third of the flour mixture into the sugar mixture and beat well. Add about half the remaining mixture and beat again.

Finally, add the remaining flour mixture and beat until the texture resembles whipped cream. This takes about 2 minutes.

Drop by rounded tablespoons onto an ungreased cookie sheet.

Bake for 15 minutes, until the bottoms begin to turn a very light brown. The tops and sides will remain white. Do not overbake.

Cool on the cookie sheet for about 10 minutes before transferring to a cooling rack.
Notes
Note: These cookies are quite delicate. They may be stored for up to three days in an airtight container in your refrigerator. To make ahead, they can be frozen for a month.
Nutrition
Calories:
64
kcal
Carbohydrates:
16
g
Protein:
2
g
Fat:
1
g
Saturated Fat:
1
g
Polyunsaturated Fat:
1
g
Monounsaturated Fat:
1
g
Cholesterol:
2
mg
Sodium:
17
mg
Potassium:
35
mg
Fiber:
1
g
Sugar:
1
g
Vitamin A:
26
IU
Calcium:
20
mg
Iron:
1
mg
Shortbread Cookies come together easily and quickly
However, Grandma used a few special techniques, too. While she often mixed batters by hand, she usually used her trusty Kitchen Aid stand mixer on baking days. While this recipe doesn't require it, it left her free to work on other projects, too. But I do remember days when the other projects needed the stand mixer. In addition, on those days, Grandma's arms got a bit of a workout as she mixed a double batch of her Melt-In-Your-Mouth Shortbread cookies to share with family and friends.
Although her baking sheets gleaned from proper care, she liked to use parchment paper whenever possible. These cookies slide off the baking sheet with little persuasion. But Grandma found that she could pop the next batch of whatever cookies she was making simply by sliding the baked cookies off while still on parchment paper. In fact, she explained that by doing so, she was saving precious time and money (gas for the oven cost money).
Read More