==================
Affiliate Statement
Best Baking Tips is supported by our audience. When you purchase through one of our links, we may earn a small affiliate commission.  As an Amazon Associate I earn from qualifying purchases. Your cost is not affected.
==================
Do you love cornbread? I do! But sometimes I don't want a big piece of bread, I want a little something to satisfy my craving. These honey butter cornbread muffins are perfect for that! They're small and have the perfect balance of sweetness and flavor. And they only take about 30 minutes to make, including bake time! You can't go wrong with these delicious muffins!
Honey Butter Cornbread Muffins: Can't go wrong with Honey Butter!

The Best Honey Butter Cornbread Muffins are soft, fluffy, and packed with flavors of sweet honey and rich butter. These Cornbread Muffins are perfect for breakfast, brunch, or a snack. They are quick and easy to make and can be made ahead of time. These are the muffins of your dreams!
To make the honey butter, simply combine softened butter with honey and stir until combined. The amount of honey you add is up to you, depending on how sweet you want the butter to be. You can also add a pinch of salt if you like. Once the honey butter is made, simply spread it on top of the warm cornbread muffins. The butter will melt into the crevices of the muffins, making them even more delicious! Enjoy!
Other variations to make it more special!
Honey Butter Cornbread Muffins are a classic favorite. They're flavorful and moist. Plus, they pair perfectly with so many different dishes. While the basic recipe is delicious on its own, there are a few simple variations that can take it to the next level. Here are a few ideas:
Add some diced jalapeño pepper to the batter for a little extra spice.
For a sweeter cornbread, mix in chocolate chips to the batter.
Mix in some shredded cheddar cheese for a cheesy twist.
Stir in some diced fresh or frozen corn kernels for extra sweetness and texture.
Top the muffins with a sprinkle of bacon bits before baking for a delicious savory twist.
With so many possibilities, it's no wonder cornbread is such a beloved dish. Whether you stick to the classic recipe or experiment with different flavors, one thing is for sure: cornbread is always worth sharing!
Best Baking Tips; Pro-Tips!
Making the perfect cornbread muffin is easier than you might think! Follow these tips and you'll be enjoying delicious, home-baked cornbread in no time:
1. Preheat your oven to the correct temperature. This will ensure that your muffins bake evenly.
2. Start with good-quality cornmeal. This will give your muffins a nice, crispy texture. You can usually find this in the baking aisle of your local grocery store.
3. Make sure your ingredients are at room temperature before you start baking. This will help the muffins to cook evenly.
4. Use a spoon or spatula to gently fold the ingredients together. Overmixing will make the muffins tough.
5. Be careful not to overbake the muffins. They should be golden brown and just firm to the touch when they're done.
With these simple tips, you'll be able to whip up a batch of perfect cornbread muffins every time!
Honey Butter Cornbread Muffins
If you want to try this Honey Butter Cornbread Muffins Recipe, share your photo and experience with us. In addition, let us know what you think in the comments below by using #bestbakingtip and #honeybuttercornbreadmuffins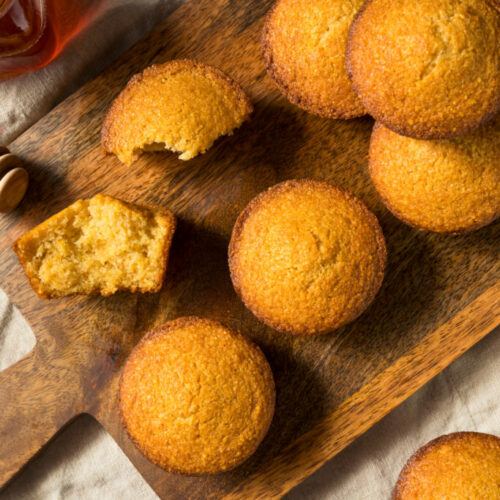 Honey Butter Cornbread Muffins
Who doesn't love a good cornbread muffin? These honey butter cornbread muffins are the perfect blend of sweet and savory, and they're so easy to make! You'll be surprised how much they taste like the ones from your favorite bakery.
Ingredients
Let's gather the ingredients!
cornmeal muffins
1

cup

all-purpose flour

sifted

1

cup

cornmeal

fine

¼

tsp

kosher salt

1

tsp

baking powder

½

cup

light brown sugar

½

cup

unsalted butter

melted and divided

1

large

egg

¼

cup

maple syrup

¾

cup

buttermilk

1

tsp

vanilla extract
Honey Butter
2

tbsp

unsalted butter

melted

¼

cup

honey
Instructions
Let's Begin!
Preheat oven to 400°F. Grease a muffin tin with cooking spray or brush with melted butter.

In a large bowl, whisk together the flour, cornmeal, baking powder, salt, and light brown sugar until well combined.

In another medium bowl, whisk together ½ cup melted butter, egg, maple syrup, and buttermilk. Pour the combined wet ingredients into the dry, and mix until fully incorporated.

Divide batter evenly among prepared muffin tins, about ½ cup of batter per well.

Bake for 15-20 minutes, or until a toothpick inserted comes out clean and the tops are golden.

Combine the melted butter and honey, then whisk until combined.

Once the Cornbread muffins are removed from the oven, brush them with honey butter.

serve warm, and enjoy with family and friends!
Nutrition
Calories:
264
kcal
Carbohydrates:
38
g
Protein:
4
g
Fat:
11
g
Saturated Fat:
7
g
Polyunsaturated Fat:
1
g
Monounsaturated Fat:
3
g
Trans Fat:
0.4
g
Cholesterol:
43
mg
Sodium:
111
mg
Potassium:
114
mg
Fiber:
2
g
Sugar:
20
g
Vitamin A:
342
IU
Vitamin C:
0.03
mg
Calcium:
60
mg
Iron:
1
mg
Must-Read Articles
Below are the must-read articles about baking. You will enjoy them reading as they are full of information and helpful tips. Read them and share your thoughts.
2. Greek Honey Cookies (Melomakarona)
5. Easy Buttermilk Biscuits Recipe
To Wrap It All Up
So, there you have it!  delicious and easy-to-follow recipe for Honey Butter Cornbread Muffins. We hope you'll give them a try! And if you do, be sure to let us know how they turn out by leaving a comment below or tagging us on social media. Enjoy!
Connect With Us
If you've tried this Honey Butter Cornbread Muffins Recipe, please don't forget to leave a rating on the recipe card. In addition, Take a ? and tag us on our social media accounts: Facebook, Twitter, Instagram, and Pinterest. For more baking recipes make sure you subscribed to our weekly newsletter. ?
Read More
Easy Whole Wheat Blueberry Muffins