==================
Affiliate Statement and a Caveat 
First off, a little caveat: within my articles you will find affiliate links, meaning if you buy them, I get a small commission. Your cost is not affected. In addition, I am an Amazon Associate and I earn from qualifying purchases on Amazon.
And yes, if I say that I recommend a product here, it means I truly believe it is a good product. I refuse to recommend any product that I have not researched and believe to be a good value.
Even better, I provide you with a very clear picture of the product, it's use, and the probable value.
Earning your trust is important to me. I run this website myself and the commissions and donations help support the site.
Sound reasonable and fair enough? Let's continue to the article.
==================
Summertime is the perfect time to enjoy all the seasonal fruits and flavors that come with it – and there's no better way to honor your patriotic spirit than by enjoying a lusciously light, fluffy Angel Food Cake topped off with some freshly picked mixed berries. A true crowd favorite for all ages, this Patriotic Angel Food Cake recipe is guaranteed to be a hit at your next summer gathering or picnic. So pull up a chair, whip out a plate, and dig in – because this one's going to be good!
Patriotic Angel Food Cake: Light, Fluffy, and Delicious!
Nothing screams summertime patriotism like a red, white, and blue dessert. And what better way to celebrate the Fourth of July than with a delicious Patriotic Angel Food Cake, adorned with mixed berries? This light and fluffy dessert is the perfect way to end any summer barbecue or picnic. Not only does it look beautiful with its vibrant pops of color, but it also tastes like a dream. The sweetness of the cake pairs perfectly with the tartness of the mixed berries, making each bite a taste sensation. So, fire up the grill, grab your friends and family, and dive into this delicious dessert that is sure to bring everyone together. With every slice, you'll be reminded of the freedoms we celebrate as Americans and the sweet taste of summer.
Ingredient Tips
If you're planning on whipping up a show-stopping Patriotic Angel Food Cake, here are some ingredient tips to ensure a mouth-watering success!
First up, let's talk about egg whites. It's crucial to use room-temperature egg whites as they whip up much better than cold ones. Also, make sure there are no traces of yolk in your whites – even a tiny bit can cause the whites to not whip up properly!
Next, you'll be adding sugar to your egg whites. Use superfine sugar as it dissolves much easier than regular sugar, resulting in a lighter texture for your cake.
For the cake flour, it's best to sift it twice before adding it to the mixture. This helps to incorporate more air into the batter, making the cake lighter and fluffier.
Cream of tartar is another essential ingredient. It helps to stabilize the egg whites, resulting in a better texture for your cake.
Vanilla extract is a must-have for any good cake recipe. Be sure to use pure vanilla extract rather than artificial for the best flavor.
Whipped cream and mixed berries make for a delicious topping. Use heavy whipping cream and chill your bowl and whisk for at least 10 minutes before beating to ensure stiff peaks. When it comes to berries, you can use a variety of red and blue options to make your Patriotic Angel Food Cake truly pop with color!
So there you have it – some helpful ingredient tips for baking the perfect Patriotic Angel Food Cake. Happy baking!
Patriotic Angel Food Cake
If you want to try this Patriotic Angel Food Cake Recipe, share your photo and experience with us. In addition, let us know what you think in the comments below by using #bestbakingtip and #patrioticangelfoodcake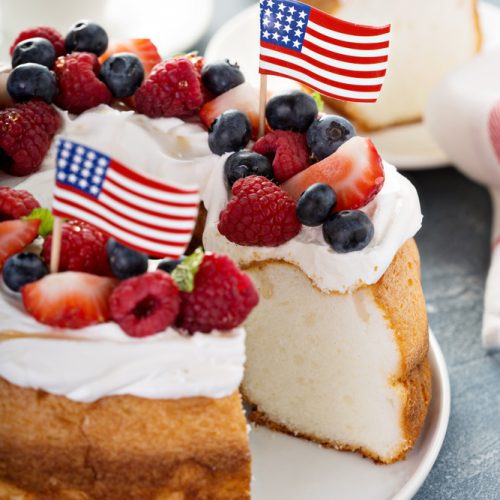 Patriotic Angel Food Cake
Make your Fourth of July cookouts even sweeter with this easy and delicious patriotic angel food cake! Celebrate the country's birthday in style by serving this beautiful red, white, and blue showstopper. With just a few simple ingredients and some creativity, you can create an eye-catching summertime dessert that will make all your friends jealous.
Ingredients
Let's gather the ingredients!
Cake
1¼

cups

egg whites

about 9 large eggs, room temperature

1½

cups

granulated sugar

divided

1

cup

cake flour

1¼

tsp

cream of tartar

1

tsp

vanilla extract

¼

tsp

lemon zest

¼

tsp

kosher salt
Decoration
whipped cream

mixed Berries

Strawberry, Blueberry, Raspberry
Instructions
Let's Begin!
Preheat oven to 350°F and place the oven rack in the lowest position.

Sift 1/2 cup sugar and flour together twice, then set aside.

Place the egg whites in a large bowl, together with the cream of tartar, vanilla extract, lemon zest, and salt.

Beat on medium speed until soft peaks form. Gradually add the remaining sugar, about 2 tablespoons at a time, beating on high until stiff peaks form. Gradually fold in the flour mixture, about 1/2 cup at a time.

Gently spoon into an ungreased 10-inch cake pan. Cut through the batter with a knife to remove air pockets.

Bake until lightly browned and the entire top appears dry, 35-40 minutes. Immediately invert the pan, then cool completely for about 1 hour.

Top the cake with whipped cream and mixed berries.

Serve and enjoy with family and friends!
Nutrition
Calories:
112
kcal
Carbohydrates:
25
g
Protein:
3
g
Fat:
0.2
g
Saturated Fat:
0.02
g
Polyunsaturated Fat:
0.1
g
Monounsaturated Fat:
0.01
g
Sodium:
68
mg
Potassium:
78
mg
Fiber:
0.2
g
Sugar:
19
g
Vitamin A:
0.2
IU
Vitamin C:
0.04
mg
Calcium:
3
mg
Iron:
0.1
mg
Must-Read Articles
Below are the must-read articles about baking. You will enjoy them reading as they are full of information and helpful tips. Read them and share your thoughts!
2. Traditional Victoria Sponge Cake
3. Raspberry Peach Melba Cakes
5.Chocolate Firecracker Cupcakes
To Wrap It All Up
In conclusion, this Patriotic Angel Food Cake with Mixed Berries is the perfect American dessert for a special occasion or just to celebrate an ordinary day. The angel food cake is so light and airy, it will practically melt in your mouth! The mixed berries add the perfect natural sweetness and instantly give whatever dish they are added to a bit of festive flair. This recipe only requires minimal time and effort but will always be remembered. What could be better? So go ahead, and surprise your loved ones with this amazing dessert – they'll thank you for it! A dish like this really shows how wonderful and delicious patriotism can truly taste. Let us know what you think of Patriotic Angel Food Cake with Mixed Berries! We'd love to hear from you.
Connect With Us
If you've tried this Patriotic Angel Food Cake Recipe, please don't forget to leave a rating on the recipe card. In addition, Take a picture and tag us on our social media accounts: Facebook, Twitter, Instagram, and Pinterest. For more baking recipes make sure you subscribed to our weekly newsletter!
Read More