==================
Affiliate Statement and a Caveat 
First off, a little caveat: within my articles you will find affiliate links, meaning if you buy them, I get a small commission. Your cost is not affected. In addition, I am an Amazon Associate and I earn from qualifying purchases on Amazon.
And yes, if I say that I recommend a product here, it means I truly believe it is a good product. I refuse to recommend any product that I have not researched and believe to be a good value.
Even better, I provide you with a very clear picture of the product, it's use, and the probable value.
Earning your trust is important to me. I run this website myself and the commissions and donations help support the site.
Sound reasonable and fair enough? Let's continue to the article.
==================
If you're looking for the perfect show-stopper dessert to wow your friends and family, then you've got to try making this amazing Rainbow Layered Cake! Packed with beautiful bold colors with homemade cream cheese icing, this cake is a guaranteed hit at any party or get-together. Not only does it look magnificent and taste amazing, but it's also surprisingly easy to make. So if you're ready for creating something truly magical that's sure to be remembered and enjoyed by everyone who tucks into it, let's get started on baking a Rainbow Layered Cake masterpiece from scratch!
Have you ever seen a cake so vibrant and colorful that you couldn't resist taking a bite? Look no further than the rainbow layered cake! This delicious dessert is a pop of color that not only dazzles the eyes but also delights the taste buds. Each layer is bursting with vibrant colors of the rainbow that will have your mouth watering for more. Perfect for birthdays, graduations, or any occasion that calls for a celebration, the rainbow-layered cake is sure to be the star of the show. So, why settle for a dull, uninspired cake when you can have a delicious and colorful masterpiece? Treat yourself and your loved ones to a slice of this scrumptious sweet treat!
Best Baking Tips; Pro Tips!
Use high-quality food coloring to achieve vibrant and consistent hues for each layer. Gel-based food coloring is preferable over liquid food coloring as it will not water down the batter. A little goes a long way, so add color in small increments until you reach your desired shade.
To ensure even layers, use a kitchen scale to weigh out the batter for each layer. This will help avoid any discrepancies in the amount of batter, which could result in uneven layers.
Allow each layer to cool completely before adding the next layer. This will help prevent the layers from mixing together and ensure they stay intact. You can speed up the cooling process by placing the cake in the refrigerator or freezer for a few minutes.
Use a long serrated knife to level off the tops of each layer. This will help create an even surface for the frosting to adhere to.
For the cream cheese frosting, use room-temperature butter and cream cheese to avoid lumps and achieve a smooth consistency. Gradually add powdered sugar until you reach your desired sweetness and texture.
To make frosting the cake easier, place a layer of parchment paper or plastic wrap on your cake stand or plate before placing the first layer of cake. This will help catch any excess frosting and make for a cleaner presentation.
Don't be afraid to add some fun decorative elements to your cake, such as sprinkles or edible glitter. These little touches can add a lot of personality and excitement to your Rainbow Layered Cake.
Overall, making a Rainbow Layered Cake is a fun and creative way to show your skills. By following these pro tips, you'll be well on your way to creating a delicious and stunning cake that is sure to impress. Happy baking!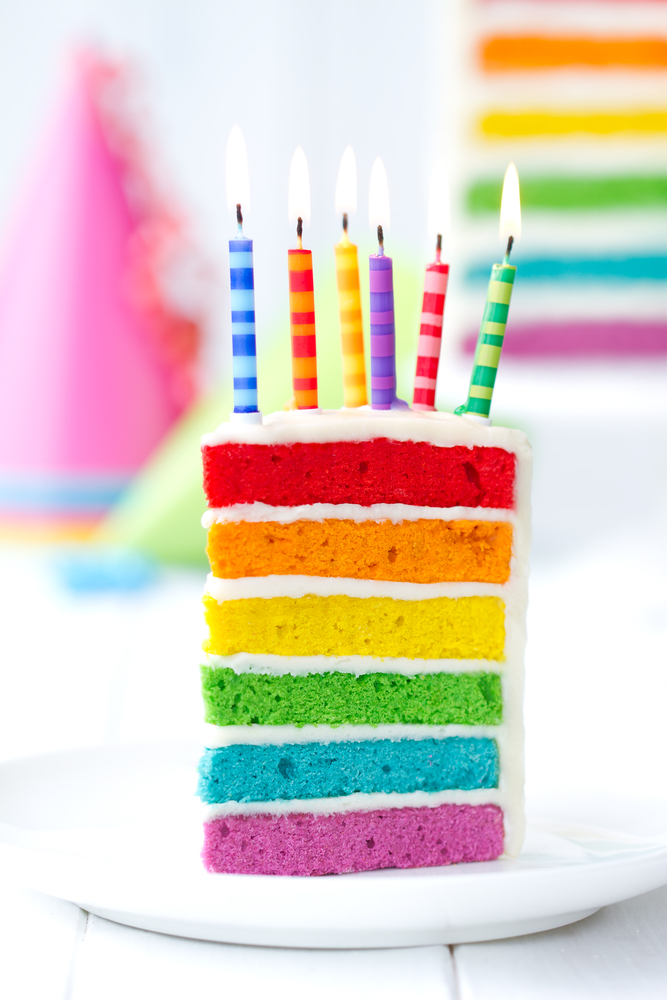 Eye-popping rainbow layers!
If you want to try this Rainbow Layered Cake Recipe, share your photo and experience with us. In addition, let us know what you think in the comments below by using #bestbakingtip and #rainbowlayeredcake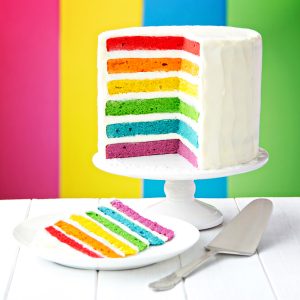 Rainbow Layered Cake
Do you want to show your friends and family how talented a baker you are this weekend? Then try out this delicious rainbow layered cake! From creamy buttercream frosting to juicy layers of colorful cake, this cake will not only look beautiful but taste even better. Follow along as I share my tips on how to assemble the perfect rainbow layer cake for your next get-together or celebration!
Ingredients
Let's gather the ingredients!
Cake
24

ounces

cake flour

24

ounces

granulated sugar

1

tsp

kosher salt

2

tbsp

baking powder

1

tsp

baking soda

10

ounces

egg whites

room temperature

6

ounces

vegetable oil

18

ounces

buttermilk

room temperature or slightly warm

12

ounces

unsalted butter

softened

1

tbsp

vanilla extract

food coloring gel

red, orange, yellow, green, blue, and purple
Buttercream Frosting
14

ounces

unsalted butter

softened

15

ounces

cream cheese

softened

40

ounces

powdered sugar

sifted
Instructions
Cake
Preheat the oven to 335°F. Then prepare six 8-inch round cake pans with a round piece of parchment paper in the bottom of the pan for easy removal of the cake.

Combine 8 ounces of the buttermilk and the oil together and set aside.

Combine the remaining buttermilk, egg whites, and vanilla together, whisk to break up the eggs, and set aside.

Combine the flour, sugar, baking powder, baking soda, and salt in the bowl of a stand mixer with the paddle attachment. Mix for 10 seconds to combine.

Add the softened butter to the dry ingredients and mix on low until the mixture resembles coarse sand.

Add in your milk/oil mixture and let mix until dry ingredients are moistened, then bump up to medium and let mix for 2 full minutes to develop the cake's structure. If you don't let your cake mix on this step your cake could collapse.

Scrape the sides and bottom of the bowl and then reduce the speed to low. Add in your egg white/milk mixture in three batches, letting the batter mix for 15 seconds between additions. Scrape down the sides again to make sure everything has been incorporated.

Divide your batter into 6 bowls evenly. Color each bowl with your food colors.

Bake your layers for 20-24 minutes or until the edges start pulling away from the cake pan. Do not under-bake or the middle of the cake will collapse.

Let the cakes cool for 10 minutes inside the pan before flipping them out. The cake will shrink a bit and that is normal.

Freeze your cake layers for 30-60 minutes before trimming your cakes.
Frosting
Place the butter and cream cheese into a bowl, then beat until smooth. Add half the icing sugar and mix well. Then, add the remaining icing sugar and beat until smooth.
Let's Assemble the Cake!
Place the violet sponge on a cake board or plate and spread it with a little icing. Then place the blue sponge on top. Continue layering this way, following the colors of the rainbow. Spread a thin layer of icing around the sides of the cake and chill until firm.

Spread the remaining icing over the top and sides of the cake. Chill until firm.

Have fun decorating!
Nutrition
Calories:
1306
kcal
Carbohydrates:
169
g
Protein:
12
g
Fat:
68
g
Saturated Fat:
36
g
Polyunsaturated Fat:
9
g
Monounsaturated Fat:
17
g
Trans Fat:
2
g
Cholesterol:
148
mg
Sodium:
602
mg
Potassium:
188
mg
Fiber:
1
g
Sugar:
131
g
Vitamin A:
1785
IU
Calcium:
195
mg
Iron:
1
mg
Below are the must-read articles about baking. You will enjoy them reading as they are full of information and helpful tips. Read them and share your thoughts!
All in all, the rainbow layered cake is a great way to show your skills and get baking! With its impressive design and equally impressive taste, it'll no doubt stand out. Not only that, but you can customize it however you want or make your own unique version. The bright colors of each layer make it an eye-catching dessert no matter where you serve it. Plus, it's sure to bring smiles to even the biggest skeptics when they see it! So why not take the time to bake up the flavorful and delightful rainbow layered cake? And don't forget – once you've made yours, let us know what you think!
If you've tried this Rainbow Layered Cake Recipe, please don't forget to leave a rating on the recipe card. In addition, Take a picture and tag us on our social media accounts: Facebook, Twitter, Instagram, and Pinterest. For more baking recipes make sure you subscribed to our weekly newsletter!