==================
Affiliate Statement
Best Baking Tips is supported by our audience. When you purchase through one of our links, we may earn a small affiliate commission.  As an Amazon Associate I earn from qualifying purchases. Your cost is not affected.
==================
Do you love the tart sweetness of raspberries paired with the comforting familiarity of oatmeal? Then you're going to love these raspberry oatmeal bars! They're perfect for a quick and healthy snack, or even a dessert. Plus, they're super easy to make – you only need a few simple ingredients. So dive into these delicious bars today!
Raspberry Oatmeal Bars: They're BERRY good!
There's a new healthy breakfast treat in town, and it's these delicious raspberry oatmeal bars. Made with whole-grain oats, antioxidants, and plenty of fruit, they're an easy and healthy way to start your day. And best of all, they're super simple to make. Just mix the ingredients together, spread them into a pan, and bake. In no time at all, you'll have a healthy breakfast or snack that will keep you going all morning long. So what are you waiting for? Give these raspberry oatmeal bars a try today!
What makes these Raspberry Oatmeal Bars so good?
These raspberry oatmeal bars are made with very easy and accessible ingredients like all-purpose flour, oatmeal, butter, lemon juice, and of course, raspberries. They are the perfect balance of sweet and tart, and they are so addicting! I like to make a batch of these at the beginning of the week and then enjoy them for breakfast or a snack throughout the week. They are also great for packing in lunchboxes or taking on-the-go.
One of the things that I love about this recipe is that it is very versatile. If you don't have raspberries on hand, you can use any other type of berry or even chocolate chips. You can also use any nut butter that you prefer. I have made these bars with almond butter, peanut butter, and sunflower butter, and all three were delicious!
What makes these bars healthy?
Raspberries are not only delicious, but they are also healthy! These little red fruits are packed with vitamins and antioxidants, which can help to boost your immune system and protect your cells from damage. In addition, raspberries are a good source of fiber, which can help to keep you regular and promote healthy digestion. And if that wasn't enough, raspberries also contain a compound that has been shown to have anti-cancer activity. So next time you're looking for a healthy snack, reach for a handful of raspberries!
Oatmeals are a good source of vitamins and minerals, including magnesium, iron, and zinc. One of the most important nutrients in oatmeal is beta-glucan, which has been shown to lower cholesterol levels and improve heart health. In addition to being healthy, oatmeal is also incredibly versatile. It can be enjoyed hot or cold, sweet or savory, and can be easily customized to fit any diet or taste preference. Whether you're looking for a healthy breakfast option or simply want to add more oats to your diet, rolled oats are a great choice.
Healthy Ingredient Alternatives
One way to make your favorite recipes a little healthier is to substitute some of the ingredients with healthier alternatives. For example, in this recipe for raspberry oatmeal bars, you could substitute store-bought raspberry jam with fresh raspberry, brown sugar with honey, all-purpose flour with whole wheat flour, and butter with coconut oil. These substitutions will not only make the bars more nutritious, but they will also give them a unique flavor that you are sure to love. Additionally, you could experiment with other healthy ingredients, such as adding flaxseed or chia seeds to the oatmeal mixture. So don't be afraid to get creative in the kitchen and make your recipes a little healthier. Your body will thank you for it.
If you want to try these delicious Raspberry Oatmeal Bars, share your photo and experience with us, and let us know what you think in the comments below by using #bestbakingtips and #raspberryoatmealbars
These Raspberry Oatmeal Bars are so good, they're Berrylicious!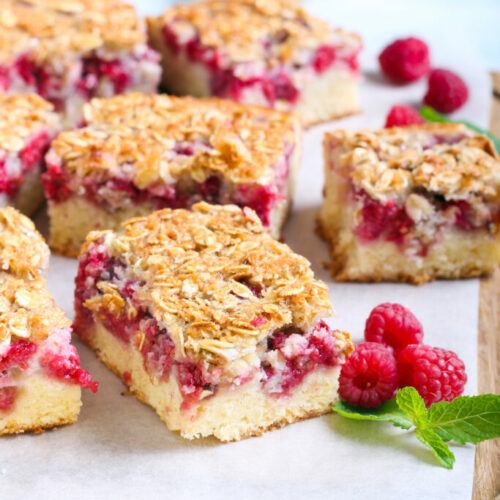 Raspberry Oatmeal Bars
These Raspberry Oatmeal Bars have a buttery oatmeal crust, filled with a lusciously sweet and tangy raspberry jam, and topped with a delicious golden crumbly oatmeal topping! These bars are made with simple pantry staples and are readily available in your local grocery store. Perfect for a fun weekend baking project with the family!
Ingredients
Let's gather all the ingredients!
1 ½

cups

rolled oats

1

cup

all-purpose flour

1

stick

butter

softened

¼

cup

vegetable oil

2

tbsp

lemon juice

2

tsp

cinnamon

ground

¼

tsp

baking soda

⅛

tsp

kosher salt

½

cup

brown sugar

1

cup

raspberry jam

seedless (sugar-free or natural flavored)
Instructions
Ready to make these delicious bars?
Mix the butter in a bowl with the oatmeal, flour, sugar, lemon juice, oil, cinnamon, baking soda, and salt until well incorporated.

In a 9x9 baking dish lined with parchment paper, press half the mixture into the pan.

Spoon the jam on the crust.

Top with remaining crumb mixture and bake for 35 to 40 minutes

Completely cool, then cut into 3-inch squares.

Serve and enjoy with family and friends!
Notes
Fillings you can Substitute:
fig
peach
blueberry
apple
plum
strawberry
boysenberry
pineapple
apricot
TIPS:
You can use any kind of flour.
Substitute 1 teaspoon of molasses added to white sugar if you don't have brown sugar.
Add more or less cinnamon to taste or even allspice in the crust.
Finely crushed pecans can be added for a nutty crunch.
Cooking these longer will make the oatmeal bar crunchier.
Use 1/4 cup less jam if you want more crust/less jam filling.
All-natural jams and sugar-free work fine.
Only use seedless jam and any flavor works (I.E. strawberry, blueberry, cherry, and apple).
Omit the oil if using other fine flours like oatmeal and almond flour.
Nutrition
Calories:
255
kcal
Carbohydrates:
58
g
Protein:
3
g
Fat:
1
g
Saturated Fat:
0.2
g
Polyunsaturated Fat:
0.4
g
Monounsaturated Fat:
0.3
g
Cholesterol:
0.01
mg
Sodium:
79
mg
Potassium:
115
mg
Fiber:
2
g
Sugar:
30
g
Vitamin A:
2
IU
Vitamin C:
5
mg
Calcium:
32
mg
Iron:
2
mg
Must-Read Articles
Below are the must-read articles about baking. You will enjoy them reading as they are full of information and helpful tips. Read them and share your thoughts.
To Wrap It All Up
These raspberry oatmeal bars are the perfect way to show your friends and family how much you care. With their fluffy texture and delicate tart sweetness, they're sure to make any occasion special. So go ahead and show your loved ones how much you care with a batch of these delicious bars!
Connect With Us
If you've tried these Raspberry Oatmeal Bars, don't forget to leave a rating on the recipe card. Take a ? and tag us on our social media accounts: Facebook, Twitter, Instagram, and Pinterest. ?? For more baking recipes make sure you subscribed to our weekly newsletter. ?
Read More
Best Types of Thermometers for Baking