==================
Affiliate Statement and a Caveat 
First off, a little caveat: within my articles you will find affiliate links, meaning if you buy them, I get a small commission. Your cost is not affected. In addition, I am an Amazon Associate and I earn from qualifying purchases on Amazon.
And yes, if I say that I recommend a product here, it means I truly believe it is a good product. I refuse to recommend any product that I have not researched and believe to be a good value.
Even better, I provide you with a very clear picture of the product, it's use, and the probable value.
Earning your trust is important to me. I run this website myself and the commissions and donations help support the site.
Sound reasonable and fair enough? Let's continue to the article.
==================
Who doesn't love a delicious chocolate cookie? And when you add a little bit of salt on top, it takes these lovely cookies to the next level. If you're looking for a new twist on your classic chocolate cookie recipe, you've got to try this salted chocolate version. Trust me; they'll be your new favorite!
The Rich and Decadent Salted Chocolate Cookies
Even just the sound of it makes it super rich, luxurious, and delicately sinful. These Salted Chocolate Cookies will definitely be the crowd's favorite. They're chewy and have a perfect balance of saltiness and intense chocolate flavor. The addition of Fleur de sel will give it a different kind of twist and contrast. 
The Key Ingredients
Ever wonder what makes those expensive chocolate cookies taste divine? It's a result of the premium ingredients they use. Below are some key components to this cookie recipe that added a different twist to every bite. 
Valrhona Chocolate will be one of the key ingredients for this cookie recipe. Okay, you may be thinking, what's so special about Valrhona? This chocolate is among the premium and finest brands of chocolate usually used in baking. It has this complex and intense chocolatey notes along with other tones like toffee, coffee, floral notes, lime peel, a hint of fresh herbs, and lavender that gives that good mouthfeel. It is also known for both its flavor and high cocoa butter content.
Fleur de Sel, harvested in several regions of France. It is a rare and pricey variety of sea salt and pronounced "flure-de-SELL," It is flaky, delicate, and ideal for adding to meals before serving. Since this salt costs a lot more than regular sea salt, this is not used as a seasoning but as a garnish. Thus adding a few pinches over chocolates, caramels, or other sweet foods, add a burst of flavor, visual appeal, and even texture. Fleur de sel is found to be the most interesting way to heighten and contrast the sweetness.
Other Variation
This Salted Chocolate Cookie is, of course, already perfect as it is. However, if you want to be a little adventurous and try a different variation, go ahead–We got you covered! Since these cookies are so good and classic, you can't go wrong with any choice of ingredient you want to add. How about fresh or dried fruits like raspberries, mixed nuts like walnuts, pistachios, or cashews? The option is yours to create a different variation out of these already perfect salted chocolate cookies. 
Let's Make it Vegan
Most of you would probably say, can we make it vegan? And the answer is Yes! Definitely, I recommend replacing the butter with a vegan option available in any vegan grocery. Though you can substitute it with coconut or vegetable oil, I still recommend using vegan butter as a replacement if you want to achieve the same texture and taste.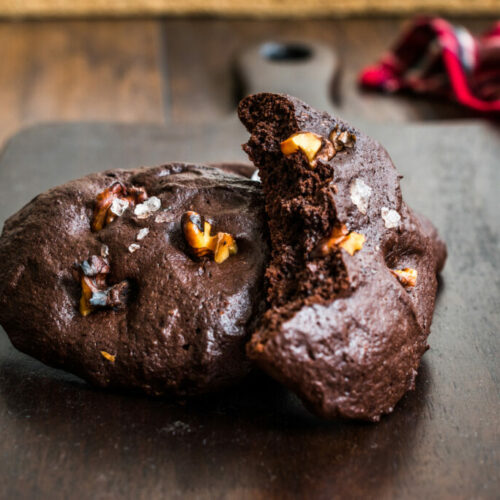 Salted Chocolate Cookies
These luscious salted chocolate cookies are intensified by the addition of fleur de sel and rich Valrhona chocolate—an excellent decadent dessert perfect for any occasion.
Ingredients
2

cups

all-purpose flour

⅔

cup

cocoa powder

unsweetened

Pinch

fine sea salt

1½

tsp

baking soda

1

cup

unsalted butter

2 sticks room-temperature

¾

cup

light brown sugar

⅓

cup

plus 1 tablespoon, of granulated sugar

1

tsp

vanilla extract

or almond extract

1 1/4

cup

70 to 85 percent cacao Valrhona chocolate, roughly chopped

Fleur de sel

for finishing touches.
Instructions
Combine all the dry ingredients in a large mixing bowl, mix the flour, baking soda, cocoa powder, and salt.

Cream butter and sugar with vanilla extract using a stand mixer and paddle attachment. It will take about 5 to 7 minutes to become light and fluffy.

Mix in the flour mixture until you form a smooth dough.

Slowly fold in your chopped Valrhona chocolates.

Once the cookie dough is ready, cover the bowl using plastic wrap and refrigerate overnight.

Meanwhile, prepare baking sheets and line them with parchment paper.

Also, start to preheat the oven to 350ºF.

Create 2 tablespoon balls out of the cookie dough and arrange them at least 2 inches apart on the prepared baking sheet pans.

Sprinkle each with a pinch of fleur de sel.

Bake for the first 11 minutes, then rotate halfway through. Remove from the oven once done baking.
Shaping:
This process is optional, but if you want to have perfect shape cookies, use a 2¾-inch round cookie cutter to make the cookies perfectly round. Do this while the cookies are still hot.

Once done, allow them to cool completely, then serve.
Notes
If you love rustic and imperfectly shaped cookies, as I do, you can skip the shaping part. However, if you will be packing or selling these cookies, I recommend doing the technique to ensure you have uniform sizes and shapes.
Nutrition
Calories:
201
kcal
Carbohydrates:
21
g
Protein:
5
g
Fat:
11
g
Saturated Fat:
7
g
Polyunsaturated Fat:
1
g
Monounsaturated Fat:
3
g
Trans Fat:
0.4
g
Cholesterol:
36
mg
Sodium:
103
mg
Potassium:
127
mg
Fiber:
2
g
Sugar:
9
g
Vitamin A:
330
IU
Calcium:
23
mg
Iron:
1
mg
More Easy Dessert Recipe
Love healthy baking recipes? You could try these simple recipes at home to impress your loved ones. Perfect for after-meal treats, coffee, and tea parties with friends and family!
Cream Cheese Christmas Cookies
To Wrap It All Up 
No matter the occasion, these Salted Chocolate Cookies will be a luxurious and decadent treat that will wow your guests. They are easy to bake at home, so that you can try them out for yourself. Make this recipe a real hit and probably your next favorite!
Connect With Us
If you've tried the Salted Chocolate Cookies, don't forget to leave a rating on the recipe card. Tag us on our social media accounts, subscribe to our weekly newsletter, and follow the Best Baking Tips and Vegan Globetrotter sites for more delicious ideas!
Read More
Pumpkin Chocolate Brownies – A Delicious Fall Treat!
Strawberry Peanut Butter and Jelly Thumbprint Cookies