==================
Affiliate Statement
Best Baking Tips is supported by our audience. When you purchase through one of our links, we may earn a small affiliate commission.  As an Amazon Associate I earn from qualifying purchases. Your cost is not affected.
==================
Have you ever had a Streuselkuchen or crumb cake? If not, you're missing out on one of the most delicious and easy-to-make desserts around. This traditional German treat is perfect for breakfast, brunch, or even a snack. And the best part? It's so simple to make, even if you're not a professional baker. Follow this recipe, and you'll enjoy a streuselkuchen in no time!
Streuselkuchen – Crumb Cake Recipe
Nothing beats a warm and freshly baked crumb cake for a snack with a scoop of creamy vanilla ice cream on top that slowly melts into one delicious bite. Or how about whipping cream and chopped nuts to go along with it? Making this crumb cake as a base is one of those simple pleasures. I love making a big batch of these goodies and enjoying them at any time of the day.
Pantry Staples
What I love about this recipe is that it's not as complicated as it sounds. The name can be a little tricky, but trust me, all the ingredients are already available in your pantry. The filling can be replaced with any fruit you like, or you can even use a canned pie filling for convenience. But in case you still prefer to make your own fruit filling, prepare it in advance to lessen your prep time and give it enough time to cool down. 
Few Tweaks and Tricks
Some recipe requires vanilla sugar instead of vanilla extract as a flavoring. This is because you do not want too much liquid in your crumbs. If you have access to vanilla sugar, feel free to use it instead. Also, you may use margarine instead of butter in this recipe. 
In making fruit filling, ensure that you are not making it too runny or with too much liquid, as this can be absorbed by your crust and make it soggy. Do not overbake or reheat the cake for longer; this will result in a hard and dry crust.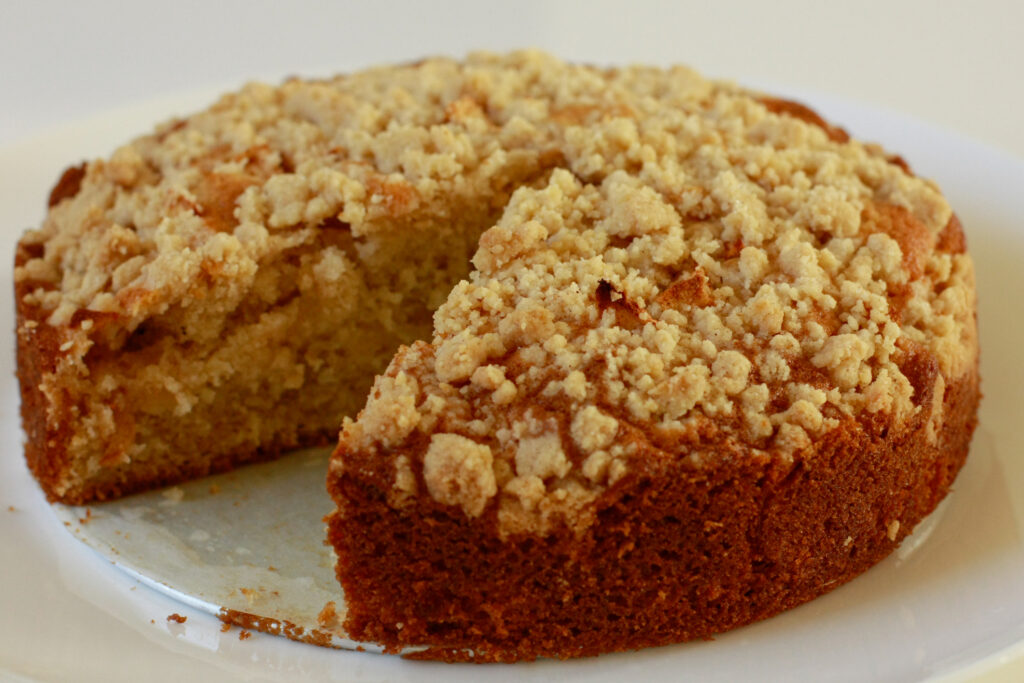 Let's Make it Vegan
One of the good things about making a simple recipe with simple ingredients is you can easily turn it into a vegan version with just a few adjustments. You just need to replace the butter with vegan butter or use coconut oil instead. As for the eggs, you may use flaxseeds, chia egg, or apple sauce for their replacement. 
Streuselkuchen – Crumb Cake Recipe
You don't have to be a professional baker to make crumb cakes! This Streuselkuchen recipe is my go-to when I'm in the mood for a delicious and easy-to-make cake. It's perfect for any occasion and always goes over well with friends and family. Give it a shot next time you are in the mood for something sweet!
Ingredients
3 1/2

cups

all-purpose flour

1

cup

sugar

1

tsp

vanilla extract

1/4

tsp

baking powder

1/4

tsp

salt

2

pcs

whole eggs

14

tbsp

butter
Filling:
sliced peaches and mangoes

or choose any fruit you like
Instructions
Streusel:
Mix flour, sugar, vanilla extract, salt, and baking powder in a bowl. Add the eggs and slices of chilled butter.

Use a low-speed mixer or combine the ingredients with your hands. If you have dough hooks, you may also use those instead. Mix just until crumbs form.

Meanwhile, it is best to use a 9-inch springform. Or, if not available, you can use a 9-inch brownie pan with a flat bottom, etc.

Spray or grease the interior of the pan thoroughly. Then set the oven to 350 degrees Fahrenheit.

In the bottom and up the sides of the springform pan, press 2/3 of the crumbs. Heighten the sides to at least 1 inch. Make sure the dough is tightly rolled and has no gaps.
Assembling:
Scoop fruit filling onto your crust, leaving it 1/4 inch from the rim. Avoid using too much liquid, or the cake may get soggy.

Spread the remaining streusel dough evenly over the top, including the sides. When you're done, the cake should typically have an even top.

Bake in a preheated oven for 45 to 55 minutes, or until the top is golden brown.

Before serving, let the cake cool fully; otherwise, it can be runny. Serve it with vanilla ice cream or whipped cream on top.
Notes
For cake leftovers, I recommend placing them in the refrigerator for up to 3 days and lightly warming them in a toaster or warm oven before consuming them. Avoid overheating to prevent it from overbaking the crust and making it too hard.
If you plan to make your own fruit filling for this recipe, prepare them ahead of time. This will give it enough time to cool down, lessen your prep time, and give the filling a chance to develop its full flavors.
Nutrition
Calories:
263
kcal
Carbohydrates:
54
g
Protein:
6
g
Fat:
2
g
Saturated Fat:
1
g
Polyunsaturated Fat:
0.4
g
Monounsaturated Fat:
1
g
Trans Fat:
0.003
g
Cholesterol:
35
mg
Sodium:
104
mg
Potassium:
88
mg
Fiber:
1
g
Sugar:
21
g
Vitamin A:
82
IU
Calcium:
42
mg
Iron:
2
mg
More Easy Dessert Recipe
Love healthy baking recipes? You could try these simple recipes at home to impress your loved ones. Perfect for after-meal treats, coffee, and tea parties with friends and family!
Chocolate Hazelnut Cookie Cups
To Wrap It All Up 
If you love crumb cake, then you gotta try this Streuselkuchen Crumb Cake recipe! This German dessert cake is packed with delicious flavor and is really easy to make. Plus, it's the perfect coffee cake for entertaining or enjoying a lazy weekend morning. So what are you waiting for? Bake up a batch of this yummy streusel cake today!
Connect With Us
If you've tried these Streuselkuchen – Crumb Cake Recipe, remember to leave a rating on the recipe card. Tag us on our social media accounts, subscribe to our weekly newsletter, and follow the Best Baking Tips and Vegan Globetrotter sites for more delicious ideas!
Read More
Bake Your Stress Away: 10 Benefits of Baking
How to Bake with Whole Grain Flours, Top Tips