==================
Affiliate Statement and a Caveat 
First off, a little caveat: within my articles you will find affiliate links, meaning if you buy them, I get a small commission. Your cost is not affected. In addition, I am an Amazon Associate and I earn from qualifying purchases on Amazon.
And yes, if I say that I recommend a product here, it means I truly believe it is a good product. I refuse to recommend any product that I have not researched and believe to be a good value.
Even better, I provide you with a very clear picture of the product, it's use, and the probable value.
Earning your trust is important to me. I run this website myself and the commissions and donations help support the site.
Sound reasonable and fair enough? Let's continue to the article.
==================
Whether you're in Israel for Hanukkah or just love donuts, you've got to try sufganiyot! These fried, soft donuts are filled with jelly or cream and dusted with powdered sugar – they're absolutely delicious. So if you're looking for a new dessert to try, give sufganiyot a go! You won't be disappointed.
Sufganiyot (Israeli Donuts) and Hanukkah
Hanukkah, a celebrated festival in Israel, is where you find the famous Sufganiyot or Israeli Donuts. It is a pillowy donut resembling a mixture between a jelly donut and a beignet, eaten on Hanukkah in Israel and other countries to the eight-day miracle of the oil, as opposed to the Hanukkah story's one-day miracle of burning. Fried foods are a thing during this season, thus the popularity of these doughnuts.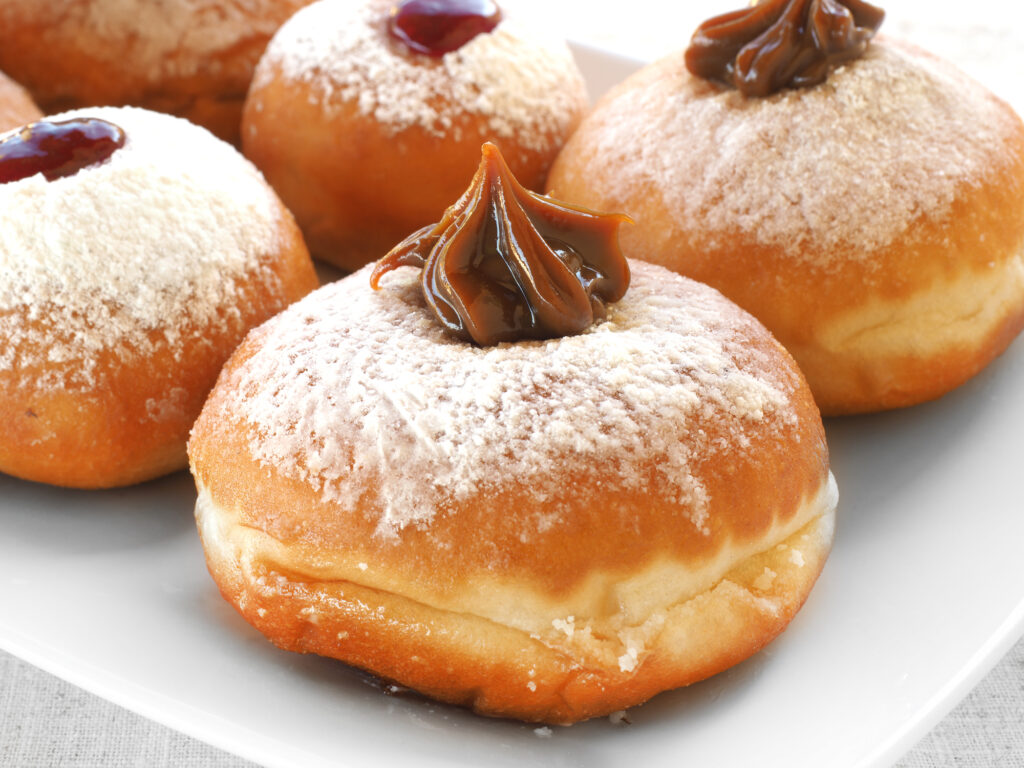 The traditional filling for sufganiyot is jelly or jam, but if someone doesn't like jelly in their donuts, there are countless other filling options available,it can be sweet custard, chocolate or even savory cream cheese.  Additionally, the excellent plain, sufganiyot.
How To Make Sufganiyot or Israeli Donuts
Making donuts from scratch can sometimes be a little intimidating. Especially if there is a lot of frying involved, of course, the kneading can be daunting too. But this donut recipe is easy, and there's no need to be a pro to create this yummy treat. I assure you that the process is quite straightforward and quicker than you think. The dough only needs to mix, no heavy kneading is involved, and the waiting time is pretty much tolerable. You can shape these donuts in any way you like and fill them with any flavors that suit your taste. The common filling is jam or jelly, but you can also use custard, Nutella, pudding, pumpkin butter, apple butter, and dulce de leche; the options are limitless. Toppings can vary from plain to dusted with powdered sugar and sometimes with chocolate drizzle.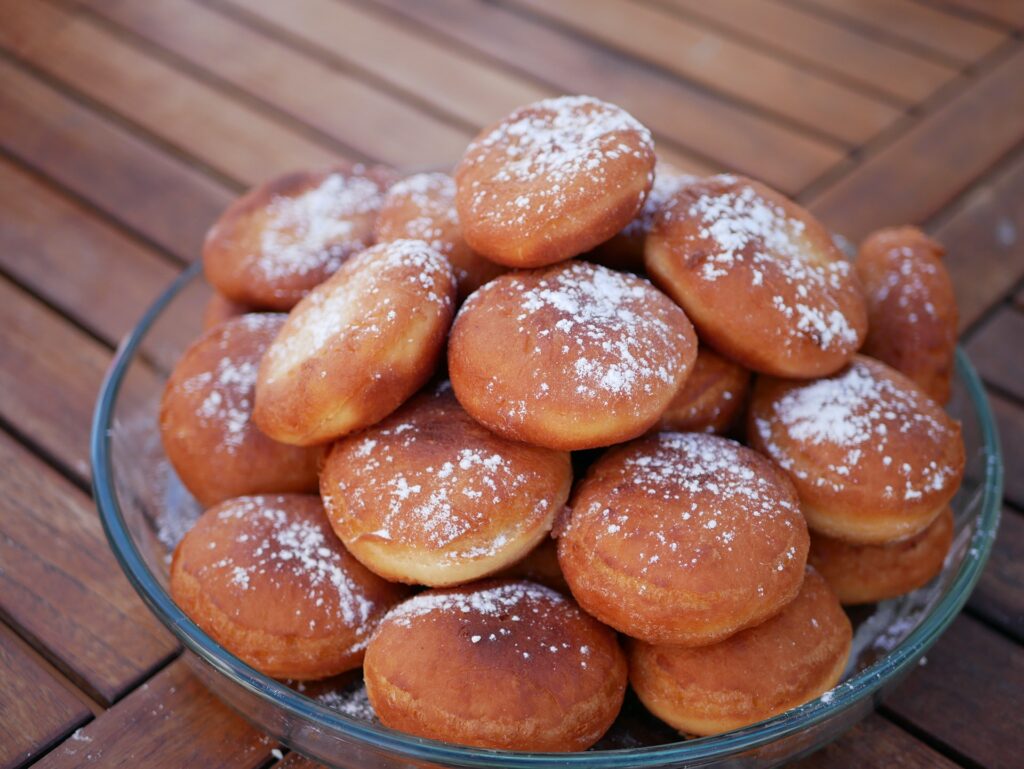 Variations and Substitutions
Making this vegan may have to require you to stick with the basics. But no worries since this recipe is already good as it is. You can make this vegan by replacing the egg with vegan alternatives like apple sauce, flax seeds, or tofu, or you can even adjust the whole recipe without the need for the egg. As for the filling, you have a wide variety of fruit jams to choose from. 
Sufganiyot (Israeli Donuts)
Sufganiyot are pillowy donuts that are enjoyed in Israel as well as around the world during Hanukah. They are a mixture between a beignet and a jelly donut.
Ingredients
1

cup

warm water

about 110°F

1

tbsp

active dry yeast

3

cups

all-purpose flour

¼

cup

confectioners' sugar; add more for dusting

¾

teaspoon

salt

½

teaspoon

ground nutmeg

2

egg yolks

large

2

tbsp

vegetable oil

1

tsp

vanilla extract
Filling:
1

cup

jam or jelly

Oil for frying
Instructions
In a separate bowl, combine the water and yeast. Allow it to sit for five minutes or until frothy.

Meanwhile, combine the flour, confectioners' sugar, salt, and nutmeg in a big container. Combine by whisking, then put aside.

Pour in the egg yolks, oil, and vanilla together with the water and yeast mixture.

Mix everything using a fork.

Continue mixing until the dough comes together. It tends to be a little sticky.

Cover it with plastic wrap and let the dough rest on the countertop for 1 to 2 hours or until it has doubled.
Frying:
Prepare 2 baking sheets, one is with a paper towel for dripping the fried doughnuts, and one is with flour for dusting.

On the floured surface, cut the dough into a ¼-in-thick rectangle. Add more flour if needed to prevent it from sticking.

You can make cute 24pcs of 2-inch squares or round shapes, depending on your preference. Sprinkle each piece lightly with flour.

Add enough oil to deep fry the doughnuts in your frying pot. It should be at least 350°F when measured using a thermometer.

Place dough pieces into the hot oil and fry until golden brown.

This process will take about 3 minutes; flip it halfway through frying.

If necessary, adjust the heat, so the oil temperature stays between 325°F and 350°F. Transfer the donuts to the baking sheet covered with paper towels using a slotted spoon. Continue with the remaining doughnuts.

When the doughnuts are cool enough, pipe some fruit jam in the center using a piping bag and piping tip. Squeeze at least 1-2 tsp of jelly inside.

Dust the doughnuts with powdered sugar just before serving.
Notes
If you can't find a piping bag with a piping tip, you can serve these doughnuts with jam or jelly on the side.
Nutrition
Calories:
63
kcal
Carbohydrates:
12
g
Protein:
2
g
Fat:
1
g
Saturated Fat:
0.2
g
Polyunsaturated Fat:
0.1
g
Monounsaturated Fat:
0.2
g
Cholesterol:
16
mg
Sodium:
74
mg
Potassium:
20
mg
Fiber:
0.5
g
Sugar:
0.1
g
Vitamin A:
22
IU
Vitamin C:
0.002
mg
Calcium:
4
mg
Iron:
1
mg
More Easy Dessert Recipe
Love healthy baking recipes? You could try these simple recipes at home to impress your loved ones. Perfect for after-meal treats, coffee, and tea parties with friends and family!
To Wrap It All Up 
Now that you know how to make sufganiyot, the Israeli way, will you be sticking with the classics or trying something new? These donuts are so versatile that there's really no wrong answer. If you want to stick with a classic flavor combo, we suggest our recipe for chocolate and raspberry filled sufganiyot. But if you're feeling adventurous, why not try your hand at making savory sufganiyot? No matter what filling you choose, we guarantee you'll love these sufganiyot! So what are you waiting for? Give them a try today.
Connect With Us
If you've tried these Sufganiyot Israeli Donuts, remember to leave a rating on the recipe card. Tag us on our social media accounts, subscribe to our weekly newsletter, and follow the Best Baking Tips and Vegan Globetrotter sites for more delicious ideas!
Read More
Baking with Whole Grain Flour, Top Choices
Best Types of Thermometers for Baking