==================
Affiliate Statement
Best Baking Tips is supported by our audience. When you purchase through one of our links, we may earn a small affiliate commission.  As an Amazon Associate I earn from qualifying purchases. Your cost is not affected.
==================
This Vegan Carrot Cake recipe originally appeared in the VeganGlobetrotter.com We think it stands well for non-vegans, too!
Today, I'm sharing a recipe for the most fantastic vegan carrot cake. This cake is moist, fluffy, and packed with flavor. Trust me; you will want to make this one again and again!
Rich and Decadent Vegan Carrot Cake
Carrot cake is one of my favorite desserts, I love the rich, decadent, and delicious flavor made from shredded carrots, eggs, flour, butter, and other ingredients. Since it is made with one of the healthiest vegetables, eating this dessert makes us believe it is less sinful and guilt-free. Packed with vitamins, fiber, and health benefits, this one is ideally one cake recipe you should learn to prepare at home.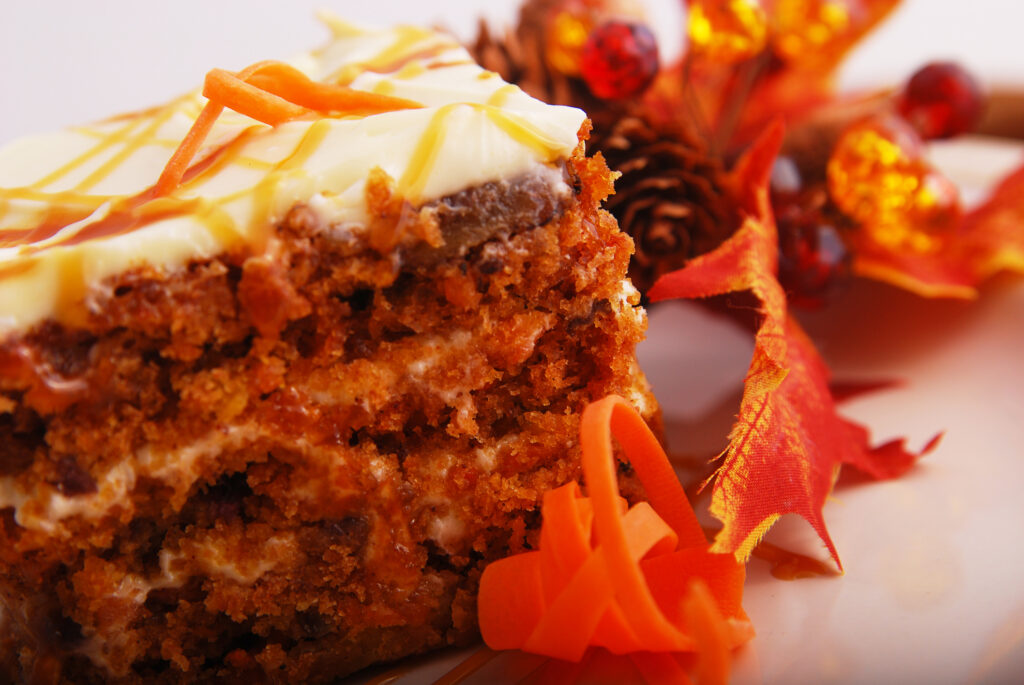 The Art of Baking 
Baking is a combination of science and art. If you enjoy baking as much as I do, I know you will agree with me on this one. As a matter of fact, you have to be precise regarding ingredients, and there are some techniques and a few practices that you should follow too. Components are primarily strict and delicately prepared; thus, who would have thought that this healthy and already delicious cake could be so much better? 
The Birth of Vegan Carrot Cake
Through the years, carrot cake recipes have evolved in various ways and methods. We have found healthier and plant-based alternatives to recreate it into something more favorable to our palate. 
Possible Vegan Substitutes
There are plenty of vegan options available in most stores to substitute for dairy products like butter, cheese, eggs, and milk. These are all plant-based. 
If you are not a fan of these, you can find substitutes that can produce the same result though they will vary a little in textures, like using coconut oil instead of butter. You can replace eggs with applesauce or flax eggs. Eggs usually give baked products structure, but this recipe has enough flour and carrot shreds to make up for it. The difference can be undeniably unnoticeable; it's so good you won't even notice it's vegan!
Vegan Carrot Cake
This fluffy vegan carrot cake is a combination of rich, tangy, and decadent flavors. It has this delicate taste with warm hints of cinnamon, nutmeg, and ginger, plus an extra-generous portion of shredded carrots for sweetness and moisture- something that can definitely delight vegans and non-vegans alike!
Ingredients
Cake Layers:
1/2

cup

coconut oil

unrefined, melted

1 1/3

cups

walnuts

raw, halves

3

cups

all-purpose flour

1

tablespoon

baking powder

2 1/2

teaspoons

ground cinnamon

3/4

teaspoon

baking soda

1/2

teaspoon

ground ginger

1/2

teaspoon

ground nutmeg

1/2

teaspoon

kosher salt

1 1/4

cups

vegan cane sugar

1

cup

almond milk

unsweetened

1/2

cup

applesauce

2

teaspoons

pure vanilla extract

2 1/4

cups

carrots

shredded
Cream Cheese Frosting:
8

ounces

vegan cream cheese

softened

1/2

cup

vegan unsalted butter

softened

1

teaspoon

pure vanilla extract

1

Pinch

kosher salt

3

cups

vegan confectioners' sugar

3

tablespoons

cornstarch
Instructions
Set the oven to 350 degrees Fahrenheit. Grease two 9-inch round cake pans with coconut oil.
For the cake layers:
Spread the walnuts on a small baking sheet and roast them for about 8 minutes or until golden brown.

When the walnuts are cool enough, divide them into two. One is finely chopped, while the remaining half is chopped coarsely.

Meanwhile, combine all the dry ingredients, like flour, baking powder, nutmeg, ginger, salt, baking soda, and cinnamon, in a medium mixing bowl and set aside.

In a separate bowl, whisk together the carrots, milk, applesauce, cane sugar, vanilla, and 1/2 cup of coconut oil until well incorporated.

Then, combine the dry ingredients with the wet mixture until well blended; make sure not to overmix.

Quickly fold in the chopped walnuts.

Divide the batter between the prepared pans, then smooth the top into an even layer to remove air bubbles.

Bake for 25 to 28 minutes, and check using the toothpick method. Or until the tops are golden brown.

After 10 minutes of resting, put the cakes out onto wire racks to finish cooling, which should take an hour.
For the cream cheese frosting:
Combine the cream cheese and butter. Using an electric mixer, beat the mixture for two minutes on medium-high speed until it is smooth and fluffy.

Add in the vanilla and salt until well combined. Reduce the speed to low, then gradually add the confectioners' sugar and cornstarch, mixing until frothy while occasionally scraping the bowl's sides with a rubber spatula.

Store it in the refrigerator until you're ready to assemble the cake.
To assemble the cake:
Once the cake is cool enough, trim the domes of each round with a large serrated knife so the tops are flat. Put one layer round on a dish or cake stand with the sliced side facing up.

Add 1/4 of the prepared frosting on top for filling.

Cover the filling with another slice of cake, cut side down for an exact shape, then start frosting the top and sides of the cake smoothly to make an even crumb coat. Top evenly with 3/4 cup of the frosting.

Refrigerate for 30 minutes to let the frosting set.

Finish it with the remaining frosting, covering the top and sides of the cake, and pipe some swirl frosting if desired.

Sprinkle the top edge of the cake with the roughly chopped walnuts. Allow the frosting to set in the refrigerator for 30 minutes.
Notes
You can prepare the frosting in advance to let it set in the refrigerator and to lessen the preparation time. As for the nuts, you can use different types depending on your preference. Adding cream cheese frosting is optional. You can enjoy this cake plain or with powdered sugar dust on top.
Nutrition
Calories:
431
kcal
Carbohydrates:
40
g
Protein:
8
g
Fat:
28
g
Saturated Fat:
12
g
Polyunsaturated Fat:
8
g
Monounsaturated Fat:
2
g
Sodium:
471
mg
Potassium:
216
mg
Fiber:
5
g
Sugar:
4
g
Vitamin A:
4820
IU
Vitamin C:
2
mg
Calcium:
152
mg
Iron:
3
mg
More Easy Dessert Recipes
Love vegan baking recipes? You could try these simple recipes at home to impress your loved ones. Perfect for after-meal treats and coffee and tea parties with friends and family!
To Wrap It All Up 
 Indulge in this vegan carrot cake with perfect balance of flavors and textures–guilt-free! I hope you'll give it a try at home. Until next time, happy baking!
Connect With Us
If you've tried these Vegan Carrot Cakes, don't forget to leave a rating on the recipe card. Tag us on our social media accounts and make sure to subscribe to our weekly newsletter, and follow the Best Baking Tips and Vegan Globetrotter sites for more delicious ideas!
Read More
Pumpkin Chocolate Brownies – A Delicious Fall Treat!