==================
Affiliate Statement
Best Baking Tips is supported by our audience. When you purchase through one of our links, we may earn a small affiliate commission.  As an Amazon Associate I earn from qualifying purchases. Your cost is not affected.
==================
Healthy Baked Falafel Recipe
When you need a quick and easy dinner, try our healthy baked falafel recipe.
Traditionalist fry falafel. Ours lightens the fat content in two ways. First, perk up the flavor by replacing the oil with peanut butter. Of course, you can substitute almond butter, coconut oil, or even vegetable oil for peanut butter. We like the flavor and texture of the peanut butter.
The second way we lighten the fat is by using our oven. Yes, you bake them rather than letting them swim in the frying oil.  Instead of soaking up all that fat, they bask in your oven.
You might be wondering what Falafel actually is.
The term falafel refers to either the entire dish or the main ingredient- the falafel ball. The base of ground chickpeas or fava beans or even a mix of the two comes to life with added spices. After forming the mixture into flattened balls, the cook deep-fries them to a tender ball with a crisp outer coating.
Some cooks find that baked falafel offers incredible flavors without the added fats. We agree.
However, these delicious little nuggets offer more than just great flavors. Baked falafel is low in fat and high in protein. Plus, they provide plenty of fiber- especially soluble fiber, which helps to lower cholesterol. And, they contain many nutrients, including calcium, iron, vitamin C, vitamin B.
Mid-Eastern Beginnings
Falafel originated in the Middle East. In fact, street vendors and restaurants still sell them in the area. The name falafel probably comes from the Aramaic 'pilpāl', meaning a small round thing, or from 'palpēl', meaning to be round, to roll.
The true origin of the falafel provides for much debate in the Middle East. Were they created by Israelis, Egyptians, Palestinians, or the Lebanese? However, the most widely held belief at this time holds that the falafel came from Egypt about 1000 years ago by the Copts, who ate it as a replacement for meat during lent.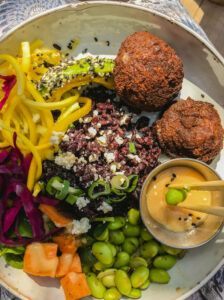 Enjoyed today
Vegetarians and meat lovers both enjoy the falafel. In fact, it provides a good meal for those families with varied preferences. Even the sauces can be made for vegans to use.
We've seen them at fast food kiosks and at fine dining restaurants. They may not be as popular as a burger and fries, but they certainly have their own fan club.
Baked Falafel
Baked falafel allow you to enjoy this delicious Mid-Eastern vegetarian food in a healthier option.
Ingredients
4

cups

garbanzo beans

cooked, drained

1

tbsp

peanut butter

or use olive oil

1/2

medium

onion

2

cloves

garlic

2

tsp

ground cumin

1

tsp

ground coriander

1/2

tsp

salt

1/8

tsp

pepper

1

tbsp

lemon juice

1/2

cup

parsley

fresh, if available

olive oil

or cooking spray
Instructions
Preheat oven to 375°F. Prepare a baking sheet with parchment paper. Lightly oil or spray the paper.

Add all ingredients, except for the parsley, to your food processor.

Pulse to make a minced meal. Be careful not to over process. It should not be a puree or a batter consistency. You want a coarse meal.

Make the mixture into 12 balls about equal size. Flatten each slightly to about 1/2-inch thick. Place on the baking sheet.

Spray with baking spray or olive oil.

Bake for 10-15 minutes. Turn each one over. Spray lightly.

Bake for an additional 10-15 minutes.

Falafels are done when they are lightly browned and dry on both sides.
Nutrition
Calories:
309
kcal
Carbohydrates:
49
g
Protein:
16
g
Fat:
7
g
Saturated Fat:
1
g
Sodium:
327
mg
Potassium:
583
mg
Fiber:
14
g
Sugar:
9
g
Vitamin A:
689
IU
Vitamin C:
15
mg
Calcium:
109
mg
Iron:
6
mg
Tips and Serving Suggestions for our Healthy Baked Falafel Recipe
Adjust the spices to your family's tastes. For a little more heat, add a pinch of cayenne pepper.
Complete your vegetable and Tabouleh dinner with falafels resting on a bed of lettuce. Add slices of tomato and cucumber. Serve a side of your favorite falafel sauce, perhaps tahini sauce and cucumber sauce. This dinner dresses is as elegant or casual as you choose.
Snack time hunger? Keep a few extras of these on hand, along with some sauce for dipping. With the protein they pack, they quickly quench hunger without weighing your down.
For a handheld dinner or lunch, put tahini sauce, yogurt sauce, or your favorite combination on a split pita bread or a tortilla wrap. Add lettuce and slices of tomato and cucumber with the falafel.
When salad calls, use the same ingredients as for the pita sandwich above, but without the bread. We like our salads in these beautiful ceramic bowls, available in several colors.
Read More: