==================
Affiliate Statement and a Caveat 
First off, a little caveat: within my articles you will find affiliate links, meaning if you buy them, I get a small commission. Your cost is not affected. In addition, I am an Amazon Associate and I earn from qualifying purchases on Amazon.
And yes, if I say that I recommend a product here, it means I truly believe it is a good product. I refuse to recommend any product that I have not researched and believe to be a good value.
Even better, I provide you with a very clear picture of the product, it's use, and the probable value.
Earning your trust is important to me. I run this website myself and the commissions and donations help support the site.
Sound reasonable and fair enough? Let's continue to the article.
==================
Oatmeal Dinner Rolls
These oatmeal dinner rolls provide a delicious addition to most family meals. They rise quite high as they bake, making them incredibly light and fluffy.
And while no one may ask, these rolls offer great nutrition, too!  Research continues to show the amazing health benefits of oats.  However, even with the nutrition and delicious taste, they bake up quite easily with ingredients from your pantry. We make them often and think you might, too.
Saving time helps, too. Make a larger batch and freeze part for baking at a later date.
Perfect on their own, they also dress up even more with special spreads. Consider whipping up a bit of honey butter. It offers a divine effect on these rolls.
To make honey butter, simply mix equal amounts of butter and honey. Use 1/2 cup butter, softened. Add to that, 1/2 cup of your favorite honey. Make sure your honey is pure honey. Often store-bought honey will include sugars and additives. Some contain no honey at all.
Blend together to reach the desired consistency. Stir in 1 tsp cinnamon, if desired.
Chill until ready to use.
For whipped honey butter, use your electric beater. This spreads easily on your dinner rolls.
To incorporate other flavors to your butter spread, consider adding your favorite all-fruit jam or fresh fruit.
Makes 18 rolls
prep: 40 min; rise 1hr, 45 min; bake 20
In a large saucepan, bring water to a boil; add oats and butter. Cook and stir for 1 minute. Remove from the heat; cool to lukewarm.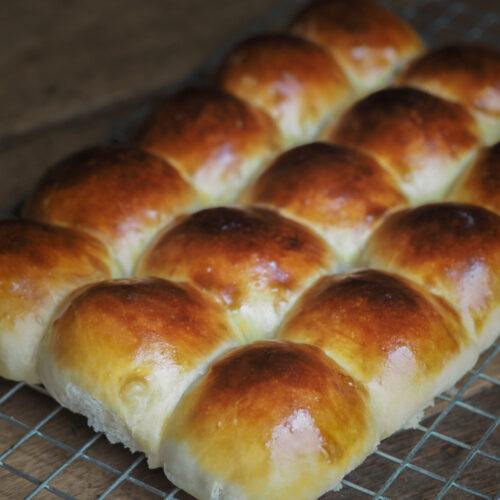 Oatmeal Dinner Rolls
Light and fluffy dinner rolls with the added nutrition of oats. They make any meal a bit more special.
Ingredients
2

cups

water

3

tbsp

butter

melted

1

cup

oats

⅕

cup

water

110-115°F

1

tbsp

sugar

1

tbsp

active dry yeast

⅓

cup

brown sugar

packed

1½

tsp

salt

5½

cups

wheat flour

white wheat works well
Instructions
Mix the oats, butter, and 2 cups water in a bowl and allow the water to soak up the oats.

In another bowl, stir the sugar into the warm water. Add the yeast and mix lightly. Allow to set for about 5 minutes to create a foam.

Mix the brown sugar, salt, and 4 cups of flour together. Add the soaked oats and the foamed yeast. Stir to mix.

Add in enough four to make a soft dough. You might need less than the entire 5½ cups.

Using a stand mixer or by hand, knead about 6 to 8 minutes until dough is smooth and elastic.

Grease a bowl. Put dough in and turn to coat all side of the dough. Cover and let rest in a warm place until doubled in size, about an hour.

Punch down, allow to rest for about 10 minutes.

Grease two 9-inch round baking pans

Divide dough into 18 balls about the same size. Put 9 balls into each of the 2 pans.

Cover and let rise until doubled, about 45 minutes.

Bake until golden brown, about 20-25 minutes.

Remove from pan to wire racks to cool.

Serve warm or room temperature.
Ingredients
2 cups water
1 cup oats
3 tablespoons butter
1 tbsp active yeast
1/3 cup warm water (110° to 115°)
1 tbsp sugar
1/3 cup packed brown sugar
1-1/2 teaspoons salt
5 to 5-1/2 cups all-purpose flour
Directions
In a large bowl, dissolve 1 tbsp sugar in warm water. Stir in yeast. Let set for about 5 minutes to allow the yeast to foam.
Mix into the oat mixture, brown sugar, salt, and 4 cups flour; beat until smooth.
Add enough remaining flour to form a soft dough.
Turn onto a floured surface; knead until smooth and elastic, 6-8 minutes. Place in a greased bowl, turning once to grease top. Cover and let rise in a warm place until doubled, about 1 hour.
Punch dough down; allow to rest for 10 minutes. Shape into 18 balls. Place in two greased 9-in. round baking pans. Cover and let rise until doubled, about 45 minutes.
Preheat oven to 350°F.
Bake until golden brown, about 20-25 minutes.
Remove from pan to wire racks to cool.
Serve warm or room temperature.
Read More: