==================
Affiliate Statement
Best Baking Tips is supported by our audience. When you purchase through one of our links, we may earn a small affiliate commission.  As an Amazon Associate I earn from qualifying purchases. Your cost is not affected.
==================
Whole Wheat Pizza Crust
Really? An easy whole wheat pizza crust? Many years ago, one of our favorite pizza restaurants debuted a whole wheat pizza crust. Yes, you could top this with your choice of their available toppings. In fact, they offered a variety of cheeses, too.
We like the flavor of whole wheat. However, consider its nutritional benefits, too.
One tip that bears repeating (see tips below) is refrigeration. This recipe creates a delicious crust in the same day you mix it. However, it bakes up even more amazingly if you let it rest in the refrigerator for a day or even two. Yes, that resting time allows the gluten fibers to relax and the flavors to fully develop. Try it!
Indeed, nutty, hearty whole-grain flour makes great pizza. This thick crust features a touch of honey. Of course, you can substitute sugar or even maple syrup.
Also, we've included some extra tips following the recipe. We suggest you read through them before beginning. In fact, you will probably want to try some of the suggestions.
However, if you are looking for a deep-dish creation, consider our Chicago-Style. 
And now, the recipe for Easy Whole Wheat Pizza Crust
Easy Whole Wheat Pizza Crust Recipe
Homemade pizza with a nutritional boost, thanks to the whole wheat flour in this crust. With this easy to make recipe, pizza night might become a weekly habit.
Ingredients
1

tbsp

active dry yeast

1-1/2

cup

water

warmed to 110-115°F

1

tbsp

honey

or sugar

2

tbsp

olive oil

1

tsp

salt

3 1/2

cups

whole wheat flour

Or while whole wheat
Instructions
In your stand mixer bowl, mix honey and the warm water. Sprinkle yeast over mixture and let stand 5-10 minutes until foamy.

Stir in the olive oil and salt.

Add half the flour and mix on low speed using the dough hook. Add the remaining flour. Continue on low speed until well mixed.

On medium-low speed, (speed 2 on your KitchenAid) continue mixing until dough is well kneaded. It should form a ball and pull away from the sides of the bowl.

Place dough in a well-oiled bowl and allow to rise for about an hour, until doubled in size.

Tip dough onto floured mat or counter. Divide in two for thin crust. Leave as a single for thick crust.

Form each into a ball, flatten slightly. Cover and let rest for about 45 minutes, until doubled again.

Preheat oven to 425°f. Oil your baking pans.

Roll each into a large circle. Stretch with your hands to the size needed for your baking pan.

Place on the oiled pan. Top with sauce and your favorite toppings. Finish with cheese.

Bake for 15 to 20 minutes (thick crust requires the longer time) until bottom of crust is golden brown and cheese melts.
Nutrition
Calories:
146
kcal
Carbohydrates:
27
g
Protein:
5
g
Fat:
3
g
Saturated Fat:
1
g
Sodium:
196
mg
Potassium:
130
mg
Fiber:
4
g
Sugar:
2
g
Calcium:
13
mg
Iron:
1
mg
Pizza Crust Options
We love the flavor and aroma of garlic and Italian seasonings. And so, they often find their way into our dough when we are mixing the ingredients. Of course, you choose the exact amounts and seasonings. Some suggestions include:
1 tsp to 1 T garlic
2 tsp each: oregano, basil, garlic
1 T rosemary
2 T Parmesan cheese (Use nutritional yeast for a healthy vegan option)

Mix this into your dough. Or, sprinkle on the crust before adding the sauce.
And, for the more adventurous among us, consider sprinkling seeds or crushed nuts on the crust before topping. In fact, we encourage you to consider this recipe as a base from which to build your own perfect pizza!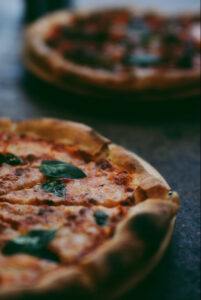 Tips for the Easy Whole Wheat Pizza Crust
If the taste of whole wheat seems a bit over-powering, add 2 tablespoons of Orange Juice with the oil. Yes, Orange juice. No, your pizza won't taste like oranges. But the juice tempers the somewhat tannic flavor whole wheat can sometimes have. Try it and see if you prefer the flavor.
White wheat or traditional red wheat flour- which is best? Only you can decide. But, keep in mind, that white wheat flour is whole wheat that is similar to red wheat in nutrition. White wheat produces a milder flavor and whiter crust. Alternatively, using red wheat gives a darker, more wheat flavored crust.
And, for those times you want an additional nutrient boost, substitute ground flaxseed or other seeds for 1/4 cup of the flour.
Also, try experimenting with different cheeses beyond the standard mozzarella. Choose those that melt well, such as Fontina, cheddar, jack, provolone, or Gouda.
For a deep golden brown, crispy crust, try baking on a pizza stone. Preheat the stone in the middle of the oven for about 60 minutes. Shape and top your pizza on parchment paper or a baker's peel. Then, when you're ready to bake, slide the pizza onto the hot stone (parchment and all, if you're using parchment).
And, as I promised, I'm repeating the suggestion to refrigerate the dough for 1 or 2 days before forming and baking. In fact, consider making two pies, two days apart. Bake one the day you prepare the dough. Wait two days and form the second one.  The difference will amaze you!
Read More: