==================
Affiliate Statement
Best Baking Tips is supported by our audience. When you purchase through one of our links, we may earn a small affiliate commission.  As an Amazon Associate I earn from qualifying purchases. Your cost is not affected.
==================
Mixed berry dessert pizza recipe – Is that a real thing?
When you first consider the mixed berry dessert pizza recipe, you might think that is just some strange idea from a sugary-loving kid. And while most kids indeed enjoy this dessert team, it truly resonates with adults, too.
We have no idea where this began. It might have been a dream of a kid. Or maybe an adult who needed a quick dessert and had some leftover berries. No matter where it began, this delicious recipe now finds itself in the mainstream.
While it may not be as popular as its cousin, Apple Pie Dessert Pizza,  this dessert brings its own flavors to perfection. In fact, this easy-to-make pizza dessert might become your go-to for those family get-togethers.
Planning for the church social? Bake a double batch on large cookie sheets and cut in small squares. People of all ages will ask for the recipe.Share our website with them so they can bring their favorites to next month's buffet.
.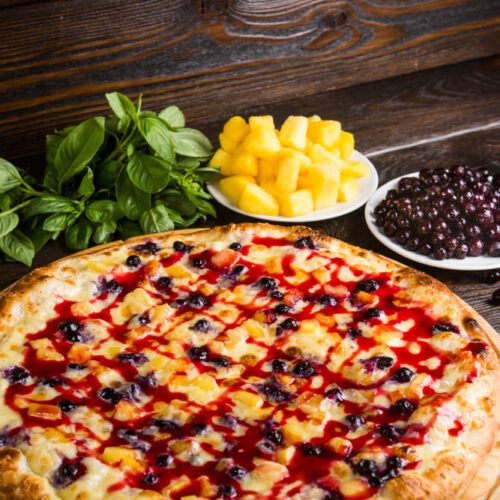 Mixed Fruit Dessert Pizza Recipe
A delicious yet easy way to end your dinner!
Ingredients
1

single pie crust

2/3

cup

sugar

1/4

cup

flour

1

tbsp

ground cinnamon

1/2

tsp

nutmeg

4

cups

mixed berries

1/2

cup

flour

1/2

cup

packed brown sugar

1

tbsp

ground cinnamon

1/3

cup

rolled oats

1/2

cup

butter

softened
Instructions
Roll pastry to fit 12-inch pizza pan. Flute edges.

Combine 2/3 cup sugar, 1/3 cup flour, and 1 T cinnamon, and 1/2 tsp nutmeg in a bowl. Mix well.

Add berries and mix to coat evenly.

Combine remaining ingredients in a separate bowl. Mix thoroughly.

Sprinkle topping mix over the fruit.

Bake at 350°f for 15-20 minutes, until berries are soft.

Serve cooled or warm. Top with ice cream, if desired.
Nutrition
Calories:
216
kcal
Carbohydrates:
42
g
Protein:
3
g
Fat:
5
g
Saturated Fat:
1
g
Cholesterol:
1
mg
Sodium:
72
mg
Potassium:
81
mg
Fiber:
3
g
Sugar:
25
g
Vitamin A:
40
IU
Vitamin C:
1
mg
Calcium:
40
mg
Iron:
1
mg
Is it Berry-licious?
While we usually consider berries to include strawberries, raspberries, blackberries, and blueberries, they are but a sampling. Consider trying a few of these lesser knowns. 
Did You Know..
Experts consider berries to be among the superfoods. In fact, Dr. Joel Fuhrman, states:
Blueberries, strawberries and blackberries are true super foods. Naturally sweet and juicy, berries are low in sugar and high in nutrients – they are among the best foods you can eat.
And, read some fun facts about berries at JustFunFacts.

Food For Thought…
On the motionless branches of some trees, autumn berries hung like clusters of coral beads, as in those fabled orchards where the fruits were jewels . . .
Strawberries that in gardens grow
Are plump and juicy fine,
But sweeter far as wise men know
Spring from the woodland vine.
No need for bowl or silver spoon,
Sugar or spice or cream,
Has the wild berry plucked in June
Beside the trickling stream.
One such to melt at the tongue's root,
Confounding taste with scent,
Beats a full peck of garden fruit:
Which points my argument.