==================
Affiliate Statement and a Caveat 
First off, a little caveat: within my articles you will find affiliate links, meaning if you buy them, I get a small commission. Your cost is not affected. In addition, I am an Amazon Associate and I earn from qualifying purchases on Amazon.
And yes, if I say that I recommend a product here, it means I truly believe it is a good product. I refuse to recommend any product that I have not researched and believe to be a good value.
Even better, I provide you with a very clear picture of the product, it's use, and the probable value.
Earning your trust is important to me. I run this website myself and the commissions and donations help support the site.
Sound reasonable and fair enough? Let's continue to the article.
==================
Apple Pie Dessert Pizza Recipe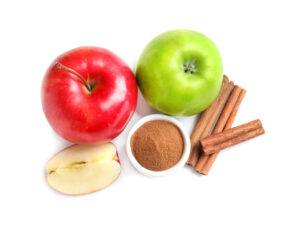 As American as apple pie?  Our Apple Crisp Dessert Pizza Recipe brings that up another notch! Apples, seasoned with cinnamon, nutmeg, and a hint of sweetness, this dessert pizza feels like true comfort food. Even as it bakes, the aroma tantalizes our senses with memories of Grandma's apple pie.
Delicious and quite satisfying on its own, it dresses up nicely, too. Add ice cream, toppings, and whipped cream for a pizza pie sundae!
An elegant dessert to follow a dinner party, you might consider serving at a luncheon, too. But don't let adults have all the fun. The apple pie dessert pizza presents a new way for your kid's next party, too.
However, we'd like you to consider this dessert, as well as our other fruit dessert pizza recipes, as one that finds its way to your family meals occasionally, too. In fact, these dessert pizzas might actually become your family's favorite dinner accompaniment.
Apple Dessert Pizza Recipe
A delicious yet easy way to end your dinner!
Ingredients
1

single pie crust

2/3

cup

sugar

1/4

cup

flour

1

tbsp

ground cinnamon

1/2

tsp

nutmeg

4

medium

baking apples

peeled and thinly sliced

1/2

cup

flour

1/2

cup

packed brown sugar

1

tbsp

ground cinnamon

1/3

cup

rolled oats

1/2

cup

butter

softened
Instructions
Roll pastry to fit 12-inch pizza pan. Flute edges.

Combine 2/3 cup sugar, 1/3 cup flour, and 1 T cinnamon, and 1/2 tsp nutmeg in a bowl. Mix well.

Add apple slices and mix to coat evenly.

Combine remaining ingredients in a separate bowl. Mix thoroughly.

Sprinkle topping mix over the apples.

Bake at 350°f for 35-40 minutes until apples are very soft.

Serve cooled or warm. Top with ice cream, if desired.
Nutrition
Calories:
221
kcal
Carbohydrates:
44
g
Protein:
3
g
Fat:
4
g
Saturated Fat:
1
g
Cholesterol:
1
mg
Sodium:
72
mg
Potassium:
118
mg
Fiber:
3
g
Sugar:
27
g
Vitamin A:
49
IU
Vitamin C:
3
mg
Calcium:
40
mg
Iron:
1
mg
An Apple A Day…
Apples contain an outstanding nutrition profile and interesting history,
Did You Know….
Pomology is the science of apple growing.
Archeologists have found evidence that humans have been enjoying apples since at least 6500 B.C.
Don't peel your apple. Two-thirds of the fiber and lots of antioxidants are found in the peel
Antioxidants help to reduce damage to cells, which can trigger some diseases
Apples are members of the rose family, Rosaceae
Although over 2500 varieties of apples now grow in the USA, only the crabapple is native to the country.
Apple trees are being producing in their 4th or 5th year.
A bushel of apples weighs about 42 pounds and yields about 20-24 quarts of applesauce.

Food for thought…
Good apple pies are a considerable part of our domestic happiness.
The flowers of the apple are perhaps the most beautiful of any tree's, so copious and so delicious to both sight and scent.
Read More: