==================
Affiliate Statement and a Caveat 
First off, a little caveat: within my articles you will find affiliate links, meaning if you buy them, I get a small commission. Your cost is not affected. In addition, I am an Amazon Associate and I earn from qualifying purchases on Amazon.
And yes, if I say that I recommend a product here, it means I truly believe it is a good product. I refuse to recommend any product that I have not researched and believe to be a good value.
Even better, I provide you with a very clear picture of the product, it's use, and the probable value.
Earning your trust is important to me. I run this website myself and the commissions and donations help support the site.
Sound reasonable and fair enough? Let's continue to the article.
==================
Delicious Memories: Grandma's Waldorf Astoria Red Velvet Cake
Childhood memories seem so precious as we reach adulthood and beyond. One of my favorites revolves around the delicious Waldorf Astoria Red Velvet Cake that my Grandma made for my birthday each year. A friend who had worked at the prestigious Waldorf Astoria in New York shared this recipe with my Grandma many years ago. And it became a permanent part of my birthday celebrations. We didn't do lavish parties. Usually, it was our family and maybe a friend or two. In fact, I rarely celebrated on my birthday as I was born in December in the snow belt region of Chautauqua County– a rural area in southwestern New York State, just off Lake Erie. Snowstorms were almost always happening around my birthday time. As such, my family's birthday party might be a week or two after the actual date. No worries, though, as long as Grandma's Waldorf Astoria Cake appeared on the table and we were surrounded by my family, including grandparents. All was good!
Many CopyCat Red Velvet Cake Recipes
I've seen so many versions of the Waldorf Astoria Cake. Some just call it the Red Velvet Cake. But to be a true Waldorf Astoria Red Velvet Cake, it needs to have slim layers separated by the incredibly sweet, fluffy white icing, then topped with that same incredible icing. Sugar overload? Probably. But that's just the way the original recipe read.
Many bakers now make this cake with just two layers. While it is still delicious, it's just not the same. For me, the thin layers and frosting make the cake the ultimate perfection that Grandma always baked for me. Still, you will use less frosting if you leave the layers intact. And it is quicker to make that way. For me, the extra time and effort pay off in incredible perfection!
The Red Food Coloring Dilemma
Years ago, no one worried about food colorings. However, if you prefer to use something more natural, consider these options:
Pure beet juice.
Beet powder.
Pure pomegranate juice.
Dried hibiscus flowers steeped in hot water, strained.
Cranberries boiled with enough water to cover, strained.
Of course, they might affect the flavor and even the texture. And maybe even in a better way! Consider experimenting with these options and see what works best for you and your family.
Grandma's Waldorf Astoria Red Velvet Cake Recipe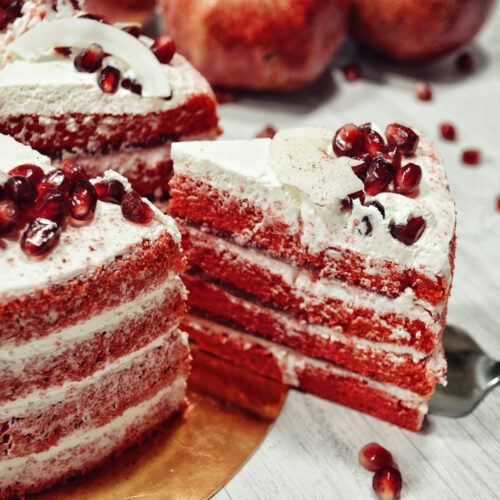 Waldorf Astoria Red Velvet Cake
My beloved Grandma was gifted this original recipe from a friend who had worked at the Waldorf Astoria many years ago. Each year, she made this special treat for me on my birthday. It's not a quick recipe, but the time and number of ingredients are well worth the result. I remember Grandma's beaming smile as she sang Happy Birthday to me with the candles burning atop her homemade treasure.
Ingredients
½

cup

shortening

1 ½

cups

sugar

2

eggs

2

ounces

red food coloring

3

tablespoons

cocoa

1

cup

buttermilk

2 ¼

cups

flour

1

teaspoon

salt

2

teaspoons

vanilla

1

teaspoon

baking soda

1

teaspoon

vinegar
FROSTING
3

tablespoons

flour

1

cup

milk

1

cup

sugar

2

teaspoons

vanilla

1

cup

butter

must be butter
Instructions
Make the Cake
Grease and flour 4 8 inch cake pans. Or, use 2 8-inch pans and see notes below.

In a large bowl, cream shortening, sugar and eggs.

Make a paste of food coloring and cocoa.

Add to creamed mixture.

Mix flour and salt. Add to the creamed mixture, alternating with the buttermilk

Add soda to vinegar, and blend into the batter.

Bake at 350°F for 24-30 minutes.

Split into layers (see notes below). Fill and frost with the following frosting.
Frosting: Add milk to flour slowly, avoiding lumps.
Mix flour and milk. Cook over medium heat until very thick, stirring constantly.

Cool completely.

Cream sugar, butter and vanilla until fluffy.

Add to cooked mixture.

Beat on high speed until very light and fluffy.
Notes
Note:
When using 2 cake pans, allow about 7-10 minutes longer to bake but watch closely to avoid overbaking.
Use a wire or floss to cut each of the 2 layers into 2 more layers (4 layers total). While you want them fairly even, you can use frosting to fill in and level, as needed.
If you prefer lighter layers for more dimension, make the 4 layers (or 3) and cut each of them in half (to create 8 layers). This makes a very stunning display when cut!
Nutrition
Calories:
383
kcal
Carbohydrates:
65
g
Protein:
6
g
Fat:
12
g
Saturated Fat:
4
g
Polyunsaturated Fat:
3
g
Monounsaturated Fat:
4
g
Trans Fat:
1
g
Cholesterol:
34
mg
Sodium:
348
mg
Potassium:
140
mg
Fiber:
1
g
Sugar:
45
g
Vitamin A:
139
IU
Calcium:
79
mg
Iron:
2
mg
Read More
10 Wonderous Things about the Waldorf Astoria Hotel (townandcountrymag)