==================
Affiliate Statement and a Caveat 
First off, a little caveat: within my articles you will find affiliate links, meaning if you buy them, I get a small commission. Your cost is not affected. In addition, I am an Amazon Associate and I earn from qualifying purchases on Amazon.
And yes, if I say that I recommend a product here, it means I truly believe it is a good product. I refuse to recommend any product that I have not researched and believe to be a good value.
Even better, I provide you with a very clear picture of the product, it's use, and the probable value.
Earning your trust is important to me. I run this website myself and the commissions and donations help support the site.
Sound reasonable and fair enough? Let's continue to the article.
==================
Move over, peanut butter and jelly! These almond sandwich cookies with orange marmalade filling are the new kid on the block. Buttery, crumbly cookie bottoms are topped with a generous dollop of zippy marmalade, making for a seriously addictive snack. If you're looking for something a little different to add to your cookie repertoire, give these a try – you won't be disappointed!
Almond Sandwich Cookies with Orange Marmalade Filling: Your New Holiday Treat
The Christmas season always brings out creativity in you. You love to make everything special, from the setup, decorations, and, of course, up to the food we serve. What better way to start than serving one mouthful of cookies while waiting for everyone to arrive?
Almond Sandwich Cookies with Orange Marmalade Filling are the perfect way to start a holiday party. These bite-sized cookies are bursting with flavor, and the zesty orange marmalade filling adds a touch of sweetness. The best part is that they can be made in advance, so you can enjoy the party instead of being stuck in the kitchen. Simply bake the cookies, then assemble them with the filling just before guests arrive. Your friends and family will be impressed by your creativity and will be sure to ask for the recipe. So don't wait – start your Christmas party with a bang with these lovely cookies. 
Pantry Staples
You may think that this cookie recipe will need so many ingredients, but here's the good news–you can find all the ingredients straight from your pantry, or if not, you can easily find these ingredients in any baking store nearby. From all-purpose flour, baking powder, egg, salt, and sugar, to butter and almond flour, these ingredients are all pretty basic. As for the filling, you can find readily available orange marmalade in grocery stores, or if you have time, why not make a batch from scratch?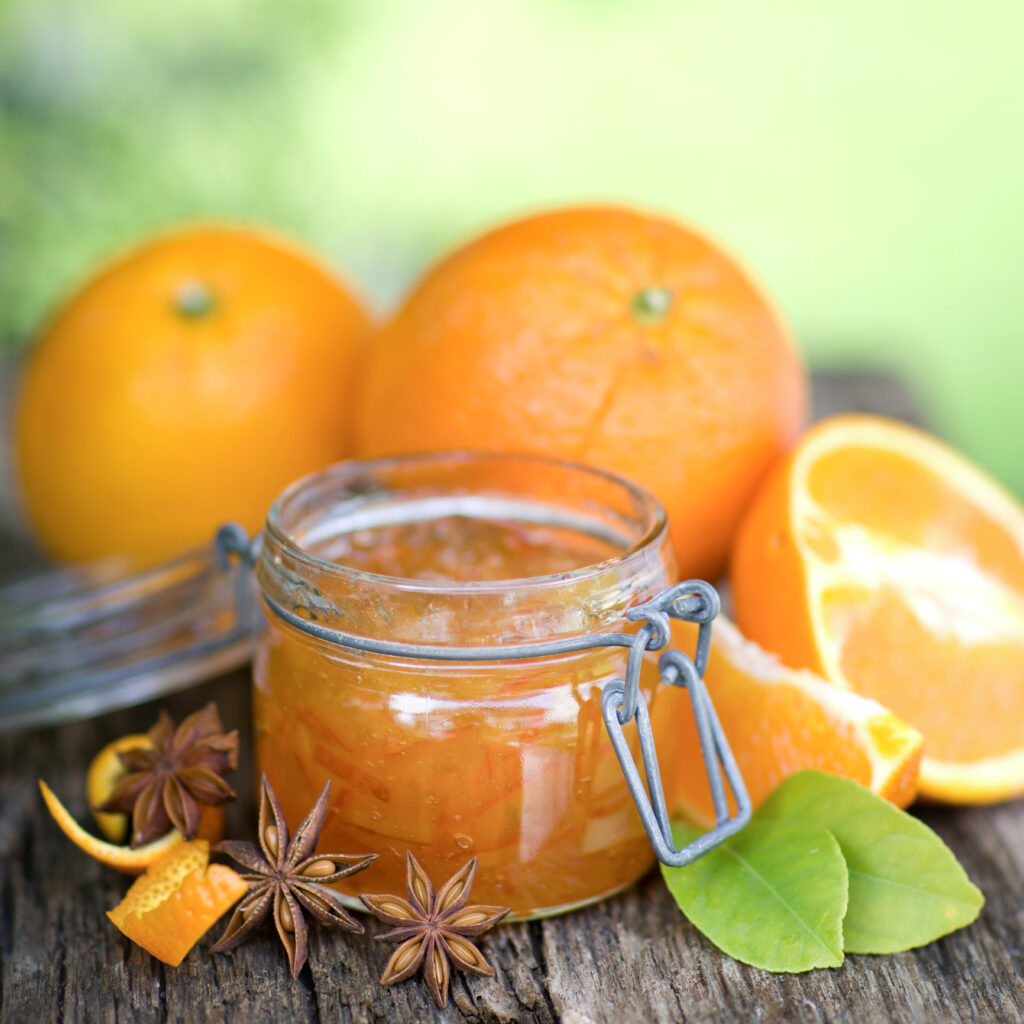 This will guarantee freshness and be suitable to your tastes, but with the extra effort you put into it, I'm sure your loved ones will find it more delightful to eat.
Variations and Substitutions
The use of almond flour in this recipe will give it an extra layer of flavor, added texture, and a nutty taste. If you like to use other nuts, feel free to do so. You can use hazelnut instead. Roast and ground them as fine as the almond flour. However, if you are allergic to nuts, you can make it 100% all-purpose flour.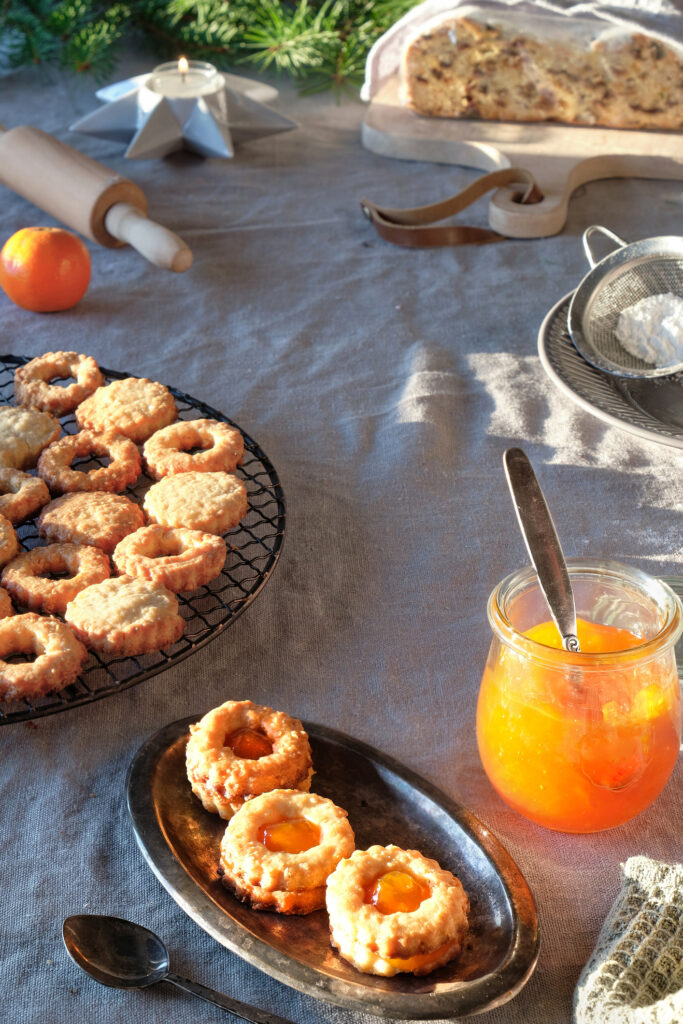 In terms of filling, there are tons of varieties to choose from. You can make your own combination of fruits and use raspberries, apricots, or strawberries. You can also try hazelnut spread, dates, dried fruits and nuts. Make them in advance and serve them in assorted flavors and shapes that kids will definitely love. 
Let's Make It Vegan 
This cookie recipe can also also be vegan-friendly. Turn these to vegan by using vegan butter instead, replace eggs with flaxseed, and you have one nice holiday cookie in no time. 
Almond Sandwich Cookies with Orange Marmalade Filling
What could be more delicious than a homemade almond sandwich cookie filled with sweet orange marmalade? These cookies are perfect for a special treat or a holiday gift. And they're not as difficult to make as you might think! You can whip up a batch of these tasty treats with just a few simple ingredients in no time. So let's get started!
Ingredients
150

g

Almond flour

250

g

flour

1

pinch

salt

1/2

tsp

baking powder

200

g

softened butter

80

g

sugar

1

egg

at room temperature

1

tsp

vanilla extract

200

g

orange marmalade

powdered sugar

for dusting
Instructions
Start by preheating the oven to 350° F.

Combine almond flour, all-purpose flour, salt, and baking powder until well combined.

Use the paddle attachment on your stand mixer to beat softened butter and sugar for about five minutes. Then add the egg and vanilla, and mix until thoroughly combined.

Add the dry ingredients and stir until a dough forms. Shape the dough into a disk, wrap it in plastic film, and chill for two hours or overnight.
Shaping:
Prepare about 3 baking sheets and line them with parchment paper. To cut out shapes, roll out the dough to a thickness of about 4 mm, and use my Linzer cookie cutters to cut the shapes.

Allow the precut cookies to sit on the baking sheets and freeze for a couple of minutes before baking them.

Remove from the oven after 8 minutes and let cool on the cookie sheet.

Take two matching halves. Spread some orange marmalade onto the bottom half of your cookie and sandwich them together. Dust the tops with icing sugar.
Notes
The cookie dough can be prepared up to two days in advance and kept in the refrigerator. If you plan to make a large batch, the dough can also be frozen and kept for up to two months. Just thaw the dough in the refrigerator before shaping it.
You can rotate the baking sheet after 4 minutes to stop the cookies on the back from browning excessively. The cookies shouldn't brown too much.
Nutrition
Calories:
88
kcal
Carbohydrates:
15
g
Protein:
2
g
Fat:
3
g
Saturated Fat:
0.2
g
Polyunsaturated Fat:
0.1
g
Monounsaturated Fat:
0.1
g
Trans Fat:
0.001
g
Cholesterol:
5
mg
Sodium:
14
mg
Potassium:
14
mg
Fiber:
1
g
Sugar:
7
g
Vitamin A:
12
IU
Vitamin C:
0.3
mg
Calcium:
19
mg
Iron:
1
mg
More Easy Dessert Recipe
Love healthy baking recipes? You could try these simple recipes at home to impress your loved ones. Perfect for after-meal treats, coffee, and tea parties with friends and family!
Hausfreunde Cookies With Walnuts 
To Wrap It All Up
These almond sandwich cookies with orange marmalade filling are the perfect addition to your holiday cookie collection! They are easy to make and only require a few simple ingredients you probably already have in your pantry. So what are you waiting for? Give this recipe a try, and let us know how it turns out!
Connect With Us
If you've tried these Almond Sandwich Cookies with Orange Marmalade Filling, don't forget to leave a rating on the recipe card. Tag us on our social media accounts, subscribe to our weekly newsletter, and follow the Best Baking Tips and Vegan Globetrotter sites for more delicious ideas!
Read More
 Best Type of Bakeware: Top Tips for Choosing
Types of Yeast for Baking, Which is Best?