==================
Affiliate Statement and a Caveat 
First off, a little caveat: within my articles you will find affiliate links, meaning if you buy them, I get a small commission. Your cost is not affected. In addition, I am an Amazon Associate and I earn from qualifying purchases on Amazon.
And yes, if I say that I recommend a product here, it means I truly believe it is a good product. I refuse to recommend any product that I have not researched and believe to be a good value.
Even better, I provide you with a very clear picture of the product, it's use, and the probable value.
Earning your trust is important to me. I run this website myself and the commissions and donations help support the site.
Sound reasonable and fair enough? Let's continue to the article.
==================
15 BAKING TOOLS FOR BEGINNERS
If you're starting your baking journey, sometimes it's hard to find the necessary tools when you begin. Buying too much might become a problem since all you want is to have everything you need to perfect your creations, but that should never be the case. Overspending on equipment, especially as a beginner, should be avoided. This article will include the essential baking tools for beginners and other baking supplies for beginners that will help you create amazing goodies!
ESSENTIAL BAKING TOOLS FOR BEGINNERS
1. Measuring Tools
First on the list are measuring tools, and this will include the following:
Measuring cups
Measuring cups generally come in sizes of 1 cup, ½ cup, 1/3 cup, ¼, and 1/8 cup. There are various materials for measuring cups available in the market.
When choosing measuring cups, it is essential to note that you will be measuring both dry and wet ingredients. Before discussing what kind of measuring cups I prefer, let's discuss the three most common materials for measuring cups.
Glass Measuring Cups
Glass measuring cups are one of the must-have baking tools for beginners. Glass measuring cups are perfect for measuring wet ingredients since they don't absorb color and odor. Plus, it's relatively easy to clean too.
Plastic Measuring Cups
Plastic measuring cups are lightweight and are for measuring dry ingredients. I might recommend one of the baking supplies for beginners unsure if baking is a lifelong hobby. However, most cooks will tell you to stick with glass and stainless options. The plastic ones have a much shorter lifespan and quite often the print wears off. When this happens, you are left to guess what size each cup actually is.
Stainless Steel Measuring Cups
Stainless steel measuring cups are for measuring dry ingredients. Durable and with a good weight, that provides a perfect balance so you won't have any accidents while baking.
2. Measuring spoons
Like measuring cups, measuring spoons also come in different materials. The same rule of thumb in measuring cups also applies to measuring spoons. Having this kitchen tool is essential to ensure that your portions are exact.
3. Whisk
Wire whisks are one of the essential baking supplies for beginners. It helps mix ingredients to make them smooth or add air to the mixture.
My favorites are my silicone whisks. I can use them safely in any of my pots, pans, and bowls. The set I use actually comes with 3 whisks, 3 spatulas, and 3 sets of tongs. And yes, I use all of these on a regular basis. They are incredibly useful!
4. Hand Mixer
If you're starting your baking career, investing in a stand mixer might be too big of an investment. That is why I would recommend buying a hand mixer first. I suggest buying a hand mixer with different attachments to make it a real bang for your buck.
But even experienced cooks find they need these portable mixers frequently. When mixing smaller amounts or for a quick beat, they are simple to use and clean up after.
5. Cake Tins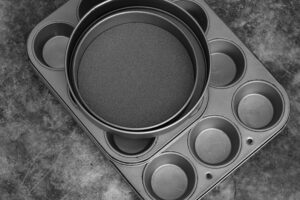 Cake tins are one of the baking tools for beginners that I would suggest you purchase in various sizes. Cake tins are for baking your fabulous creations. They are made of different materials, like silicone, metal like aluminum, heat-proof glass, and others.
Some love using metal cake tins since metals give an even-baked cake a great conductor of heat. Others prefer silicone for its easy release of baked goods and very simple cleanup. You might even try cast iron for some of your options.
One note on the metal pans. If you choose to use these, you will note that some have a handle grip on them, often covered in silicone. These are incredibly helpful when moving your pans to and from the oven. However, keep in mind that some ovens have a smaller space and using the grips may mean that you can fit fewer pans in your oven. It's a good idea to measure to be sure.
6. Baking Sheet
A baking sheet is a rectangular, flat pan used for baking various goodies like cookies, croissants, and scones, to name a few. Not be mistaken with cookie sheets which only has one raised edge to help cookies slide off easier. Baking sheets have four raised edges to help keep what you're baking protected.
7. Rolling Pin
Rolling pins are for flattening and rolling out dough used for baking. Wood rolling pins are my go-to. This is because it is one of the classics, and in addition, wood rolling pins are easy to use, making them perfect for beginners and experts alike. However, I also have a stainless rolling pin with thickness bands for when I need an exact thickness. They work well for fondant. And my marble rolling pin is especially useful when we are making some of our stickier creations.
8. Spatula
Spatulas are used not only for baking but also for cooking. Aside from being used to smooth out icing, it can also serve cakes and pies. Like other baking tools, spatulas come in different materials also. My favorite is a silicone spatula because it's easy to clean and can be used for baking and cooking.
9. Mixing Bowls
Mixing bowls are not only for mixing ingredients in but also as a storage for your ingredients while you're still preparing other things before baking. Mixing bowls come in different sizes, and I suggest purchasing at least three mixing bowls initially. The best mixing bowl start-pack includes one small-sized mixing bowl, an average-sized mixing bowl, and a large mixing bowl. Various sizes of your mixing bowls will prepare you for every baking occasion.
10. Sifter
A sifter is a kitchen tool with a mesh bottom. The purpose of using a sifter is to sift dry ingredients when baking and aerating and combining them. The benefit of sifting your flour is that it will ensure that the measure of the flour or other dry ingredients you're using is precise. I like my Bellemain Stainless Steel sifter for aerating flour and other ingredients. But the Cuisinart Strainers are quite useful when dusting cakes and cookies. If you need to choose. start with the sifter style and add the strainer later.
11. Cookie Cutters
A cookie cutter, by its name itself, is a kitchen tool used to cut cookies into any size and shape you prefer. If you love cookies as much as I do, cookie cutters are simply a must since I can bake cookies appropriately for the season.
If you want to try out a sure-fire recipe that everyone in your family will love, my Inside Out Red Velvet Cookie recipe is something I can recommend.
Note that while plastic cookie cutters are cheap and durable, I have found them to be less than perfect for cutting. I do have some in my collection but the stainless steel cookie cutters are my primary go-to. Begin collecting your favorites and you'll soon have a cookie shape for every occasion.
And don't stop with just cookies. These metal cutters work well to make biscuits and cute sandwich shapes, too!
12. Cooling Rack
A cooling rack is essential for anyone who wants to venture into baking because cooling racks provide a perfect medium to cool down your baked goodies evenly. For small baking amounts, a single tier works fine. However, consider this 3-tier model by Wilton if you might do any more than a few at a time. I've had mine for a long time now – we actually have 2 – and they hold up to frequent usage very well. They are a nice size but when we are done, fold up neatly back into their box until we need them again!
13. Kitchen Timer
A kitchen timer ensures that you keep track of what you're baking and end up with perfectly baked goodness. Although electronic gadgets already have timers that you can use to keep track of when you're cooking, a kitchen timer is far from an obsolete kitchen item. I love using kitchen timers because it provides a dedicated mode of tracking my time, unlike a phone, which I can use to scroll mindlessly and end up forgetting the food I'm currently baking. A kitchen timer is also an inexpensive item that adds a decorative spice to your kitchen.
Of course, if you have an Amazon Echo device, just ask it to set your timers for you!
14. Digital Weighing Scale – baking tools for beginners I love
When baking, an essential advice is always to measure your ingredients precisely to avoid mishaps. One example of the effects of not putting ingredients as the recipe requires is putting too much yeast in the dough, making the dough not rise. The skill of "guesstimating" will become second nature to you with experience. That is why a digital weighing scale is one of the baking supplies for beginners that I will genuinely recommend and stand by. I've tried several and this is the one I currently use.
15. Pastry Bags and Piping Tips
A pastry bag or piping bag is a baking tool that usually has a triangular or cone-shaped tip that is hand-held, which helps pipe frosting to your cakes. For sustainability reasons, my preference when purchasing pastry bags is those made from silicone. Plastic pastry bags are not reusable compared to silicone bags making silicone a perfect choice for sustainability.
I really like this set by Kayaso. TIt has a variety of styles and sizes to handle most of the things I do. Plus, it makes great French Cruellers! You can find our recipe here.
Baking Tools for Beginners: Take it slow
At this point, you already know the essential baking tools for beginners and the baking supplies for beginners that you need for your kitchen. Always take it slow and not purchase unnecessary kitchen tools because someone you know uses them, or you saw them online. Baking should not be an expensive hobby to have, and the fun in baking is not about having the best or newest equipment. Instead, the joy in baking is being able to create unique treats for your loved ones and seeing them happy.
Learn More
Best Types of Thermometers for Baking(