==================
Affiliate Statement and a Caveat 
First off, a little caveat: within my articles you will find affiliate links, meaning if you buy them, I get a small commission. Your cost is not affected. In addition, I am an Amazon Associate and I earn from qualifying purchases on Amazon.
And yes, if I say that I recommend a product here, it means I truly believe it is a good product. I refuse to recommend any product that I have not researched and believe to be a good value.
Even better, I provide you with a very clear picture of the product, it's use, and the probable value.
Earning your trust is important to me. I run this website myself and the commissions and donations help support the site.
Sound reasonable and fair enough? Let's continue to the article.
==================
Best Types Thermometers for Baking
Most people don't even think about finding the Best Types of Thermometers for Better Baking. However, using an accurate thermometer helps achieve the best results. The texture of your baked goods is as important as its taste. Eating food that feels bad in the mouth can make someone ignore how good it tastes and only notice its bad texture.
Baking at the wrong temperature can ruin the texture of your recipe, thus making all your efforts go to waste. You don't want your baked goods to burn, be too hard, or even too soft, right? You need just the right amount of heat to achieve the required texture of your target recipe. Speaking of the right amount of heat, using thermometers for baking can help you level up your baking game and ensure successful results. In this article, we will guide you through the best types of thermometers for baking.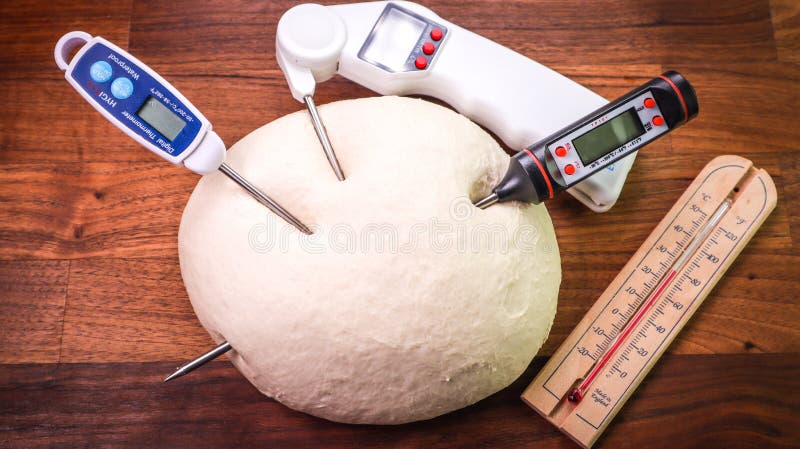 Are Thermometers for Baking Special?
What is a thermometer for baking, you might ask? It is a kind of thermometer that you can use to check the oven's temperature so that you can bake in the right amount of heat needed for your desired recipe. When baking, you want your product to have the right crunch, smoothness, or tenderness, depending on the kind of baked product you are making. Let me tell you, finding a suitable thermometer is essential for your baked product to achieve that perfectly yummy texture. 
So, what types of thermometers for baking can you use?
If you are confused and if you have no idea, we already simplified it for you here. Keep on reading to find out the right product to use that is perfect for your needs.
But first, to determine if using thermometers for baking is necessary, let us first see what can happen if we are baking at the wrong temperature.
What Happens if You Bake At the Wrong Temperature?
These are only some of the examples that can happen if the baking temperature is inaccurate.
Rough Texture
Nobody will enjoy eating a rough and sandy texture, especially if the baked food is supposed to be soft and smooth. A ruined texture is caused by baking at the wrong temperature, whether the oven is too hot or lacks heat. This temperature error can happen if the oven is already malfunctioning and you are unaware of it because you are not using thermometers for baking to monitor the temperature.
Dry
The dryness of baked goods happens when there is an incorrect measurement of the ingredients, wrong recipe, and, again, baking at the wrong temperature. Being baked for too long in a too-cool or too-hot oven can make the food dry. If this always happens, you should check the temperature of your oven using thermometers for baking to see if it needs fixing or replacement. 
Too Hard, It Can Almost Break a Tooth.
Baking at an inaccurate temperature can make the baked goods too hard and heavy. No one would like food that is difficult to bite and chew. After all, we are baking bread and not bricks. Someone wearing dentures might even get mad at you if you give them a hard cookie and they break their teeth because of it. Thankfully, you can avoid this awkward situation from happening if you monitor the oven's temperature using thermometers for baking. 
Centers are Sunken
If you baked food at the wrong temperature, your baked goods will eventually fall or deflate as they cool down. This can be because of an undercooked and wet center that causes it to fall. Baked goods like these are unenjoyable to eat, thus wasting your time and resources. 
Other than these examples, many other errors can happen if we bake at an inaccurate temperature. With the examples stated above, we already have understood that measuring the temperature while baking is necessary. We can do this measuring through the use of thermometers for baking. So, without further ado, let us now proceed to see the types of thermometers for baking that you can consider using in your kitchen.
Thermometers For Baking That You Can Use
For the first one, we have the Taylor Precision Products Digital Instant Thermometer.
This battery-powered product can be your go-to cooking thermometer. Whether you are baking in the comfort of your kitchen or you need to do some baking outdoors, this sleek and handy thermometer is your best friend. With its pocket sleeve clip, you can easily carry this with you in your pocket, and your baking ventures will never go wrong. Another feature of the sleeve is that it can also be used to recalibrate the thermometer to measure the temperature accurately. But because of its many functions, you should frequently clean and disinfect the sleeve of this thermometer when using it. Though it already has an EPA-approved product that hinders bacterial growth and mold, proper cleaning is still necessary to ensure that your food is uncontaminated. 
Multi-purpose
Also, this Taylor Precision Products thermometer is beneficial not just for baking, but also if you are going out to make some barbeque and grilling.  This instant digital thermometer is suitable for many kinds of cooking as it can measure up to 450 degrees Fahrenheit. One more thing that you want to know for sure is that you do not have to spend so much money to have this digital thermometer. This product is not pricey, but it works well to serve its purpose.  A great deal indeed!
Thermometers for baking need to be water-resistant
And do not forget, you cannot avoid getting messy when you are baking. Your tools and equipment will get dirty or wet at times during the baking process. Good thing, this thermometer is made to withstand splashes of water without damaging it. But note that this product should not be soaked or submerged in liquid, so be careful. 
Overall, this Taylor Precision Products thermometer is easy to use and read with its 0.8 inches display visible at every angle. Its accuracy is on point, being capable of measuring -40 to 450 degrees Fahrenheit and -40 to 230 degrees Celcius. Further, this will not keep you waiting long enough to measure temperature with its 5.3 seconds response time. This item is rated 4.5 out of 5 stars. With that, you might want to consider trying this thermometer out. If you want to improve your overall baking experience, then this thermometer for baking is worth trying.  
For the next thermometer for baking, we have this battery-powered, instant-read, backlight & calibration Kizen Thermometer. It only needs 1 Lithium Metal battery to work, which you can also get on your purchase. Not only that it accurately measures the temperature while you bake, but it also has an alarm that is a huge help! You will no longer experience running back to the kitchen panicking, worrying that too much heat might already burn your baked goods. This thermometer's alarm feature is there to remind you when the temperature is already good to go. Whether you are grilling, baking, or cooking indoors, this could be the right thermometer for your needs. 
What can you expect if you are going to try this one?
Well, this thermometer is ultra-fast. As quick as 2 to 3 seconds, you already have the temperature measured fast and accurately. It is a nice feature because we do not like waiting, right? You can also expect durability with this product. This Kizen thermometer can stand not just splashes of water, but you can even wash it in the faucet without worrying about it getting broken. Even with an accidental drop or impact, this product can still survive. With an ABS body, a strong plastic, you can guarantee that the thermometer is strong enough to resist breaking. 
You also do not have to bother about reading your measurement wrong. With this thermometer on your hand and its bright and large LCD screen, you do not have to trouble yourself to read the temperature of your oven. Keeping it is also no hassle at all. You do not have to worry about misplacing your thermometer. Because of its large hang hole and magnet, you can just keep it where you can easily spot it. It screams convenience!
Value
This Kizen thermometer for baking (and cooking in general) promises to give you the most value of what you paid for. You will receive this in a presentable yet sturdy package, making it a perfect gift for yourself or to a loved one who happens to be a kitchen enthusiast. But wait, there is more; you will also love its lifetime warranty! This offer guarantees that your money is safe when trying out this Kizen thermometer. You can enjoy using it without being stressed out in thinking that your money might go to waste. When you purchase this, it comes with a CE, RoHS certification that will assure you of its warranty. Kizen also claims that we can contact them any day of the week through their email. 
Does this Kizen thermometer for baking sound like a great find?
This product has an impressive rating of 4.7 out of 5 stars! You can check out this product if you want to give it a try. 
Next up on the list, we have here the ThermoPro Thermometer. Like the previous thermometers above, this thermometer is also battery-powered. However, this one uses 4 AAA batteries which you can also get included in your purchase. What is something unique about this thermometer for baking? You can use it even you are 300 feet away from the oven. How can that be possible? This thermometer is wireless! It can monitor the temperature of the food you are cooking, even up to 300 feet away. With this feature, you have the freedom to roam around while baking. You just simply need to insert the batteries, and voila! The ThermoPro Thermometer will be ready to use and help you out with your kitchen agenda.
Dual Probes
To monitor food temperature, this product comes with dual highly accurate stainless steel probes that are safe to use. It is easy to use both indoors and outdoors, and it can perform well in baking, grilling, and cooking in general. Similar to the Kizen thermometer above, this ThermoPro thermometer also has an alarm feature. This is highly useful when cooking as it allows you to know right away if you are cooking at the right temperature. But not only that, the alarm of this ThermoPro thermometer offers a unique feature. You can set your desired food temperature with your preferred Hi/Low range that will be helpful to you in achieving your chosen recipe. The alarm will notify you immediately by beeping and flashing if the temperature is going out of your previously set standard range. Perfectly useful!
A kitchen timer, too
Aside from having an alarm, this ThermoPro thermometer can also serve as a convenient kitchen timer. While measuring the temperature, you can also use its countdown or count-up timer feature at the same time! Isn't it a real money saver? You no longer need to purchase a separate cooking timer to keep you on track; this kitchen thermometer already got your back! Cooking or baking without having to worry about burning or overcooking your food is such a dream come true. Thanks to the ThermoPro thermometer for having it all. 
Wide temperature range
This versatile thermometer also ensures high accuracy and a wide temperature range. You can cook anything you like and bake all the goods you love, and this thermometer can still accurately monitor the temperature for you. The temperature range for this product is from 32 degrees Fahrenheit up to 572 degrees Fahrenheit! That is an extensive range for a thermometer that can do so much. It also shows the high accuracy of 1.8 degrees Fahrenheit that you can trust. And oh, I forgot to mention, the ThermoPro thermometer shows you both Fahrenheit and Celcius reading, so it will not be a problem if you are not familiar with one unit. 
Bakers like this thermometer
This product has a high 4.6 out of 5 stars rating. So if you think TP08S Wireless Digital Dual Probe Thermometer is a good steal, you can check it out. I believe this is a kitchen must-have! 
For our final product on our list, we have another thermometer from ThermoPro. Just by looking at it, you can notice that this one appears to be the most advanced and digital among all of them. This ThermoPro TP25 500 feet Wireless Bluetooth Meat Thermometer with 4 Temperature Probes is my personal go-to thermometer whenever we have some barbeque outdoors. Of course, like our previous products above, this also works very well indoors. This one makes holiday cooking easier!
A Rechargeable Option
So, what can we get from this thermometer that the previous ones did not have? First of all, it is rechargeable! Yes, you read that right. You do not need any batteries to use this fantastic cooking thermometer. Just simply plug it in and recharge it, then it is ready to serve you right in your kitchen adventure. Who would have thought even a cooking temperature could be this high-tech? 
500 feet
It also has an extended 500 feet Bluetooth range. This allows you to effortlessly monitor food temperature without you needing to stay in the kitchen. Just connect it with your phone. This thermometer features the most advanced Bluetooth 5.0 technology. This mechanism allows you to monitor the progress of your baked goods and cooked foods, even 500 feet away through its strong and reliable connection. You also do not have to think too much if you are getting too far from the kitchen because this thermometer will notify you on your phone if you move out of the 500 feet range. This one is a game-changer! 
Bluetooth Connection
This ThermoPro Wireless Bluetooth thermometer includes four color-coated probes that allow you to measure temperature accurately. Having the four probes colored differently will enable you to monitor the temperature of your different cooking tasks without confusion. The probes also come with winders to make them easy to store when you finish cooking.
GPS
Another cool feature of this wireless Bluetooth thermometer is that you only need to activate the GPS on your phone, and you can easily access their multipurpose and straightforward application. Through this, you are allowed to set your preferred food temperature, as well as your desired Hi/Low-temperature range. The thermometer has an editable program with nine preset temperatures for you to achieve the USDA recommended level of meat doneness. Having all these features, you can easily ensure that your food is cooked perfectly through this Thermo Pro Wireless Bluetooth thermometer! 
And More Features
Hey, we are still not done with this one yet. This excellent thermometer for baking also has an advanced cook time estimator and temp pre-alarm feature. It means that this thermometer will send you notifications when the temperature is 5, 10, 15 degrees away from your desired temperature. It also records the temperature that the probes are measuring, and you can monitor all of them simultaneously in real-time. 
There is little to no chance of going wrong if you have this advanced thermometer by your side! This product has a rating of 4.5 out of 5 stars. If you think this thermometer is an absolute cooking game-changer, you better see and try it yourself! 
Perks of Using Thermometers for Baking
Let us sum up the benefits that you can get in using thermometers for baking so you won't have to go through the same epic failed recipes again.
It Prevents Overcooking and Undercooking
With the use of thermometers, you can forget about overcooking and undercooking your specialty. Cooking at the correct temperature will keep the food enjoyable to eat. Thermometers for baking will assure you that the food you cook will come out the way you want it to be. You can now easily achieve the ideal texture alongside the perfect taste that will result in a 5-star worthy meal. 
Maintain the Right Temperature at All Times
With the help of thermometers for baking, you can monitor all your dishes simultaneously from start to finish. Some of the thermometers above allow you to watch the temperature even if you are several feet away from the kitchen. You also get notified whenever the temperature gets out of your ideal range, so there's nothing to worry about.
Most of All, Have Peace of Mind With the Right Thermometers for Baking
Kitchen thermometers can take away your worries while cooking. By using one, you no longer need to fear that heat. You can now enjoy the process of cooking with an anxiety-free mind!
Step Up With Your Baking Experience!
After seeing all these amazing thermometers for baking that you can use, you can now improve your overall baking experience. To successfully achieve your desired recipe, you need a combination of hard work, passion, and knowledge to perform the proper steps and procedures. You will also need to have enough resources and use the most appropriate ingredients for cooking a target recipe. But besides all of that, cooking at the right temperature is an absolute must to achieve success in the kitchen. Nobody will enjoy the taste of the food you have prepared if it looks bad and feels terrible. Eating is supposed to be a comforting and pleasurable experience, not a stressful one. 
Watch the temperatures!
Remember, baking at a too-low or too-hot temperature can easily ruin your recipe and waste your time, effort, and money. Overcooking and undercooking will lead to bad taste, wrong texture, and an overall unsatisfying experience. That is how crucial the role of temperature in baking is, even in cooking as a whole. 
Proper Tools Make the Difference
Having the right tools can significantly help you with your success in cooking. It can help you avoid errors, save you from trouble, and enhance your performance. Furthermore, using these tools can lead to a successful outcome that you and your loved ones will surely enjoy! Everybody loves a delicious meal, after all.
The thermometers for baking presented above will not only make things easier for you. In fact, it also helps ensure that the time and effort you put into baking will be worth it and enjoyable. It is also fun to see how a simple thermometer can become so advanced and innovative. Most will agree that all of the thermometers presented in this article are a good find. But which one do you consider a must-have among all of them? Try it now!
Read More: