==================
Affiliate Statement
Best Baking Tips is supported by our audience. When you purchase through one of our links, we may earn a small affiliate commission.  As an Amazon Associate I earn from qualifying purchases. Your cost is not affected.
==================
If you love the classic Italian dessert, Cannoli, then you will definitely want to try this delicious Strawberry Cannoli Cream Cake! This cake is perfect for any occasion, from a special dinner party to a casual get-together with friends. The best part about this cake is that it is made with fresh strawberries and creamy cannoli filling – Yum!
Strawberry Cannoli Cream Cake: Rise from the Classic
If you look at it, you will think it is the ordinary strawberry shortcake you would typically see. Packed with fresh cream and strawberry layers–I know we are already sold to that. But what If I tell you that we can still make this cake a notch higher? Once you have tried this Strawberry Cannoli Cream Cake, I'm sure you won't be coming back to the traditional way!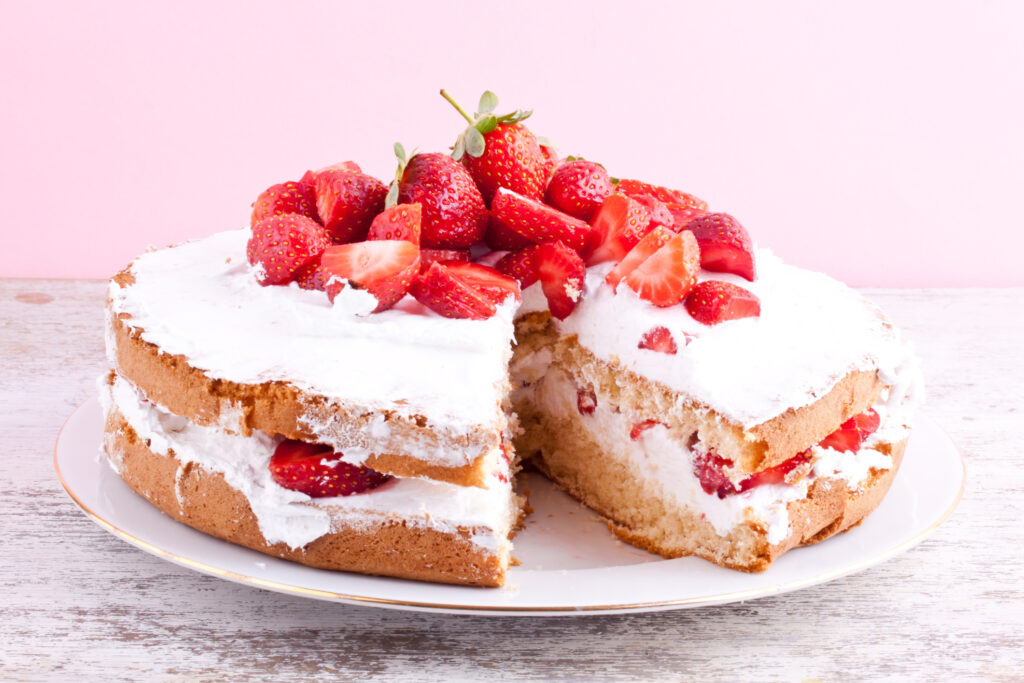 Strawberry Cannoli Cream Cake: A Hybrid Dessert
Cannoli is an Italian dessert in tube-shaped shells of deep-fried pastry dough filled with cannoli cream made from ricotta cheese, chocolates, fruits, or even liqueur. Over time, this dessert has been embraced globally, giving it different variations. More and more are making their version using the traditional cannoli cream filling recipe and incorporating it into other classic favorites. 
One example is this Strawberry Cannoli Cream Cake- a combination of the classic strawberry shortcake with an Italian twist. Instead of fresh whipped cream in the middle, we use the cannoli cream filling that will surely match the fruity and tanginess of the strawberries. 
Substitutions and Variations
I understand that sometimes finding ingredients can be a little tiring, specially if you are looking for something uncommon or not available in your area.That's the reason why I have provided some list of substitutions below:
Instead of using vanilla you can use almond extract. Or, if you are feeling more Italian, why not try Fiori di Sicilia instead? Its flavor is a combination of vanilla and orange extract. If you want to try this one, you can reduce the amount by half. (ex: 1tsp vanilla extract= 1/2 tsp Fiori di Sicilia)
You can, alternatively, add chopped pistachios or walnuts to your cannoli cream filling to give it more bite and texture.  Or use other berries like raspberries instead of strawberries. 
For the Cheese:  
For BEST results, it is recommended to use full-fat cheeses. Also, an additional process is to drain your ricotta and mascarpone at least overnight to make sure that there is no excess liquid. 
This process is unnecessary; however, it may vary depending on brands and types of cheeses to ensure that you will end up with creamy and thick filling, not the runny type. 
For the draining process, see the instructions below: 
Wrap the ricotta and mascarpone in separate cheesecloth 

Place both kinds of cheese in a strainer and preferably add something heavy on top to weigh it down.

It should be kept overnight in the refrigerator after being held in a big container.

After draining it overnight, squeeze out all the liquid to ensure the cheeses are thick, like cream cheese.
For a thicker consistency, you can also try looking for ricotta impastata (pastry ricotta). 
Strawberry Cannoli Cream Cake
An Italian twist to your classic strawberry shortcake. Who would say no to the flavors of ricotta, mascarpone, and strawberries? The ricotta adds a lightness to the cake, while the mascarpone adds a rich creaminess. And, of course, the strawberries provide a tart sweetness that ties everything together!
Ingredients
Cake Batter:
2 1/2

cups

all-purpose flour

2 1/2

tsp

baking powder

1/2

tsp

salt

3/4

cup

unsalted butter

softened

1 3/4

cups

granulated sugar

3

eggs

large

1

tbsp

fresh lemon zest

1 1/2

tsp

vanilla extract

1 1/4

cup

milk
For Filling and Garnish:
2-3

cups

fresh strawberries

sliced according to your preference
Cannoli Cream Filling:
10

ounces

ricotta cheese

16

ounces

mascarpone cheese

1

tsp

vanilla extract

1

tsp

fresh orange juice

1/2

tsp

ground cinnamon

1/4

tsp

salt

3

cups

powdered sugar

add more if needed
Instructions
Start by making the cake:
Set oven to 375 degrees Fahrenheit. Then prepare 2 (9-inch) round baking pans by greasing them with butter and dust with flour.

Mix dry ingredients such as flour, salt, and baking powder in a medium bowl until well combined, then set it aside.

Meanwhile, using a stand mixer, cream together the softened butter and granulated sugar over medium speed. Wait until it becomes light and fluffy.

Add in the eggs one at a time. This is also the time when you can add the lemon zest and vanilla extract. Continue to mix until it is well combined.

Add the dry ingredients to the sugar-butter mixture alternately with the milk. Make sure to mix it in between additions.

Scrape the sides of the bowl if needed.

Divide the cake batter between 2 9-inch prepared pans. Don't forget to spread the top to even out the layers.

Bake the cakes for 20-25 minutes. You can also check it using the toothpick test and see if the inserted in the middle comes clean.

Once the baking is done, remove the cakes from the pan and place them on wire racks to cool completely.

If the cakes are a bit thick, you can slice them in half horizontally using a serrated knife to create 4 layers.
Cannoli Cream Filling:
In a large mixing bowl over medium speed, cream mascarpone and ricotta until creamy.

Add in the powdered sugar, vanilla extract, orange juice, salt, and cinnamon. Mix well.
To assemble the cake:
Place one layer on the cake plate. Add a spoonful of cannoli cream filling on top. Spread the filling evenly from the center up to the edges of the cake.

Add fresh slices of strawberries on top, then cover it with another cake layer.

Repeat the process with the remaining layers.

You can either frost or pipe the outside of the cake if you want more frosting.

However, I prefer mine adding a dollop on top with freshly made cannoli cream filling and then topping it with fresh slices of strawberries.

Refrigerate the cake until ready to serve.
Notes
If you are not a fan of the citrusy taste, you can remove the zest and the lemon juice. Also, you can enhance the cannoli cream filling by adding some chopped nuts like walnuts, pecans, or pistachios.
If a 9inch pan is unavailable, you can substitute it with an 8-inch round baking pan instead. However, if using 8-inch pans, adjust the baking time to 30-35 minutes instead.
Nutrition
Calories:
491
kcal
Carbohydrates:
61
g
Protein:
7
g
Fat:
25
g
Saturated Fat:
15
g
Polyunsaturated Fat:
0.5
g
Monounsaturated Fat:
3
g
Trans Fat:
0.3
g
Cholesterol:
63
mg
Sodium:
215
mg
Potassium:
73
mg
Fiber:
1
g
Sugar:
45
g
Vitamin A:
773
IU
Vitamin C:
0.003
mg
Calcium:
143
mg
Iron:
1
mg
More Easy Dessert Recipe
Love healthy baking recipes? You could try these simple recipes at home to impress your loved ones. Perfect for after-meal treats, coffee, and tea parties with friends and family!
Cream Cheese Christmas Cookies
To Wrap It All Up 
This cake is definitely one for the books and your belly. The Strawberry Cannoli Cream Cake is a light and fluffy way to end any meal or day. The cream filling and fruit topping make it a refreshing bite while the soft cake melts in your mouth. So what are you waiting for? Fire up those ovens and get baking! 
Connect With Us
If you've tried the Strawberry Cannoli Cream Cake, don't forget to leave a rating on the recipe card. Tag us on our social media accounts, subscribe to our weekly newsletter, and follow the Best Baking Tips and Vegan Globetrotter sites for more delicious ideas!
Read More