==================
Affiliate Statement
Best Baking Tips is supported by our audience. When you purchase through one of our links, we may earn a small affiliate commission.  As an Amazon Associate I earn from qualifying purchases. Your cost is not affected.
==================
 Who doesn't love a good banana cream pie? And what could be better than a bite-sized version of this classic dessert? These cookie cups are the perfect way to enjoy all banana cream pie flavors without making a whole pie. They're perfect for parties or any time you want something sweet. Plus, they're so easy to make!
Banana Cream Pie Cookie Cups: A New Twist to your Classic Favorite!
Classic banana cream pie is a delicious and nostalgic dessert. But why not mix things up and enjoy it in cookie form? These banana cream pie cookie cups are super fun to make and, of course, even more fun to eat! Serve in cute little cups with layers of cookie crust, vanilla pudding, and a fresh slice of banana on top–oh wait, we can add a dollop of whipped cream and some chocolate chips to complete the mood.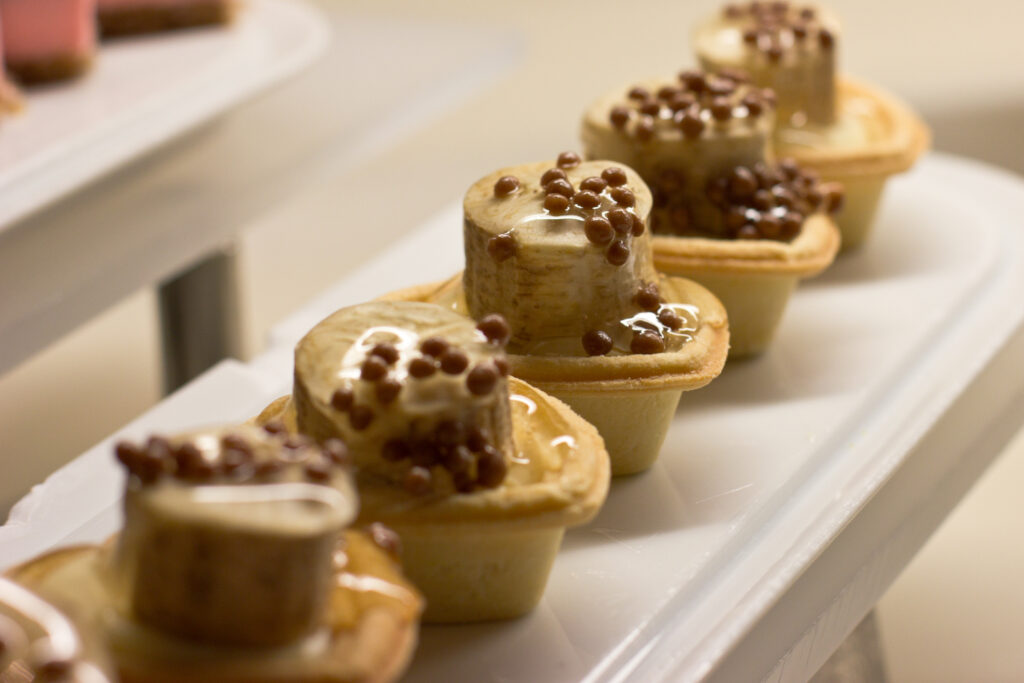 What Makes this Dessert Worth the Effort?
If you see the recipe, you would probably think this is intimidating, right? Well, yes, especially if you are unfamiliar with some ingredients. But with its yummy taste that can satisfy sweet cravings, you will forget all the hesitations and dive right in. The process is pretty simple. All you have to do is make your crust, which is the cookie dough, then let it rest while you do the pudding mix. And that's it; you are ready to assemble. To lessen the prep time in your kitchen, I recommend you do the cookie cups in advance. In that way, you only need to fill it with pudding right before serving. 
Healthy Substitution
I can imagine you asking whether there are other options or a way to simplify it, the answer is yes. As a matter of fact, in order to make the process a lot easier, you have the option to use instant pudding mix as your filling. This will of course will lessen the preparation time; With regards to your cookie dough, there are ready-to-bake options available in frozen goods where you only need to shape it and mold–or either ready made cookie shells that you only need the fill. But the truth is, creating everything from scratch allows you complete control over what goes into your desserts. You can either reduce the sugar content or even eliminate it entirely. Make it gluten-free if you want or even vegan-friendly. It will take so much effort, but with all the hard work you put into your dessert will make it even sweeter for loved ones. 
Variations 
The vanilla pudding or custard filling also tastes so good with any other fruits. This recipe makes it very versatile and can be used with other fruits in season too. In case you don't like a banana, you can use strawberries, kiwi , raspberry or lemon instead. When it comes to your cookie crust, you can also use crushed graham or digestive biscuits instead.
How do you keep the bananas from becoming brown?
Banana slices can be kept from becoming brown by brushing them or dipping them in an acidic solution.  If you're using lemon or lime juice, thin it out with a little water so the bananas won't taste like citrus. This is important for the bananas on top of the pie in particular. Another option is to cut and put the banana slices just before serving the pie.
Storage
Since banana pudding or custard filling contains dairy, the only way to help prolong its shelf is to keep it inside the fridge. With that being said, I recommend storing the leftover banana cream pie in an airtight container inside the refrigerator. Additionally, this procedure will aid in the cookie cups' ability to set and maintain their firmness.
Banana Cream Pie Cookie Cups
These delectable Banana Cream Pie Cookie Cups have all of your favorite elements of banana cream pie in one bite. A dessert that is truly worth all your efforts!
Ingredients
For the cookie:
3

cups

all-purpose flour

1

tsp

baking powder

1

cup

unsalted butter

1

large egg

1

cup

granulated sugar

1

tsp

vanilla extract
For the filling:
3/4

cup

granulated sugar

1/4

cup

cornstarch

2 1/2

cup

half and half milk

4

egg yolks

2

tsp.

vanilla extract

3

tbsp.

Salted butter

diced

4

bananas divided
Instructions
For the cookie dough:
Cream the softened butter and sugar using a mixer until creamy and light. This process will take about 2 minutes.

Pour the eggs and vanilla into the mixture.

Combine flour and baking powder in a separate container, and then gradually stir it into the sugar-butter mixture.

Mix all together until you form a dough, and wrap it in plastic after incorporating all the flour.

Let the dough rest inside the refrigerator for about 30 minutes before shaping it into cookie cups.

Preheat oven to 350°F and grease a mini muffin tin pan.

Add 1-2 tbsp of the cookie dough, press it tightly with a middle indentation, and shape it into a cup shape.

Once you are done, bake the cookie cups for 8-12 mins.

Please note that you may adjust the baking time depending on the size of your muffin pan.

Cool the cookie cups before removing it from the tray.
For the filling:
In a medium saucepan, stir the sugar and cornstarch together.

This is the time you can gradually add the half and half while whisking.

Meanwhile, prepare the egg yolks in a separate bowl and set it aside.

Place your half-and-half mixture in medium heat and slowly cook it until it thickens. Make sure to whisk it constantly for 6-8 minutes.

Using a rubber spatula, scrape the bottom periodically to ensure everything is well-mixed. Finally, remove it from the heat.

Going back to the egg yolk mixture, add 1 cup of the half-and-half milk mixture to the egg while whisking constantly.

When eggs are combined with the liquid, pour all the mixture into the pot and whisk everything to combine.

Bring the milk-egg mixture to a simmer until it thickens. Cook it for 1 minute over medium heat while whisking constantly.

You can now remove the mixture from the heat, add the butter and stir it well until combined.

Transfer the mixture to a bowl and cover it with plastic wrap touching the top of the pudding. Let it to cool for about 15 minutes.
For serving:
Scoop about a tablespoon of pudding into your cookie cups. You can put it back inside the refrigerator for 30 minutes until it sets.

Add a sliced banana on top before serving. Garnish with some chocolate chips if desired, or pipe some whipped cream on top for extra sweetness.
Notes
Avoid banana slices from turning dark, with that being said I advise adding them just before serving. In any case you are using a different size of the muffin pan, you may adjust the amount of crust to put in it.
Nutrition
Calories:
230
kcal
Carbohydrates:
30
g
Protein:
2
g
Fat:
11
g
Saturated Fat:
7
g
Polyunsaturated Fat:
1
g
Monounsaturated Fat:
3
g
Trans Fat:
0.4
g
Cholesterol:
62
mg
Sodium:
36
mg
Potassium:
26
mg
Fiber:
0.5
g
Sugar:
16
g
Vitamin A:
355
IU
Calcium:
21
mg
Iron:
1
mg
More Easy Dessert Recipe
Love healthy baking recipes? You could try these simple recipes at home to impress your loved ones. Perfect for after-meal treats, coffee, and tea parties with friends and family!
To Wrap It All Up 
This fun little banana cream pie cookie cup recipe is a great way to enjoy all the delicious flavor of classic banana cream pie without all the fuss. If you're feeling adventurous in the kitchen, why not give them a try? They're bound to be a hit with family and friends alike. So what are you waiting for? Give them a go, and let us know how they turn out!
Connect With Us
If you've tried these Banana Cream Pie Cookie Cups, don't forget to leave a rating on the recipe card. Tag us on our social media accounts, subscribe to our weekly newsletter, and follow the Best Baking Tips and Vegan Globetrotter sites for more delicious ideas!
Read More
Best Types of Thermometers for Baking
16 Different Types of Cakes to Make at Home