==================
Affiliate Statement and a Caveat 
First off, a little caveat: within my articles you will find affiliate links, meaning if you buy them, I get a small commission. Your cost is not affected. In addition, I am an Amazon Associate and I earn from qualifying purchases on Amazon.
And yes, if I say that I recommend a product here, it means I truly believe it is a good product. I refuse to recommend any product that I have not researched and believe to be a good value.
Even better, I provide you with a very clear picture of the product, it's use, and the probable value.
Earning your trust is important to me. I run this website myself and the commissions and donations help support the site.
Sound reasonable and fair enough? Let's continue to the article.
==================
If you are obsessed with desserts and love apples and cake, then you'll definitely fall in love with this chunky apple cake recipe. It's the perfect fall dessert – moist, fluffy, and packed with fresh apple chunks. And it's so easy to make, and anyone can do it! Trust me; this is one recipe you'll want to add to your collection.
Chunky, Mouthwatering Apple Cake
You probably have those lovely juicy apples on the counter that haven't touched for days. You are aching to do something about it, perhaps an apple pie? But how about turning it into one chunky apple cake with warm butterscotch drizzle on top? That sounds like a good idea. Let's go ahead and gather our ingredients and jump into our recipe!
Apple Pie vs. Apple Cake: Which one is better?
Choosing between the two is very difficult. Both are actually really good and can be eaten in many ways. Some with a delicate palate can easily decipher the difference and say that apple pie is so much better in terms of texture. However,regular eaters can get a little confused as both share the same flavor and aroma. Apple pie is defined by its crust and layers. It can be a single crust on the bottom or even on top. For the filling, you have a choice to make it pureed or chunky to add a little bite to it. It's buttery, sweet, earthy, and has a hint of saltiness. While on the other hand, apple cakes are more on the soft side. It has this pillowy texture, it is moist, and all flavors are well combined in one bite. It has a texture that melts in your mouth.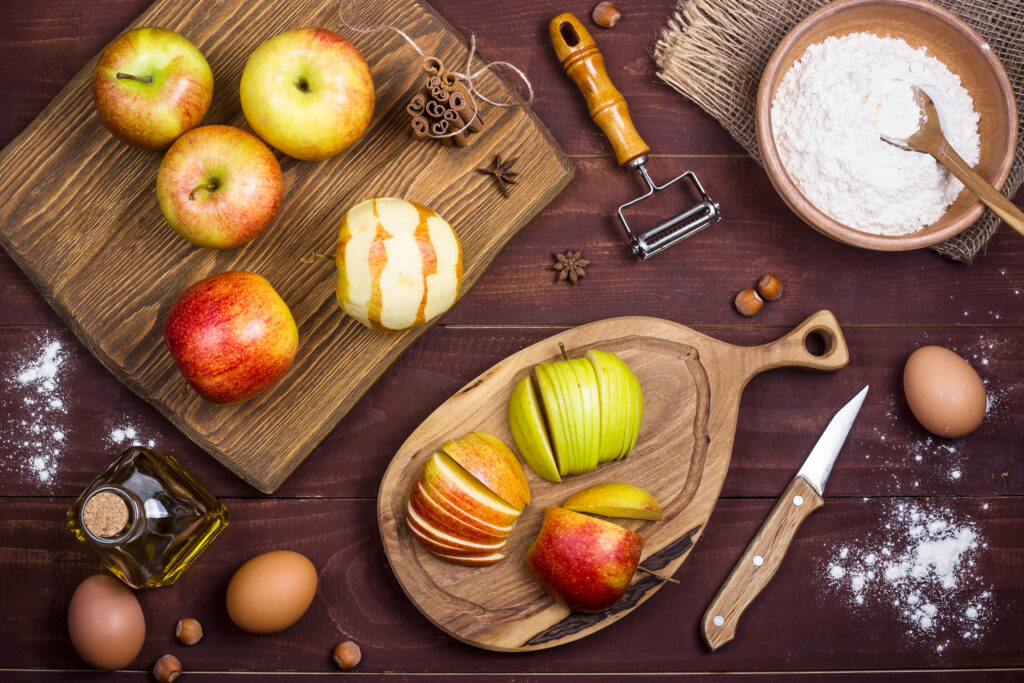 Few Tweaks and Tricks
This chunky apple cake is already lovely to eat on its own. However, additional chopped walnuts can do the trick if you feel a little extra. It will give this cake more bite and texture. Also, if you are running out of time for preparation, you can remove the butterscotch sauce and replace it with vanilla ice cream or whipping cream. Dust of powdered sugar is also one good option. I love eating my apple cake with a scoop of vanilla ice cream on top and a drizzle of butterscotch sauce. One intense craving- I know!
Tips to Consider
Granny Smith apples are a very traditional apple to use in most desserts since they bake up well and are available all year. However, you can always combine Granny Smiths with a milder apple variety if you're concerned that they'll be too tart.
In making butterscotch sauce, you choose between light or dark brown sugar. However, pick dark brown sugar if you aim for a bolder, more intense flavor.  
Storage
This actually will depend on preference, some love to eat their cake warm, while others, like me, love it chilled. The same goes for the butterscotch sauce. However, if you are aiming for a longer shelf life, place all the leftovers in an airtight container and place it inside the refrigerator. The cake will last up to 3 days, while the butterscotch sauce can be stored for weeks. 
Chunky Apple Cake
It's apple season again, and what better way to enjoy them than by making a decadent Chunky Apple Cake? It has a cheerful scent that is warm, fruity, and sweet. Definitely one of the most favorite holidays treats!
Ingredients
1/2

cup

butter

softened

2

cups

sugar

1/2

tsp

vanilla extract

2

large eggs

room temperature

2

cups

all-purpose flour

1-1/2

tsp

ground cinnamon

1

tsp

ground nutmeg

1/2

tsp

salt

1/2

tsp

baking soda

6

cups

apples

peeled and chopped
BUTTERSCOTCH SAUCE:
1/2

cup

packed brown sugar

1/4

cup

butter

cubed

1/2

cup

heavy whipping cream
Instructions
Start by creaming the butter with sugar and vanilla extract.

Wait until it's fluffy and pale in color.

Gradually add one egg at a time, ensuring it's well combined after each addition.

In a separate bowl, combine all the dry ingredients, such as flour, spices, salt, and baking soda.

Then slowly add to the butter mixture. Cream together until it becomes a little stiff.

Mix in the chopped apples to the cake batter.

Pour the cake batter into the prepared baking pan of 13x9-in size.

Bake at 350° F preheated oven for 40-45 minutes or until the top is little golden brown. You can also check if the cake springs back when lightly touched.

Once done, remove the chunky apple cake from the oven and allow the cake to cool for 30 minutes before serving.
BUTTERSCOTCH SAUCE:
Meanwhile, prepare the butterscotch sauce by combining butter and sugar in a small saucepan. Let it simmer over medium heat.

When the butter is fully melted, gradually add the heavy cream.

Over medium heat, slowly bring to a boil while stirring continuously.

Remove the butterscotch sauce from the heat and serve it with your chunky apple cake.
Notes
The butterscotch can be made in advance, and some can be saved for later use. Since it contains dairy, you can store the butterscotch sauce in an airtight container and keep it in the refrigerator for weeks.
Nutrition
Calories:
253
kcal
Carbohydrates:
54
g
Protein:
2
g
Fat:
4
g
Saturated Fat:
2
g
Polyunsaturated Fat:
0.2
g
Monounsaturated Fat:
1
g
Cholesterol:
10
mg
Sodium:
132
mg
Potassium:
106
mg
Fiber:
2
g
Sugar:
40
g
Vitamin A:
164
IU
Vitamin C:
2
mg
Calcium:
32
mg
Iron:
1
mg
More Easy Dessert Recipe
Love healthy baking recipes? You could try these simple recipes at home to impress your loved ones. Perfect for after-meal treats, coffee, and tea parties with friends and family!
To Wrap It All Up 
Chunky apple cake with warm butterscotch sauce is the best way to enjoy the fall season. This dish's sweet and savory flavors will satisfy your craving. So what are you waiting for? Try baking this at home and enjoying a delicious treat that captures the essence of autumn.
Connect With Us
If you've tried the Chunky Apple Cake, don't forget to leave a rating on the recipe card. Tag us on our social media accounts, subscribe to our weekly newsletter, and follow the Best Baking Tips and Vegan Globetrotter sites for more delicious ideas!
Read More