==================
Affiliate Statement
Best Baking Tips is supported by our audience. When you purchase through one of our links, we may earn a small affiliate commission.  As an Amazon Associate I earn from qualifying purchases. Your cost is not affected.
==================
Focaccia bread is a delicious, fluffy type of bread that can be enjoyed in many different ways. Whether you're eating it plain, with Olive oil, or topped with vegetables, this bread is sure to please. And the best part? It's not difficult to make at home! So why not give it a try? You might surprise yourself with how much you enjoy baking focaccia bread.
Focaccia Bread
Baking bread at home is a fun and delicious way to get into the kitchen, and Focaccia is a great place to start. This Italian-style flatbread is easy to make, and you can customize it with your favorite toppings. Whether you like it simple or loaded with toppings, focaccia bread is a delicious option for your next home-baked meal. Also, this is a suitable replacement for your garlic bread served with pasta, or you can use it as the base of your favorite pizza. Alternatively, you can cut Focaccia in half and use it to make sandwiches because it is relatively thick, making it an excellent addition to a bowl of soup or a salad and a tasty addition to a bread basket.
Focaccia Bread And Its Origin
In Italy, Focaccia bread is considered one of their famous street food. Often served with olive oil dip, some salt, and herbs- A versatile food that can consume in various ways. Whether you're eating it on its own, using it as a base for dipping, or topping it with your favorite ingredients, focaccia bread is sure to please. Baked and formed from a sweet or savory base that resembles pizza dough, it is infused with olive oil to flavor the focaccia bread. You may also top it with fresh herbs, vegetables, and extras like raisins or olives.
Few Tweaks and Tricks
This classic bread is made with only a few ingredients, like flour, salt, sugar, yeast, and oil. But to make it more delightful to the palette, you can create more variations by adding more toppings. Some want it infused with garlic and herbs, while I love adding freshly grated parmesan cheese on top before baking it. If you're going to make it more playful and colorful, you can add slices of vegetables, sausages, and meats and turn them into pizza form.
Let's Make it Vegan
Since the recipe only uses basic pantry staples like flour, sugar, yeast, salt, and olive oil as fat, this classic Italian bread makes it vegan-friendly. If you plan to add toppings, enhance the flavor and make it more special, choose vegan alternatives that can be bought in neighboring vegan stores.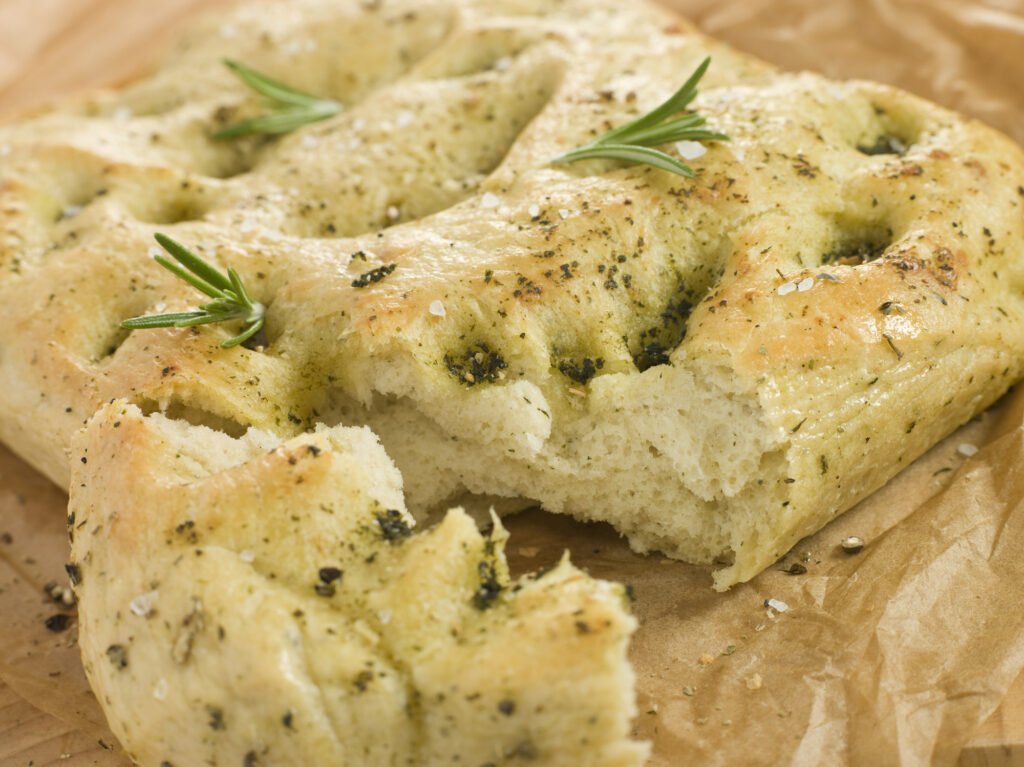 Baking Tips
Focaccia bread is pretty simple, but yes, you can still encounter minor issues along the way; thus, I have provided some baking tips below for you to follow: 
Making bread will take some time, from kneading to proofing and shaping; this will require more time in the kitchen if you plan to serve it at a party or holiday; plan ahead and make this recipe in advance. 

While adding dimples to the dough, if it is still resistant, it is still not ready. Allow it to rest for additional 10 minutes, then try it again.

This is a basic focaccia recipe; from this base, you can add more flavors by infusing herbs into your oil. I add fresh or dried herbs to my warm oil and let it sit for minutes until all the flavors blend.
Focaccia Bread
Have you ever wanted to make your own bread but been too intimidated by the process? Well, today is your lucky day! I'm going to show you how to make focaccia bread, and it's so easy that even a beginner can do it. This delicious Italian bread is perfect for an afternoon snack or an excellent addition to any meal. So let's get started!
Ingredients
1 1/2

cups

warm water

1

tsp

sugar

2 1/4

tsp

dry active yeast

3

cups

all-purpose flour

add more for dusting and kneading

1

cup

whole-wheat flour

2

tsp

salt

1/2

cup

extra-virgin olive oil

add more for greasing and drizzling

Flaky sea salt for sprinkling on top
Instructions
In a big bowl, mix the sugar with 1 1/2 cups of warm water (approximately 110 degrees F). Sprinkle the yeast on top, then wait 5 to 10 minutes for it to start bubbling.

Meanwhile, in a separate bowl, whisk together both flour and salt.

Once the yeast has been activated, pour the extra virgin olive oil into the bowl, and combine it with the flour mixture.

Using a wooden spoon, mix everything together until you form a shaggy dough.

Transfer the dough to a floured surface and knead until it is smooth and elastic for about 5 minutes.

Put the ball of dough in the same bowl that has been lightly oiled, cover it, and let it rise in a warm area for approximately an hour or until it has doubled in size.

Using an 11 by 17-inch rimmed baking sheet, pour some oil generously, then transfer the dough down to the baking sheet.

Slowly stretch the dough all throughout the baking pan and add dimples to the dough all over using your fingers.

Allow rising for about 30 minutes, loosely covered, in a warm location, until almost doubled in size.
Shaping and Baking
Meanwhile, heat the oven and set it to 425 degrees F.

Uncover the dough once it's ready and generously drizzle it with some olive oil and sprinkle with flaky salt.

Bake the focaccia bread until golden brown, 20 to 25 minutes. Once done, allow it to cool on the baking sheet on a wire rack.
Notes
In baking, it is very crucial to have an exact measurements. You can use a digital weighing scale and convert all the ingredients to grams for more accurate results.
While adding dimples to the dough, if it is still resistant, it is still not ready. Allow it to rest for additional 10 minutes, then try it again.
This is a basic focaccia recipe; from this base, you can add more flavors by infusing herbs into your oil.
Nutrition
Calories:
236
kcal
Carbohydrates:
32
g
Protein:
5
g
Fat:
10
g
Saturated Fat:
1
g
Polyunsaturated Fat:
1
g
Monounsaturated Fat:
7
g
Sodium:
390
mg
Potassium:
91
mg
Fiber:
3
g
Sugar:
0.5
g
Vitamin A:
1
IU
Vitamin C:
0.01
mg
Calcium:
9
mg
Iron:
2
mg
More Easy Dessert Recipe
Love healthy baking recipes? You could try these simple recipes at home to impress your loved ones. Perfect for after-meal treats, coffee, and tea parties with friends and family!
To Wrap It All Up 
Focaccia bread is delicious and easy to make at home. You can use any type of flour, but I prefer all-purpose or bread flour for this recipe. The sky is the limit when it comes to toppings, so get creative and experiment with your favorite combination of herbs and spices. Once you've tried baking focaccia bread at home, you'll never want to go back to store-bought again!
Connect With Us
If you've tried this Focaccia Bread recipe, don't forget to leave a rating on the recipe card. Tag us on our social media accounts, subscribe to our weekly newsletter, and follow the Best Baking Tips and Vegan Globetrotter sites for more delicious ideas!
Read More