==================
Affiliate Statement
Best Baking Tips is supported by our audience. When you purchase through one of our links, we may earn a small affiliate commission.  As an Amazon Associate I earn from qualifying purchases. Your cost is not affected.
==================
If you're looking for a delicious and elegant treat, look no further than lady locks! These delicate pastries are perfect for tea parties or other special occasions. While they may look daunting, I promise they're not as tricky as they seem. With this recipe and a little bit of practice, you'll be impressing your guests in no time. Let's get started!
Lady Locks
Traditionally, Lady Locks is the centerpiece of a Pittsburgh wedding cookie table. It is often consumed with cocktails while waiting for the bride and groom. But over time, these pastries are not only for weddings but also for holidays and other occasions, also known as cream horns and clothespin cookies–different but all the same yummy treats! These pastries are soft and light with just the right amount of crunch. You'll immediately fall in love with this flaky cookie and its sweet, creamy filling. 
Pantry Staples
Making this treat for a special occasion also means special effort. Though this can be a little intimidating based on the looks, these pastry recipes are very easy. You can use store-bought frozen puff pastry sheets for convenience and faster prep time, especially if you make a large batch. As for the pastry cream, all are basically can be found in your pantry. The key is to make the pastry filling at least 4 hours in advance to give it more time to sit and develop its flavor. 
Few Tweaks and Tricks
If you don't have access to ready-made and frozen puff pastry sheets, you can make this dough from scratch. There are already tons of recipes available online, but keep in mind to plan ahead as this can take a very long time to prepare. Also, adding flavors for filling is a fun option, especially if served with kids. The base of the pastry cream can be the same but with added flavorings from jam or fruits.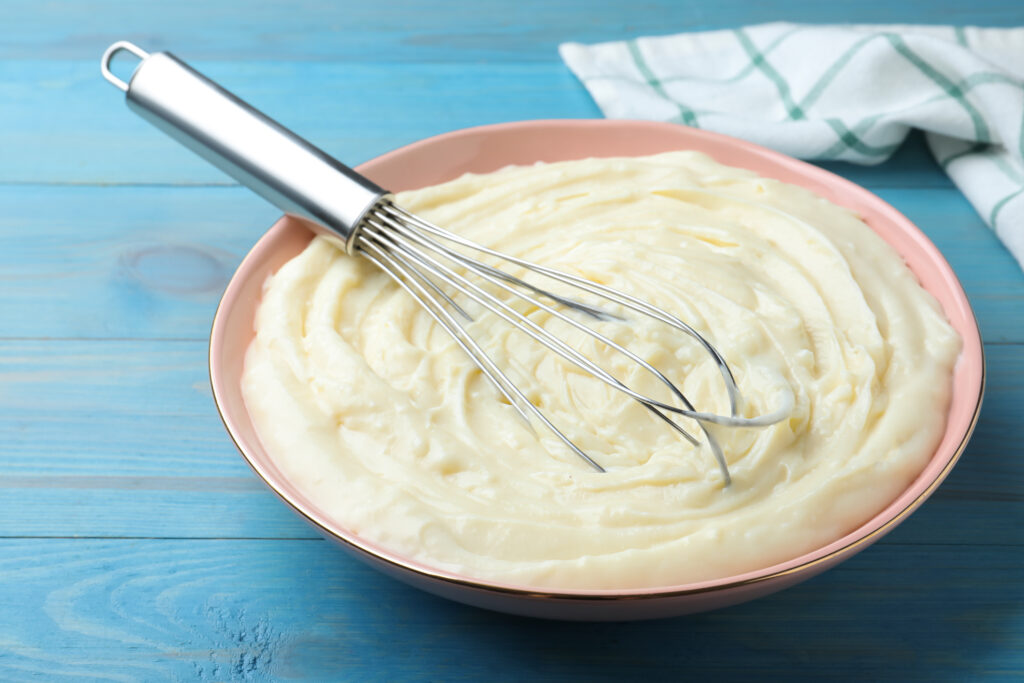 Let's Make it Vegan
This recipe can be pretty challenging to make vegan, but it's still possible. First, look for a local vegan store if there is any vegan option for puff pastries. If unavailable, you can make a homemade version of the dough using vegan butter or margarine on your pastry sheets. In terms of filling, you can customize it too, using plant-based milk, cornstarch for thickener, vegan butter, vanilla, sugar, and a pinch of nutmeg or cinnamon.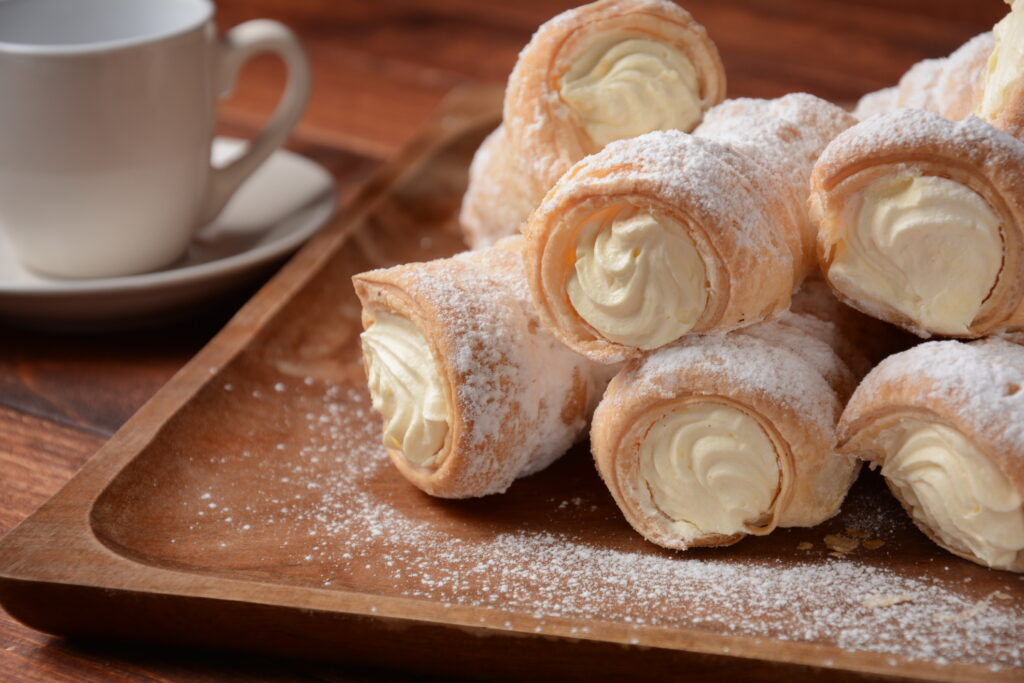 Lady Locks
Just like cannoli, Lady Locks are light pastries rolled into spiral shapes and filled with pastry cream. It has a softer exterior and fluffier interior, given that it is made with puff pastry sheets. Sometimes called cream horns--these pastries can also be found in Ohio and Pennsylvania. Despite its delicate looks and name, you can actually make this yummy pastry at home too!
Ingredients
Lady Locks/ Pastry
2

sheets of frozen puff pastry

1

large egg white

1

tbsp

water

2

tbsp

granulated sugar
Pastry Cream
1/2

cup

sugar

1/4

cup

all-purpose flour

1/4

tsp

salt

2

cups

half and half

4

large egg yolks

beaten

1

tsp

vanilla extract

1/3

cup

whipping cream
Instructions
Lady Locks
Preheat your oven to 425°F and line your baking sheet with parchment paper. Meanwhile, prepare Pastry Cream at least 4 hours before making the pastries.

On a floured surface, unfold and stretch out one puff pastry sheet into a 12x10-inch rectangle. Cut each sheet crosswise into sixteen 10x3/4-inch strips.

Each strip of dough should be wrapped around a cannoli tube or cream horn shape that has been greased. Place in rows on the prepared pan, 1 inch apart.

Beat together the egg whites and water in a bowl. Use it to brush over pastries and sprinkle with sugar.

Bake for 12 to 15 minutes or wait until golden brown. While the pastry is still warm, remove it from the pastry horn molder by slightly twisting it.

Let it cool on a wire rack. Repeat with the remaining puff pastry sheet.
Pastry Cream
Sugar, flour, and salt are stirred together in a medium-heavy saucepan. Stir in the half-and-half gradually. Stirring and cooking at medium heat until bubbling and thickened.

Cook and stir for an additional minute. Stir half of the heated mixture gently into the beaten egg yolks. Bring back the entire egg yolk mixture to the saucepan. Heat should be reduced after a gentle boil.

Cook and stir for 2 minutes. Remove from heat and stir in vanilla. Transfer to a bowl. Cover the surface with plastic wrap.

Place the pastry cream bowl in a ice bucket, and chill for five minutes while stirring. Wrap cling film over the surface. Let it cool for about 4 hours or until it is cold without stirring.

Meanwhile, beat the cream until soft peaks form in a small, cold mixing bowl. Gently incorporate whipped cream into pastry cream as it cools; make sure it's fully chilled before using. Makes 2⅓ cups.

Once ready, pour the cream mixture into a piping bag with a large open star tip to fill—pipe cream into each pastry. If desired, chill for up to 1 hour., serve with powdered sugar dust.
Notes
Use the handle of a wooden spoon if you don't have cannoli or pastry tubes to achieve the desired shape. Alternatively, you can also use thick foil shaped into a log.
For the chocolate pastry cream: Reduce the half-and-half to 1 1/2 cups and, after adding the half-and-half, add 4 ounces of chopped semisweet chocolate to the pan. You can remove the vanilla.
Nutrition
Calories:
94
kcal
Carbohydrates:
11
g
Protein:
1
g
Fat:
5
g
Saturated Fat:
3
g
Polyunsaturated Fat:
0.3
g
Monounsaturated Fat:
1
g
Cholesterol:
16
mg
Sodium:
56
mg
Potassium:
47
mg
Fiber:
0.1
g
Sugar:
9
g
Vitamin A:
180
IU
Vitamin C:
0.3
mg
Calcium:
36
mg
Iron:
0.1
mg
More Easy Dessert Recipe
Love healthy baking recipes? You could try these simple recipes at home to impress your loved ones. Perfect for after-meal treats, coffee, and tea parties with friends and family!
German Bienenstich (Bee Sting Cake)
Streuselkuchen – Crumb Cake Recipe
To Wrap It All Up 
Don't be intimidated by the name – lady locks are simply a type of pastry made from dough rolled into a tube shape and then coiled into a spiral. They may look fancy, but they're actually relatively easy to make at home. So if you're in the mood for something sweet and unique, give these a try. You'll be glad you did!
Connect With Us
If you've tried the Lady Locks recipe, don't forget to leave a rating on the recipe card. Tag us on our social media accounts, subscribe to our weekly newsletter, and follow the Best Baking Tips and Vegan Globetrotter sites for more delicious ideas!
Read More
Best Type of Bakeware: Top Tips for Choosing