==================
Affiliate Statement
Best Baking Tips is supported by our audience. When you purchase through one of our links, we may earn a small affiliate commission.  As an Amazon Associate I earn from qualifying purchases. Your cost is not affected.
==================
It's that time of year again – the time for baking and decorating holiday cookies! Pfeffernusse, German Christmas cookies traditionally made with a combination of spices like anise, cloves, cinnamon, and pepper, are the perfect treat for anyone who appreciates a good bit of spice in their sweets. But be warned – these little cookies pack a BIG flavor punch! So if you're looking for something festive (and delicious) to add to your holiday cookie tray this year, give pfeffernusse a try. You just might find yourself hooked on these seasonal favorites.
Pfeffernusse German Christmas Cookies
When it comes to holiday cookie treats, Germans have a lot to offer. They vary in all flavors– sweet, savory, and spiced, just like the Pfeffernusse. These spicy-sweet tiny cookies are packed with nutmeg, ginger, cinnamon, cloves, and a traditional holiday treat from Germany. Due to their plump, rounded shape and the uncommon addition of black pepper to the delicious handmade dough, this was called Pfeffernusse, which translates to "pepper nuts." 
Pfeffernusse are not only for Germans. In fact, you can also find similar cookies like this in the Netherlands, known as Pepernoten. These cookies are eaten in celebration of the arrival of Sinterklaas, while in Germany, you can find Pfeffernusse the entire Christmas season.
Pantry Staples
The holidays are a great time to try new recipes, and Pfeffernusse German Christmas Cookies are the perfect treat to bake this season. If you love baking, then maybe you already have all the ingredients in your pantry handy and available. Though this recipe requires a number of spices, I'm sure you can easily find those too in your stash. Molasses and honey, however, can be found in local groceries, same with anise extract. So take some time out of your busy holiday schedule to give this recipe a try. 
Variations and Substitutions
You can find Pfeffernusse cookies readily available in groceries during the holiday season. They have this glossy, white sugar glaze on top. Though homemade versions are still the best, you can achieve that glossy-shiny topping by making the sugar glaze below: 
For the Glaze:
2 1/2 cups powdered sugar

3-4 tablespoons hot water (less water will result in a thicker & whiter glaze)
The procedure is very easy, and all you have to do is to mix everything and dip your cookies in the glaze. This is perfect if you want to give these lovelies as holiday gifts, as it will create a more snow effect on top.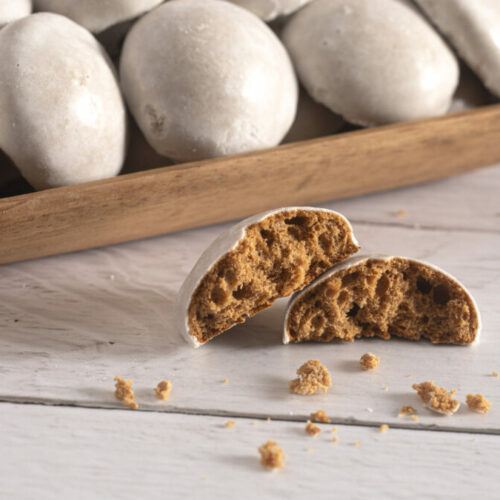 Pfeffernusse German Christmas Cookies
Christmas time is here, and if you're looking to add a little something extra special to your holiday baking, these Pfeffernusse German Christmas cookies are the perfect treat! Made with a delicate spice flavor and covered in adust of powdered sugar, they'll be sure to impress your friends and family. Plus, they're relatively simple to make, so you can spend more time enjoying the holidays!
Ingredients
2

cups

flour

⅓

cup

granulated sugar

¼

cup

brown sugar

1

tsp

baking soda

¼

cup

unsalted butter

¼

cup

molasses

3

tbsp

honey

1

egg
Spices:
1

tsp

anise extract

½

tsp

cloves

½

tsp

nutmeg

1

tsp

cinnamon

1

tsp

cardamom

½

tsp

allspice

½

tsp

ground black pepper

½

tsp

ground ginger

1

pinch

salt
Instructions
Melt together the butter, molasses, and honey in a small saucepan over medium-low heat. After fully melted, remove from heat and allow to cool.

Add the egg and anise extract, mix it up, and set aside.

Meanwhile, in a large mixing bowl, combine all the remaining dry ingredients and spices except the powdered sugar.

Slowly incorporate the wet and dry ingredients until you form a dough.

Wrap and seal the dough using a plastic kitchen film and let the dough cool in the refrigerator for about an hour.

While preparing your baking sheets with parchment paper, you can preheat your oven to 325° F.

Roll the chilled cookie dough into 1-inch balls before baking for 12 minutes.

Once done baking, remove from the pan and let it cool before rolling in powdered sugar.
Notes
This cookie recipe is not only good during the holiday meal. You can also make this into gifts and store it in cookie tins or jars.
Nutrition
Calories:
152
kcal
Carbohydrates:
29
g
Protein:
2
g
Fat:
3
g
Saturated Fat:
2
g
Polyunsaturated Fat:
0.2
g
Monounsaturated Fat:
1
g
Trans Fat:
0.1
g
Cholesterol:
18
mg
Sodium:
79
mg
Potassium:
110
mg
Fiber:
1
g
Sugar:
17
g
Vitamin A:
105
IU
Vitamin C:
0.1
mg
Calcium:
21
mg
Iron:
1
mg
More Easy Dessert Recipe
Love healthy baking recipes? You could try these simple recipes at home to impress your loved ones. Perfect for after-meal treats, coffee, and tea parties with friends and family!
Almond Sandwich Cookies with Orange Marmalade Filling
Hausfreunde Cookies With Walnuts 
To Wrap It All Up
Pfeffernusse are a traditional German Christmas cookie, and while they may look daunting to make at home, we promise they're well worth the effort. These little spice cookies have a delightful crunch and just the right amount of sweetness, making them a perfect treat for any holiday gathering. So put on your apron and give this recipe a try – your friends and family will be glad you did!
Connect With Us
If you've tried these Pfeffernusse German Christmas Cookies, don't forget to leave a rating on the recipe card. Tag us on our social media accounts, subscribe to our weekly newsletter, and follow the Best Baking Tips and Vegan Globetrotter sites for more delicious ideas!
Read More
Best Type of Cinnamon for Baking
 Types of Yeast for Baking, Which is Best?
16 Different Types of Cakes to Make at Home