==================
Affiliate Statement and a Caveat 
First off, a little caveat: within my articles you will find affiliate links, meaning if you buy them, I get a small commission. Your cost is not affected. In addition, I am an Amazon Associate and I earn from qualifying purchases on Amazon.
And yes, if I say that I recommend a product here, it means I truly believe it is a good product. I refuse to recommend any product that I have not researched and believe to be a good value.
Even better, I provide you with a very clear picture of the product, it's use, and the probable value.
Earning your trust is important to me. I run this website myself and the commissions and donations help support the site.
Sound reasonable and fair enough? Let's continue to the article.
==================
Biting into a classic Victoria Sponge cake can instantly transport you to a different era. This traditional recipe has been warming hearts and filling stomachs since the time of Queen Victoria! Soft sponges envelope luscious layers of sweet strawberry jam and fluffy cream, truly giving you an original taste experience like none other. Whether it's for afternoon tea or dessert after dinner, baking up your own homemade version of this classic treat is sure to bring smiles all around. So put on that apron and join us as we explore how to make the perfect Victoria Sponge Cake that will have everyone coming back for more!
Traditional Victoria Sponge Cake: Your Taste Buds Will Definitely Thank You!
What could be more quintessentially British than a slice of Victoria sponge cake? With its light sponge, sweet strawberries, and fluffy cream filling, this classic dessert is a firm favorite at tea time, picnics, and celebrations alike. The origins of the cake date back to the 19th century, when it was said to have been Queen Victoria's favorite afternoon tea treat. Whether you're a seasoned baker or new to the world of sponge cakes, there's no denying the irresistible charm of a well-made Victoria sponge. So why not treat yourself to a slice (or two) and indulge in a little bit of culinary history? Your taste buds will thank you!
Best Baking Tips; Ingredient Tips!
To make the perfect Victoria Sponge Cake, you will need high-quality ingredients. The butter you use should be unsalted and at room temperature, to ensure that it blends smoothly with the other ingredients. Choose eggs that are fresh and large, as they are important for creating the light and fluffy texture of the cake. The sugar you use should be fine and white, as coarse sugar can leave an unpleasant, gritty texture.
When it comes to flour, use a self-raising variety for the best results. This will give you a cake with a light and springy texture, perfect for absorbing the sweet, juicy flavor of fresh strawberries. Speaking of which, make sure your strawberries are ripe and firm, as any that are overripe will be too soft and mushy.
Finally, the whipped cream adds a lovely lightness to the cake, and it is important to whip it up to just the right consistency. Be careful not to over-whip, as this can lead to a grainy texture. Once you have all your ingredients ready, follow the recipe instructions carefully, paying attention to the timing and temperatures specified.
Making a Victoria Sponge Cake is a labor of love that requires patience and attention to detail. But when it is done right, the result is a deliciously indulgent treat that is perfect for any occasion. So go ahead, grab your butter, eggs, sugar, flour, strawberries, and whipped cream, and get baking!
Traditional Victoria Sponge Cake
If you want to try this Traditional Victoria Sponge Cake Recipe, share your photo and experience with us. In addition, let us know what you think in the comments below by using #bestbakingtip and #victoriaspongecake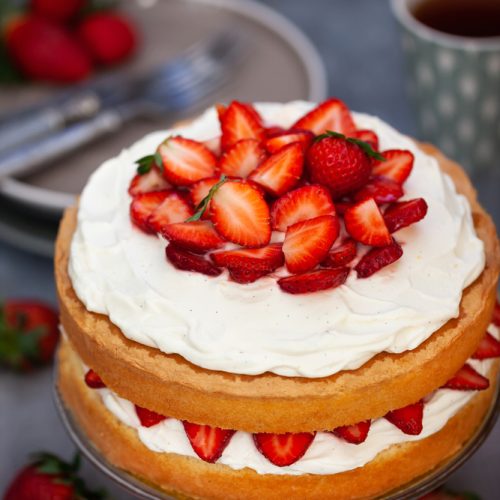 Traditional Victoria Sponge Cake
Soft sponges envelope luscious layers of sweet strawberry jam and fluffy cream, truly giving you an original taste experience like none other. Whether it's for afternoon tea or dessert after dinner, baking up your own homemade version of this classic treat is sure to bring smiles all around.
Ingredients
Let's gather the ingredients!
½

cup

unsalted butter

softened

3

large

eggs

8

ounces

granulated sugar

8

ounces

all-purpose flour

2

tsp

baking powder

3

ounces

coconut oil

8

ounces

strawberries

washed, hulled, and sliced

7

ounces

whipping cream

whipped to firm peaks

½

cup

confectioners' sugar
Instructions
Let's Begin!
Preheat oven to 350°F. Lightly grease two 8-inch round cake pans with butter. Line the bottom of each pan with parchment paper and lightly grease.

Using a mixer, mix the eggs, sugar, flour, baking powder, and the softened butter and coconut oil until completely combined. The mixture should be a soft consistency.

Divide the cake batter evenly between the two cake pans. Lightly smooth the surface of the cake.

Bake for 25 minutes or until the cakes are well-risen and golden brown on the surface.

Remove the cakes from the oven and place them on a cooling rack for 5 minutes.

After 5 minutes, the cakes should be shrinking away from the sides of the cake tins.

Carefully remove the cakes from the tins and leave them to cool completely on the cooling rack.

Once cooled, place one cake top side down onto a plate. Cover with half of the sliced strawberries, followed by a thick layer of whipped cream.

Top with the second cake, and finish with remaining strawberries and whipped cream. Finish with a dusting of powdered sugar.

Serve and enjoy with family and friends!
Nutrition
Calories:
523
kcal
Carbohydrates:
61
g
Protein:
6
g
Fat:
33
g
Saturated Fat:
22
g
Polyunsaturated Fat:
2
g
Monounsaturated Fat:
7
g
Trans Fat:
0.5
g
Cholesterol:
128
mg
Sodium:
142
mg
Potassium:
127
mg
Fiber:
1
g
Sugar:
31
g
Vitamin A:
824
IU
Vitamin C:
17
mg
Calcium:
98
mg
Iron:
2
mg
Must-Read Articles
Below are the must-read articles about baking. You will enjoy them reading as they are full of information and helpful tips. Read them and share your thoughts!
2. Chocolate and Cherry Sponge Pudding
4. Vegan Cherry Bakewell Tarts
To Wrap It All Up
We truly hope that this article brought you a little closer to the wonderful world of traditional Victoria Sponge Cake. Baking can be an incredibly gratifying experience, and for those wanting to scan the horizon of potential treats, Victoria sponge cake is a fast-track course to delectable delight. With its multiple versatile recipes and no-stress cooking style, it could just inspire your inner baker. Not only is this a classic, but it's made with all familiar ingredients and easy techniques that you are probably already familiar with.
Prepare for love at first bite! It also allows for a wide range of flavorings from fruits such as raspberries to jams like apricot or blackberry – allowing you to customize your dessert according to taste preferences or dietary requirements. We think it's impossible not to enjoy the amazing velvety texture and gently sweet flavor of this traditional Victoria Sponge Cake. Ready-made cake mixes are great too, but if you have access to fresh eggs and quality butter – make sure you give our recipe a try! After giving it a go by tackling this recipe yourself, don't forget to let us know what you think!
Connect With Us
If you've tried this Traditional Victoria Sponge Cake Recipe, please don't forget to leave a rating on the recipe card. In addition, Take a picture and tag us on our social media accounts: Facebook, Twitter, Instagram, and Pinterest. For more baking recipes make sure you subscribed to our weekly newsletter!
Read More
Chocolate and Cherry Sponge Pudding