==================
Affiliate Statement
Best Baking Tips is supported by our audience. When you purchase through one of our links, we may earn a small affiliate commission.  As an Amazon Associate I earn from qualifying purchases. Your cost is not affected.
==================
This French apple tart is the perfect dessert for those autumn days when you're looking for something a little bit special. It's easy to make, and the delicious combination of apples and cinnamon is sure to please everyone! This recipe is simple to follow and results in a wonderfully tasty dessert. Give it a try next time you're looking for something special. Bon appétit!
French Apple Tart: Sweet and Flaky!

I remember the first time I had French Apple Tart – it was love at first bite! The flaky pastry, the sweet apples, the hint of cinnamon… mmm. Just thinking about it makes my mouth water.
If you've never had a French apple tart, you're in for a treat. These tarts are traditionally made with a shortcrust pastry, but you can also use a puff pastry if you prefer. The apples are peeled and sliced, then arranged on top of the pastry in a circular pattern. A sugar and cinnamon mixture is sprinkled over the top, and the whole thing is baked until the pastry is golden brown and the apples are soft and juicy.
There's nothing quite like a freshly-baked French apple tart, but if you don't have time to make your own, you can always find them at most French bakeries. And trust me, they're worth seeking out. Bon appetit!
Best Baking Tips; Ingredient Tips!
French apple tart is a classic dessert that is both simple and elegant. The key to a great tart is to use the best ingredients possible. Here are a few tips to help you choose the right apples and create a delicious apricot jam filling.
When it comes to apples, there are many different varieties to choose from. For this tart, you want to use apples that are firm and crisp. Granny Smith apples are a good option, but you can also use Cox's, Russet, Honeycrisp, or Braeburn apples. avoid using apples that are too soft or too ripe, as they will turn to mush when baked.
Once you've selected your apples, it's time to get started on the tart itself. The key to success is in the apricot jam glaze. Be sure to spread it evenly over the apples so that they are nicely coated. The cinnamon sugar topping adds a nice touch of sweetness and spice.
Finally, don't forget the calvados! This apple brandy is essential for giving the tart its characteristic French flavor. I like to pour a small amount of calvados (or other apple brandy) over the top. This adds depth of flavor and helps to keep the apples from burning.
With these tips in mind, you'll be well on your way to making a delicious French apple tart that is sure to impress.
French Apple Tart – Apple To My Pie!

If you want to try this French Apple Tart, share your photo and experience with us, and let us know what you think in the comments below by using #bestbakingtips and #frenchappletart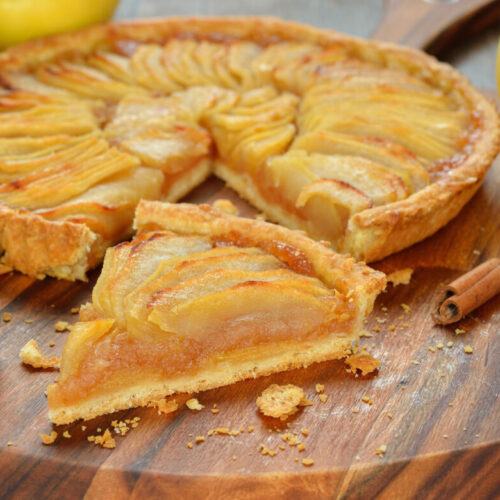 French Apple Tart
If you're looking for an easy and impressive French dessert, look no further than the classic apple tart. This recipe is simple to follow, but the end result looks and tastes like something from a professional pastry kitchen. Toss together a few basic ingredients, roll out some pastry dough, and you'll have a beautiful and delicious dessert that will wow your friends and family. So go ahead and give this French Apple Tart recipe a try - your taste buds won't be disappointed!
Ingredients
Let's gather the ingredients!
Pastry
1½

sticks

unsalted butter

cold, cubed

2

cups

all-purpose flour

plus extra for dusting

1

tbsp

light brown sugar

½

cup

cold water

½

tsp

kosher salt
Filling
12

apples

Cox's, Russet, or Granny Smith

½

cup

light brown sugar

1

tbsp

calvados

cognac or brandy (optional)

25

g

butter

melted

½

tsp

cinnamon

ground

3

tbsp

apricot jam
Instructions
Crust
Rub the butter into the flour, sugar and a pinch of salt in a bowl until crumbly.

Mix in the cold water until it forms a dough, then form into a puck shape.

Cover and chill for at least 30 mins.

On a lightly floured surface, roll out the pastry dough to roughly the size of a quarter coin, and line a 9 inch tart tin, leaving some overhanging.

Fill with some baking beans to weigh it down (use dried rice or lentils if you don't have baking beans). Bake for 15 mins, then remove the parchment and beans and bake for 10-15 mins more until the pastry is biscuity.

Trim away any overhanging pastry with a serrated knife. Set aside to cool.
Filling
Cover and cook over a low heat for 25-30 mins, stirring occasionally until the apples have collapsed into a purée.

Peel, core and halve the remaining apples, then cut into even-sized slices. Spread the apple purée over the base of the tart case, then arrange the apple slices in neat, even circles, starting from the outside.

Brush the apples with butter, then scatter over the reserved sugar and bake for another 20-25 mins until golden.
Glaze
When the tart has finished baking, glaze generously with the jam mixed with 1 Tbsp of hot water. then leave to cool a little.

Serve warm or cold, and enjoy with family and friends!
Must-Read Articles
Below are the must-read articles about baking. You will enjoy them reading as they are full of information and helpful tips. Read them and share your thoughts.
3. Things to Make Your Baked Goods Better
4. Decadent Tiramisu Crepe Cake
To Wrap It All Up
So, what are you waiting for? Try this delicious French Apple Tart recipe today! It's simple to follow and the end result is definitely worth it. And if you have any questions or comments about the recipe, be sure to let us know in the comments section below. We always love hearing from our readers. Enjoy!
Connect With Us
If you've tried this French Apple Tart recipe, please don't forget to leave a rating on the recipe card. Take a ? and tag us on our social media accounts: Facebook, Twitter, Instagram, and Pinterest. ?? For more baking recipes make sure you subscribed to our weekly newsletter. ? besides, moreover, whereas, also, too
Read More
Portuguese Egg Tarts (Pastel de Nata)
Apple Pie Dessert Pizza Recipe