==================
Affiliate Statement
Best Baking Tips is supported by our audience. When you purchase through one of our links, we may earn a small affiliate commission.  As an Amazon Associate I earn from qualifying purchases. Your cost is not affected.
==================
What do you get when you add blackberries to a fluffy vanilla sponge pudding? Deliciousness, that's what! This blackberry sponge pudding is easy to make and perfect for summertime entertaining. Made with fresh blackberries, eggs, sugar, butter, and flour. Topped with a drizzle of sweet and tart blackberry syrup. It is simple to make and sure to impress! Guests will love the sweet and tart flavor of the blackberries, and the light and airy texture of the sponge pudding. So gather your ingredients and get started on this amazing dessert!
Blackberry Sponge Pudding: You DESSERT the Best!
Blackberry Sponge Pudding is a classic British dessert that is both delicious and easy to make. The homemade blackberry sauce is the perfect topping for this sponge pudding, A great way to use up fresh berries. This pudding can be served with whipped cream or ice cream. Blackberry Sauce is also a great topping for this pudding. It is made with fresh blackberries, sugar, and lemon juice. Blackberry Sauce can be made ahead of time and stored in the refrigerator for up to two weeks. To reheat, place pudding in a microwave-safe dish and heat for 1-2 minutes until warm. Blackberry Sponge Pudding can also be frozen for up to two months. Thaw overnight in the refrigerator and reheat before serving.
What's inside this Blackberry Sponge Pudding that makes it so good?
When it comes to spongy, delicious desserts, blackberry sponge pudding is hard to beat. This English classic is made with just a few simple ingredients: blackberries, eggs, sugar, butter, and flour. Though the ingredients list is short, each ingredient packs a nutritional punch. Blackberries are an excellent source of dietary fiber, Vitamin C, and antioxidants. Eggs are a good source of protein and contain essential nutrients like choline and lutein. Sugar provides a quick source of energy, while butter adds flavor and creaminess. Finally, flour helps to thicken the pudding and gives it its signature spongy texture. Overall, blackberry sponge pudding is a nutrient-rich dessert that can be enjoyed guilt-free. So the next time you're in the mood for something sweet, remember that this classic pudding is not only delicious but also nutritious.
Best Baking Tips; Pro Tips!
Blackberry Sponge Pudding is a type of steamed pudding that has a spongy texture. It is made with flour, sugar, eggs, butter, milk, and baking powder. Sponge pudding can be flavored with vanilla, chocolate, or any fruit, in this case, we're using blackberries. This sponge pudding is a delicious dessert that is perfect for any season. The key to making a perfect sponge pudding is to use fresh ingredients and to follow the recipe carefully. Here are some tips for making the perfect batch:
Use fresh blackberries: Fresh blackberries will give your pudding a vibrant flavor and color. If you use frozen berries, thaw them before adding them to the batter.
Do not over-mix: Sponge pudding is made with a light batter. Over-mixing the batter will result in a tough and rubbery pudding. Mix the ingredients just until they are combined.
Cook evenly: Sponge pudding must be cooked evenly in order to be light and fluffy. Make sure to cook the pudding on low heat and to rotate it frequently while it is cooking. These tips will help you to make a delicious and perfect blackberry sponge pudding!
If you want to try this heavenly Blackberry Sponge Pudding, share your photo and experience with us, and let us know what you think in the comments below by using #bestbakingtips and #blackberryspongepudding
Blackberry Sponge Pudding: A BERRY special treat!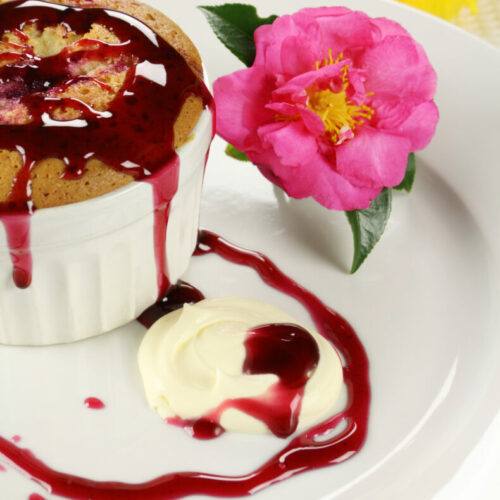 Blackberry Sponge Pudding
Who doesn't love a good old-fashioned English dessert? This blackberry sponge pudding is very easy to make and a delightful treat that will have your taste buds singing with joy. It's easy to make and perfect for any occasion!
Ingredients
Let's gather the ingredients!
Sponge Pudding
1

can

blackberries

in syrup

1 ½

cup

blackberry

fresh or frozen

⅓

cup

unsalted butter

softened

1

tsp

vanilla extract

½

cup

brown sugar

packed

2

Tbsp

whole milk

2

eggs

fresh

1

cup

all-purpose flour

2

tsp

baking powder

½

tsp

kosher salt
Blackberry Sauce
2

cup

blackberry

fresh or frozen

¼

cup

granulated sugar

1

tsp

lemon juice

¼

tsp

cornstarch

¼

tsp

cardamom

ground
Instructions
Sponge Pudding
Firstly, Preheat oven to 375°F

Using a stand mixer or hand mixer, cream the butter, vanilla, and sugar until light and pale. then, Beat in the eggs, one at a time.

Sift the flour, baking powder, and salt together, then fold into the creamed mixture.

Add the milk, then gently stir to combine.

Prepare four ceramic bowls, pour in the blackberries, both in syrup and frozen or fresh.

Spoon the mixture over the berries and bake for 40 minutes or until the sponge springs back when lightly touched.
Blackberry Sauce
Using a sauce pot, mix in the blackberries, sugar and lemon juice. Cook uncovered, stirring occasionally, until the fruit is thawed and beginning to break down.

Add cornstarch and cardamom, then continue to cook until the mixture is thick and jammy.

Press the sauce through a sieve with a wooden spoon.

Spoon directly on top of freshly baked Blackberry Sponge Pudding.

serve warm and enjoy with family and friends!
Nutrition
Calories:
1270
kcal
Carbohydrates:
270
g
Protein:
8
g
Fat:
18
g
Saturated Fat:
11
g
Polyunsaturated Fat:
1
g
Monounsaturated Fat:
5
g
Trans Fat:
1
g
Cholesterol:
123
mg
Sodium:
643
mg
Potassium:
351
mg
Fiber:
4
g
Sugar:
184
g
Vitamin A:
604
IU
Vitamin C:
27
mg
Calcium:
232
mg
Iron:
4
mg
Must-Read Articles
Below are the must-read articles about baking. You will also enjoy them reading as they are full of information and helpful tips. Read them and share your thoughts.
4. Vegan Carrot Cake Sandwich Cookies
5. Filipino Coconut Rice Cakes (Bibingka)
To Wrap It All Up
Whether you're a fan of blackberries or not, this sponge pudding is definitely worth giving a try. The recipe is simple and straightforward, so there's no reason not to give it a go. And if you do end up making it, be sure to let us know how it turns out by tagging us in your photos on social media. We can't wait to see what delicious creations you come up with!
Connect With Us
If you've tried this Blackberry Sponge Cake, don't forget to leave a rating on the recipe card. Take a ? and tag us on our social media accounts: Facebook, Twitter, Instagram, and Pinterest. ?? For more baking recipes make sure you subscribed to our weekly newsletter. ?
Read More
Pistachio and White Chocolate Pudding Cookies
16 Different Types of Cakes to Make at Home
Brioche Bread and Butter Pudding
Raspberry Cheese Dessert Pizza Recipe