==================
Affiliate Statement and a Caveat 
First off, a little caveat: within my articles you will find affiliate links, meaning if you buy them, I get a small commission. Your cost is not affected. In addition, I am an Amazon Associate and I earn from qualifying purchases on Amazon.
And yes, if I say that I recommend a product here, it means I truly believe it is a good product. I refuse to recommend any product that I have not researched and believe to be a good value.
Even better, I provide you with a very clear picture of the product, it's use, and the probable value.
Earning your trust is important to me. I run this website myself and the commissions and donations help support the site.
Sound reasonable and fair enough? Let's continue to the article.
==================
Have you heard of Basque Burnt Cheesecake? It might not sound like the most appetizing treat at first, but it's quickly becoming one of the hottest desserts around – and for good reason! This unique twist on a classic cheesecake recipe is incredibly simple, yet absolutely delectable in taste. Its deep brown edges give it a crunchy texture, while its creamy center remains soft and delicious. And yes – this cheesecake needs to be scorched to perfection before you can truly enjoy all of its unparalleled flavors! Ready to try something new? Follow along as we dive into what makes this dish so special, giving step-by-step instructions for how to make your very own masterpiece.
Burnt Basque Cheesecake: A sophisticated version of the classic cheesecake!
Burnt Basque Cheesecake is a creamy, luxurious dessert with a unique spin. It's a great choice when looking for something special, as opposed to the traditional cheesecakes and other desserts widely available today. The burnt edges contrast beautifully with the soft texture of the rest of the cake and make it surprisingly light. Making burnt Basque Cheesecake at home is quite achievable too, and with just a few simple steps you can enjoy this decadent treat in your own kitchen.
Best Baking Tips; Ingredient Tips!
The Burnt Basque Cheesecake is a decadent dessert that has become increasingly popular in recent years. However, getting the perfect texture and taste can be daunting, even for experienced bakers. To achieve this iconic cheesecake's signature burnt exterior and creamy center, certain ingredients must be used.
First and foremost is the cream cheese, which is the foundation of the cake. Use a high-quality cream cheese to ensure a smooth and rich texture. Additionally, flour is often added to the batter to give it structure, but using too much can make it dense. It's important to use a minimal amount of flour and not overmix the batter to avoid a rubbery texture. Finally, the use of heavy cream adds extra creaminess and richness and gives the cheesecake a luscious mouthfeel that is sure to satisfy your sweet tooth. Give these ingredient tips a try to create a delectable Burnt Basque Cheesecake that will have everyone asking for seconds.
Burnt Basque Cheesecake
If you want to try this Burnt Basque Cheesecake recipe, share your photo and experience with us. In addition, let us know what you think in the comments below by using #bestbakingtip, and #burntbasquecheesecake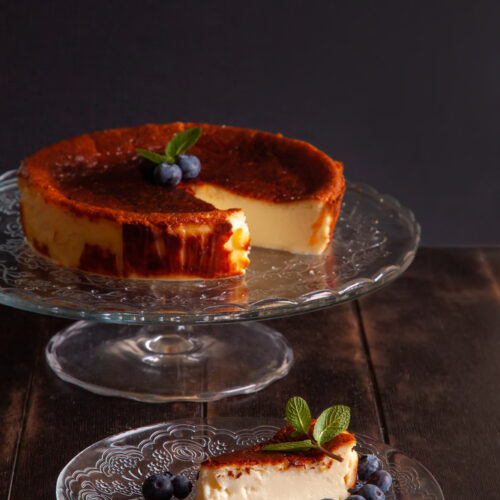 Burnt Basque Cheesecake
This decadent and indulgent treat has quickly become a favorite of home bakers everywhere – and once you try this recipe there's no going back! Bursting with creamy goodness and uniquely charred edges that add an irresistible smoky flavor, this showstopper will be sure to impress your family and friends.
Ingredients
Let's gather the ingredients!
2

8 oz. packages

cream cheese

softened

1

cup

heavy cream

⅓

cup

granulated sugar

¼

cup

all-purpose flour

½

tsp

vanilla extract

1

tsp

lemon juice

½

tsp

lemon zest

3

large

eggs
Instructions
Let's Begin!
Preheat oven to 425℉. Line an 8-inch round springform pan with parchment paper. Making sure it covers the entire pan including the sides and bottom.

In a large bowl, use a mixer to beat the cream cheese, heavy cream, sugar, flour, vanilla extract, lemon juice, and zest together until well blended. Add eggs, one at a time, and beat until just blended. Do not overmix.

Pour the filling into the prepared pan, then knock the side of the pan a few times to release trapped air bubbles.

Bake for 55 minutes until the top turns burnt brown. Turn off the oven and leave the cheesecake in the oven for an hour, allowing it to reduce the temperature slowly. This helps prevent the cheesecake from cracking due to shrinkage.

Cover the pan with plastic wrap and transfer it to the refrigerator overnight to cool down and solidify.

To serve, remove the cheesecake from the springform pan and parchment paper. Transfer to a serving dish and slice.

Enjoy with family and friends!
Nutrition
Calories:
117
kcal
Carbohydrates:
8
g
Protein:
2
g
Fat:
8
g
Saturated Fat:
5
g
Polyunsaturated Fat:
1
g
Monounsaturated Fat:
2
g
Trans Fat:
0.01
g
Cholesterol:
69
mg
Sodium:
24
mg
Potassium:
40
mg
Fiber:
0.1
g
Sugar:
6
g
Vitamin A:
361
IU
Vitamin C:
0.4
mg
Calcium:
21
mg
Iron:
0.4
mg
Must-Read Articles
Below are the must-read articles about baking. You will enjoy them reading as they are full of information and helpful tips. Read them and share your thoughts.
To Wrap It All Up
This indulgent Burnt Basque Cheesecake has become a favorite among many. Not only is it delicious, but its simple ingredients and easy cooking technique make this dessert accessible to bakers of all levels. Be sure to try it out soon and let us know what you think! If burnt edges aren't your thing, then opt for a lighter bake time instead.
In any case, the creamy cheesecake center is bound to tantalize the taste buds. Enjoy this sweet treat and don't forget to experiment by adding your own unique toppings like nuts, chocolate chips or dried fruits – let us know how you customize yours! Lastly, share this recipe with family and friends who will love its utter decadence as much as you do. We are confident that everyone will love it just as much as we do. Let us know what you think!
Connect With Us
If you've tried this Burnt Basque Cheesecake, please don't forget to leave a rating on the recipe card. In addition, Take a picture and tag us on our social media accounts: Facebook, Twitter, Instagram, and Pinterest. For more baking recipes make sure you subscribed to our weekly newsletter!
Read More
Chocolate Strawberry Cheesecakes
Peach Cheesecake, 3 Ways to Enjoy