==================
Affiliate Statement
Best Baking Tips is supported by our audience. When you purchase through one of our links, we may earn a small affiliate commission.  As an Amazon Associate I earn from qualifying purchases. Your cost is not affected.
==================
Fall is officially here, and what better way to celebrate than with some delicious caramel pumpkin marbled cheesecake bars? These bars are the perfect fall treat: sweet, creamy, and spiced just right. Plus, they're easy to make and sure to please a crowd. So put on your coziest sweater and get baking!
Caramel Pumpkin Marbled Cheesecake Bars: A dreamy dessert that's perfect for fall!
One of the best things about fall is all the delicious pumpkin-flavored food! And what could be better than a caramel pumpkin marble cheesecake? This easy-to-follow recipe will have you enjoying these delicious desserts in no time!
A swirl of pumpkin cheesecake and caramel sauce is marbled together in these rich and decadent bars. The pumpkin flavor is subtle and not too sweet, while the caramel adds a nice richness. These bars are perfect for entertaining or as an indulgent after-dinner treat. And they're so easy to make! Simply swirl together the pumpkin cheesecakes and caramel, pour into a prepared pan, and bake. The hardest part is waiting for them to cool before cutting into them! But trust me, they're worth the wait. These Caramel Pumpkin Marble Cheesecake Bars are guaranteed to be a hit with everyone who tries them.
Ingredient Tips and Substitution
One of my favorite things about fall is all the delicious seasonal recipes that start making their rounds. These Caramel pumpkin marble cheesecake bars are one of my favorites. They can be healthy and absolutely delicious. And this year, I'm sharing my tips for making them even better.
For the healthy version, firstly, use whole wheat graham crackers in place of regular graham crackers, the whole wheat graham crackers will give the bars a slight nutty flavor that goes perfectly with the pumpkin and caramel. Secondly, use low-fat cream cheese and Greek yogurt when making the filling. Thirdly, for the pumpkin puree, you can either make your own or buy a healthy, organic variety. Lastly, if you're looking for an extra boost of protein, you can also add a scoop of whey protein powder to the batter.
As far as substitutions go, you can use coconut milk, almond milk, oat milk, cashew milk, etc. in place of regular milk, and coconut oil instead of butter. For the caramel, use a healthy alternative like honey or agave nectar. I also like to add a teaspoon of pumpkin pie spice to really bring out the flavors of fall. And if you're not a fan of pumpkin, you can always substitute another type of squash or even sweet potato.
So whatever your dietary preferences, there's a way to make these caramel pumpkin marble cheesecake bars work for you. And trust me, they're worth it. So go ahead and give them a try!
With these tips, you can enjoy Caramel Pumpkin Marbled Cheesecake Bars that are healthy and delicious!
Best Baking Tips; Let's make it vegan!
Vegan Caramel Pumpkin Marble Cheesecake Bars are a delicious and fun alternative to traditional cheesecake. This vegan version is made with coconut milk, vegan butter, pumpkin puree, and spices, and is swirled with vegan caramel sauce. It's the perfect fall dessert for vegans and non-vegans alike! The best part about this vegan Caramel Pumpkin Marble Cheesecake is that it's actually really easy to make. So if you're looking for a show-stopping vegan dessert that everyone will love, look no further than these Caramel Pumpkin Marble Cheesecake Bars!
They're easy to make and can be made healthy and vegan with a few simple ingredient substitutions. Here's how:
1. Use vegan cream cheese or ground cashew nuts instead of regular cream cheese.
2. Use vegan butter or coconut oil instead of regular butter.
3. For the milk, feel free to use coconut milk, almond milk, oat milk, cashew milk, etc.
4. I highly suggest using flaxseed soaked in water in place of eggs.
These vegan caramel pumpkin cheesecake bars are festive, delicious, and sure to please a crowd. If you're looking for something special to bring to your Thanksgiving feast this year, look no further! And if you want to learn more about healthy vegan recipes, be sure to check out our other articles!
For more vegan recipes, visit the Vegan Globetrotter site as well as our Youtube Channel. On these accounts, We have everything from savory vegan dishes to sweet treats, all of which are perfect for any occasion. Plus, you will learn more tips with our must-read articles about veganism.
If you want to try these delectable Caramel Pumpkin Marbled Cheesecake Bars, share your photo and experience with us, and let us know what you think in the comments below by using #bestbakingtips and #rcaramelpumpkinmarbledcheesecakebars
Pumpkin spice and everything nice!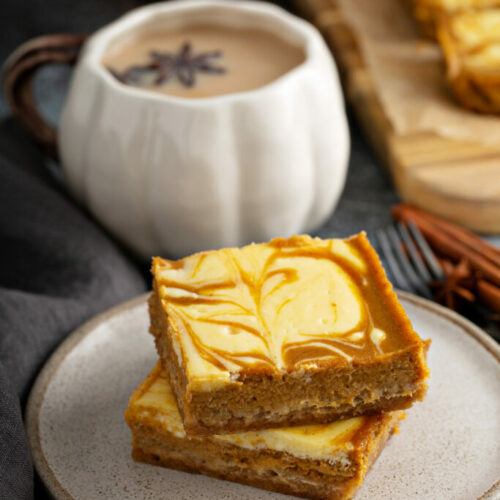 Caramel Pumpkin Marbled Cheesecake Bars
These Pumpkin Caramel Marble Cheesecake Bars are the perfect fall dessert! They're rich and creamy, with a hint of pumpkin spice, and they have a lovely swirl of caramel running through them. The cheesecake is baked on top of a graham cracker crust, which makes it extra delicious. These bars are easy to make and will definitely impress your friends and family!
Ingredients
CRUST:
1 ½

cups

graham crackers

crumbs

¼

cup

granulated sugar

6

tbsp

unsalted butter

melted

1

pinch

kosher salt
FILLING:
1

package

cream cheese

(8 -ounce) softened

1

tsp

cinnamon

ground

¼

tsp

nutmeg

ground

¼

tsp

allspice

ground

2

eggs

fresh

½

cup

sweetened condensed milk

½

cup

caramel sauce

1

can

pumpkin puree

(15- ounce)

½

tsp

kosher salt
Instructions
Let's Begin!
Line a 14 x 10 brownie pan with parchment paper or use a non-stick spray.

Combine crust mixture until "wet sand" consistency, and press in the brownie pan.

Using a clean bowl and electric mixer, with the flat beater, beat cream cheese until fluffy.

Add in the sweetened condensed milk, eggs, pumpkin, spices, and salt. Mixing till evenly blended.

Pour over the prepared crust.

Bake for 35 to 40 minutes until the middle is set.

Cool, then chill in the refrigerator.

Serve and enjoy with family and friends!
Notes
PRO TIP!
Bring the eggs and cream cheese to room temperature.
Line the brownie pan with parchment paper.
Cool completely before cutting.
Clean the knife you cut these bars in between slicing for clean cuts.
Omit cinnamon if using a spice cake mix.
If you're not fond of frosting try using a dollop of whipped cream on top (the bars taste like pumpkin pie)
STORAGE
Easy cut-to-size wax paper cut into squares for stacking and no mess to clean.
Store in a large covered rectangular storage container in the refrigerator for any leftovers.
We prefer these cheesecake bars cold, but you can serve them at room temperature also, These do freeze for up to 3 months very well. To enjoy them, defrost them in the refrigerator overnight.
POSSIBLE ADDITIONS
If you love chocolate chips, coconut or nuts, add more to your batter.
Additional drizzled frosting on top will make them look super special for the Holiday table, but it does add additional sweetness.
You can decide how your family loves pumpkin cheesecake bars by just adding the additions to just one side and making half plain and half with those previous suggestions.
Nutrition
Serving:
12
bars
Calories:
445
kcal
Carbohydrates:
56
g
Protein:
7
g
Fat:
22
g
Saturated Fat:
13
g
Polyunsaturated Fat:
1
g
Monounsaturated Fat:
6
g
Trans Fat:
0.2
g
Cholesterol:
88
mg
Sodium:
344
mg
Potassium:
287
mg
Fiber:
2
g
Sugar:
47
g
Vitamin A:
6275
IU
Vitamin C:
2
mg
Calcium:
164
mg
Iron:
1
mg
For More Holiday Baking Recipes
The baking holiday recipes below are easy to make and are also versatile that you can substitute the ingredients into a healthy one. I'm sure you might fall in love with these holiday delicious treats; perfect for the fall season, Thanksgiving day, and for all occasions. They are must-try holiday recipes so why not give the recipes below a try?
To Wrap It All Up
So, there you have it! Our recipe for Caramel Pumpkin Marbled Cheesecake Bars. This is a dessert that will definitely impress your guests at your next get-together. We hope you enjoy them as much as we do. And if you decide to give them a try, be sure to let us know how they turn out by posting a picture on our Facebook page or tagging us in your Instagram post. Happy baking!
Connect With Us
If you've tried this Caramel Pumpkin Marbled Cheesecake Bars recipe, don't forget to leave a rating on the recipe card. Take a ? and tag us using #bestbakingtips #ilovebestbakingtips and on our social media accounts: Facebook, Twitter, Instagram, and Pinterest.  Also, subscribe to our newsletter, which will be sent straight to your inbox every week, to stay more up-to-date on our baking recipes. ?
Read More
Different Types of Cakes To Make At Home
Peach Cheesecake, 3 Ways to Enjoy