==================
Affiliate Statement
Best Baking Tips is supported by our audience. When you purchase through one of our links, we may earn a small affiliate commission.  As an Amazon Associate I earn from qualifying purchases. Your cost is not affected.
==================
Tiramisu is a classic Italian dessert that typically consists of coffee-soaked ladyfingers layered with a rich mascarpone cream. This tiramisu crepe cake takes the traditional flavors of tiramisu and transforms them into an elegant, multi-layered cake. The cake begins with a layer of light and fluffy crepes, then layered with a creamy mascarpone filling. The cake is then finished with a dusting of cocoa powder and refrigerated overnight to allow the flavors to meld together. When you're ready to serve, simply slice and enjoy. This tiramisu crepe cake is the perfect dessert for any occasion.
Decadent Tiramisu Crepe Cake: Not All Heroes Wear Crepes!
Tiramisu crepe cake is one of the most popular desserts in Italy. The dish is made with layers of crepes, mascarpone cheese, and coffee-soaked ladyfingers. Tiramisu means "pick me up" in Italian, and the dish is often served as a coffee break treat or after a meal. While tiramisu is typically made with espresso, any coffee will do. The important thing is to use good quality coffee that is not too bitter. For the best results, tiramisu should be made at least one day ahead of time so that the flavors have a chance to develop. When it comes to serving, tiramisu can be enjoyed on its own or with a dollop of whipped cream. However you enjoy it, there's no denying that tiramisu is a truly decadent dessert.
Tiramisu crepe cake is made by layering thin crepes with a coffee-flavored mascarpone cream. The result is a dessert that is light, airy, and absolutely delicious. Best of all, it can be easily adapted to any dietary restrictions. Gluten-free crepes can be used for those with celiac disease or gluten sensitivity, and dairy-free mascarpone cheese can be used for those who are lactose intolerant. Regardless of your dietary needs, tiramisu crepe cake is sure to satisfy your sweet tooth.
How to make the perfect crepes
Making crepes is an art, and one that takes some practice to perfect. But once you've got the hang of it, you'll be able to make this classic French dish with ease. Here are a few tips to help you make the perfect crepes:
Use a non-stick pan. This will help to prevent the crepes from sticking to the pan and making them difficult to flip.
Heat the pan before adding the batter. This will help to create a smooth surface for the crepes.
Pour a thin layer of batter into the pan. You don't want the crepes to be too thick or they won't cook evenly.
Use a spatula to spread the batter evenly in the pan.
Cook for one minute, or until the crepes are golden brown and easy to flip.
Best Baking Tips; Ingredient Tips!
Tiramisu is a decadent Italian dessert that traditionally consists of layers of espresso-soaked ladyfingers sandwiched between a rich mascarpone cream. While the classic version of tiramisu is always a hit, there are endless ways to experiment with this decadent dessert. One popular variation is tiramisu crepe cake. This showstopper of a dessert features layers of fluffy crepes interspersed with a mascarpone cream filling. While tiramisu crepe cake may sound daunting, it's actually relatively easy to make at home. Here are a few tips to ensure your cake turns out perfectly.
When it comes to the crepes, it's important to use a good quality espresso in the batter. This will give the crepes flavor and prevent them from drying out. If you don't have access to espresso, you can also use strong coffee. For the mascarpone cream filling, be sure to use fresh mascarpone cheese for the best flavor and texture. If you can't find fresh mascarpone, you can also use cream cheese combined with heavy cream. Finally, don't be afraid to get creative with your presentation. Tiramisu crepe cake can be served in a traditional cake pan or individual cups. You can also top the cake with chocolate shavings, cocoa powder, or fresh berries. Whatever you do, just be sure to enjoy every decadent bite!
If you want to try this decadent Tiramisu Crepe Cake, share your photo and experience with us, and let us know what you think in the comments below by using #bestbakingtips and #tiramisucrepecake
Decadent Tiramisu Crepe Cake: You're Gonna Love Every Layer!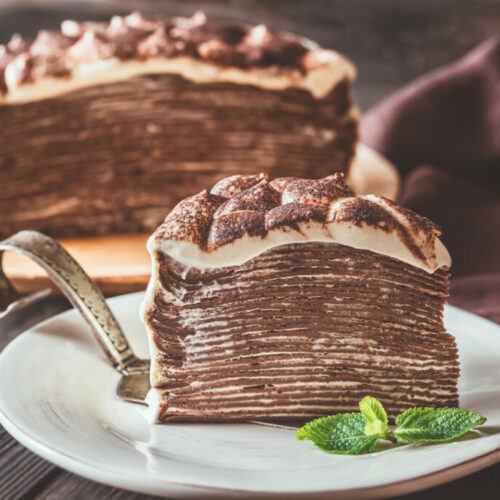 Decadent Tiramisu Crepe Cake
If you're looking for an impressive dessert that will wow your guests, look no further than a crepe cake. This recipe for tiramisu crepe cake is easy to follow and tastes delicious. Plus, it's sure to impress everyone at your next gathering!
Ingredients
Let's gather the ingredients!
For the Crepe
12

large

eggs

fresh

2

cup

whole milk

1

cup

cream

2

tsp

vanilla extract

2

cup

all-purpose flour

½

tsp

kosher salt
For the filling
4

cup

mascarpone cheese

1

cup

icing sugar

3

tsp

espresso powder

⅓

cup

warm water

5

tbsp

brandy

¾

cup

double cream

Cocoa powder

for dusting
Instructions
For the Crepe
In a blender or food processor, blend together the eggs, milk, cream, vanilla extract, and salt until well combined.

Add in the flour, and pulse until smooth. Do not over-mix. Then, transfer in a jug.

Using a non-stick pan, Heat a tablespoon of butter over a medium-high heat.

When lightly bubbling, pour enough batter to coat the pan, tilt until even. then cook for about 1 minute.

the crepe is ready to flip when bubbles appear on the surface. Flip with a spatula and cook for another minute.

Transfer to a plate and cover with a damp towel. Repeat to use up the rest of the batter – it will make about 18 crepes.
For the Filling
In a large mixing bowl, whisk together the instant coffee and warm water until fully dissolved.

Then, add the marscapone, icing sugar, coffee and brandy, mix with an electric mixer until lighter and slightly thickened.

Add the double cream, then whisk until combined and just holding its shape.
Let's assemble the cake!
Place a crepe on a serving board or plate and spread over a little of the cream with a palette knife.

Repeat, layering crepes and cream, until the crepes have been used up, finishing with the remaining cream.

Pipe the remaining cream on top for decoration. Finally, dust the top with cocoa powder.

Serve and enjoy with family and friends!
Nutrition
Calories:
513
kcal
Carbohydrates:
23
g
Protein:
12
g
Fat:
39
g
Saturated Fat:
24
g
Polyunsaturated Fat:
1
g
Monounsaturated Fat:
4
g
Trans Fat:
0.01
g
Cholesterol:
229
mg
Sodium:
176
mg
Potassium:
147
mg
Fiber:
0.4
g
Sugar:
10
g
Vitamin A:
1422
IU
Vitamin C:
0.2
mg
Calcium:
157
mg
Iron:
1
mg
Must-Read Articles
Below are the must-read articles about baking. You will also enjoy them reading as they are full of information and helpful tips. Read them and share your thoughts.
1. Bake Your Stress Away: 10 Benefits of Baking
5. Filipino Coconut Rice Cake (Bibingka)
To Wrap It All Up
Crepes are the perfect canvas for all sorts of delicious fillings, both sweet and savory. In this recipe, we've combined the classic flavors of tiramisu into a crepe cake that is sure to impress your guests. Whether you're throwing a party or just looking for a special dessert to share with family and friends, this decadent tiramisu crepe cake is sure to please. So what are you waiting for? Try making this cake today! And be sure to let us know how it turns out by leaving a comment below.
Connect With Us
If you've tried this decadent Tiramisu Crepe Cake, don't forget to leave a rating on the recipe card. Take a ? and tag us on our social media accounts: Facebook, Twitter, Instagram, and Pinterest. ?? For more baking recipes make sure you subscribed to our weekly newsletter. ?
Read More
Classic Cream Puff Recipe – Amazing!
Valentine's Day Dessert Recipes
Cream Cheese – Raspberry Brownies