==================
Affiliate Statement and a Caveat 
First off, a little caveat: within my articles you will find affiliate links, meaning if you buy them, I get a small commission. Your cost is not affected. In addition, I am an Amazon Associate and I earn from qualifying purchases on Amazon.
And yes, if I say that I recommend a product here, it means I truly believe it is a good product. I refuse to recommend any product that I have not researched and believe to be a good value.
Even better, I provide you with a very clear picture of the product, it's use, and the probable value.
Earning your trust is important to me. I run this website myself and the commissions and donations help support the site.
Sound reasonable and fair enough? Let's continue to the article.
==================
Irish Shortbread
This delicious buttery traditional Irish Shortbread is rolled. It's simply the best-tasting cookie you'll ever have, yet it's made with only four basic ingredients. This must be a lucky day for you! Only one bowl and no mixer are needed to make this crisp, buttery, melt-in-your-mouth shortbread. They come together rapidly and vanish even faster, so make a lot of them. These are kid-friendly. Your family and friends will love this. This recipe will blow you away! They are perfect for St. Patrick's Day. You can make any shape you want, using a cookie cutter.
When you eat this Irish Shortbread. You just said that you will make another batch of this shortbread. Yeah! Sounds crazy! But that is the truth! You can't resist as I felt too. But before that, what is shortbread? Well, shortbread is the simplest of all sweet confections, with an ingredient list that is almost absurdly short – butter, sugar, and flour. Been wondering? What are you waiting for? Come on and Let's go to the kitchen!
As we approach St. Patrick's Day, I'd like to share this recipe Irish Shortbread with you.
Try Our Irish Shortbread Recipe: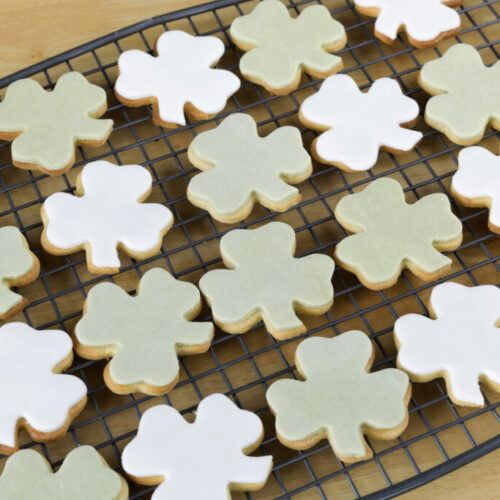 Irish Shortbread
This rolled Traditional Irish Shortbread is rich and buttery. It's simply the best-tasting cookie that requires only 3 simple ingredients. This must be your lucky day!
Ingredients
1-2

cups

butter

softened

16

tbsp

sugar

granulated

2-3

cups

all-purpose flour

tsp

salt

to taste
Instructions
Preheat the oven to 350° F.

In a large mixing bowl, mix the sugar and butter till creamy.

Add the salt and flour gradually at a low speed until the dough turns to a ball.

Place the dough on a parchment-lined baking sheet, or cut it using a cookie cutter if you're baking in blocks.

Heat for 15 minutes in a preheated oven, or until doneness or color is achieved.

Allow cooling completely before breaking the blocks into pieces (if desired).
Nutrition
Calories:
72
kcal
Carbohydrates:
16
g
Protein:
1
g
Fat:
1
g
Saturated Fat:
1
g
Polyunsaturated Fat:
1
g
Monounsaturated Fat:
1
g
Cholesterol:
1
mg
Sodium:
10
mg
Potassium:
24
mg
Fiber:
1
g
Sugar:
8
g
Vitamin A:
16
IU
Calcium:
13
mg
Iron:
1
mg
READ MORE:
Grandma's Melt-In-Your-Mouth Shortbread Cookies
Classic Lemon Bars Recipe, Sunshine to Your Tastebuds!
Delicious Dessert Recipes with Peaches
7 Delicious Peach Cookie Recipes