==================
Affiliate Statement
Best Baking Tips is supported by our audience. When you purchase through one of our links, we may earn a small affiliate commission.  As an Amazon Associate I earn from qualifying purchases. Your cost is not affected.
==================
If you love soft, gooey cookies, you're going to want to try these lemon gooey butter cookies. They've got all the deliciousness of a traditional gooey butter cookie, with a refreshing twist from the lemon. These cookies are perfect for springtime gatherings or anytime you need a little pick-me-up. Give them a try, and let me know what you think!
Soft, Chewy, and Tangy: Lemon Gooey Butter Cookies
I love anything sour. For me, the citrusy flavor gives any savory or sweet dish a fresh- summery vibe. Lemons are one of the most underrated ingredients in baking. Where in fact, it really does have a significant role and immense contribution to creating one successful dish.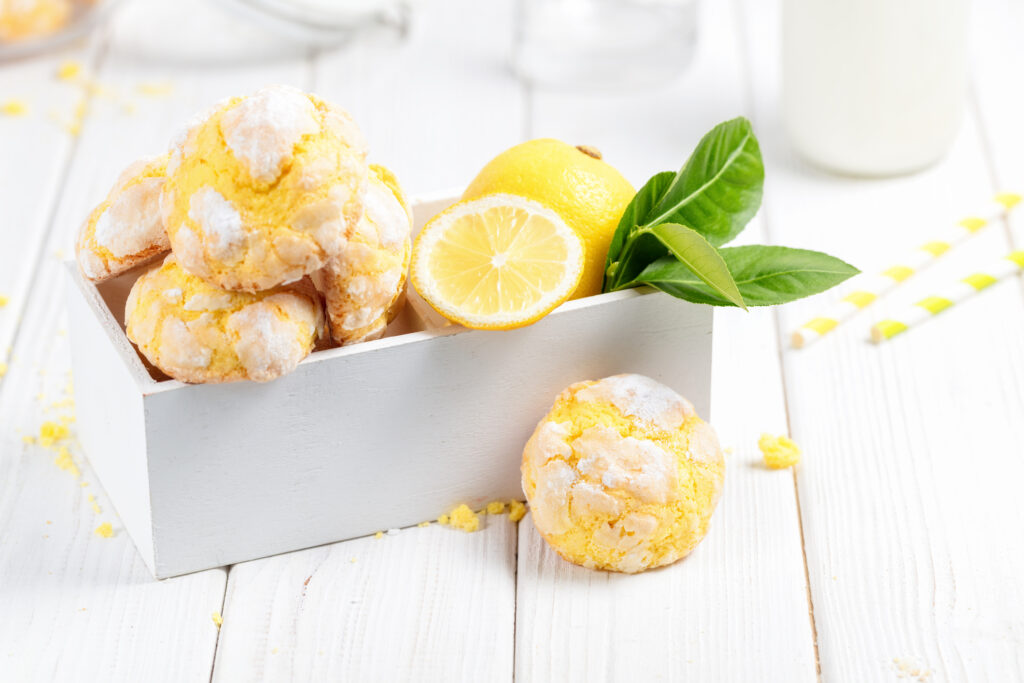 Baking with Lemons
Having mentioned the role of lemons in baking. I have listed a few ways to incorporate and use your lemons in your kitchen. 
To balance flavors:  Lemon juice may be a fantastic balancing agent in baked foods. We occasionally incorporate lemon juice or cookies to neutralize the sweet flavor profile of cookies.
To enhance fresh fruit flavors: Adding lemon juice to our fruit pie filling gives that extra boost of flavors. Your apple pie will taste more fruity and has a more balanced sweetness if you add a little lemon juice to the filling.
To give your baked goods a lift:  Lemon juice contributes to the leavening and tenderizing cakes and other goodies. If you want to make buttermilk, you can add lemon juice to your whole milk and let it sit until it curdles. 
To retain the freshness and color of your fruits: I love using fresh fruits in my baked goods, but we don't like to see our sliced fruits slowly drying up and getting dark. This is known as oxidation or enzymatic browning. Sliced fruits such as apples, pears, bananas, and peaches can prevent browning by being sprinkled with an acidic juice like lemon juice.
Lemon Gooey Butter Cookies: Your "pick-me-up" anytime dessert!
They have this tangy, delightful citrusy flavor that can easily lift one's mood. Perfect for everyday snacking or even for parties. These cookies are quick to make and only require a few pantry staples. Plus, they're always a hit with kids and adults alike. So next time you need that little boost, reach for a delicious lemon gooey butter cookie. Don't forget to double the batch, so you have a ready stash at home!
Let's Make it Vegan
Making this cookie recipe vegan only needs a few tweaks and tricks. First, head out to your nearest vegan grocery and look for vegan butter options. You will also need to find a vegan cream cheese substitute. 
As for the egg, you can follow this recipe below: 
Replace 1 egg with: Mix 1 tablespoon ground flaxseed in 3 tablespoons water until thick and gelatinous.
Lemon Gooey Butter Cookies
Have you ever had a lemon gooey butter cookie? If not, you're in for a treat! These cookies are made with lemons, butter, and sugar - and they're insanely delicious. Trust me; once you try one of these cookies, you'll definitely be hooked. So go ahead and preheat your oven now and let's get baking!
Ingredients
Wet Mix
½

cup

unsalted butter softened

1

8-ounce package of cream cheese, softened

1

tsp

lemon zest

1

tbsp

freshly-squeezed lemon juice

1 ½

cups

granulated sugar

2

eggs

room temperature

1

tsp

lemon extract

1

tsp

vanilla extract
Dry Mix
2 ½

cups

all-purpose flour

sifted

1

cup

powdered sugar

divided into two

½

tsp

salt

3

tsp

baking powder
Instructions
Cream the butter, cream cheese, lemon juice, and zest in a large bowl.

When the mixture is silky, add the sugar. Then gradually incorporate the eggs, lemon extract, and vanilla extract. Mix until well combined.

Combine the flour, salt, baking soda, and 1/2 cup of powdered sugar in a different mixing bowl.

That's when you can gradually add all the dry ingredients to the wet ingredients. Continue to mix until smooth.

Refrigerate the cookie dough for 30 minutes while it is wrapped in plastic.

Preheat your oven to 350 degrees once the dough has been refrigerated. Meanwhile, use parchment paper to cover a baking sheet.

Form a ball out of the cookie dough by scooping two tablespoons at a time. Roll each ball in the remaining 1/2 cup of powdered sugar until fully coated.

Bake the cookie balls for 11 to 13 minutes, spreading them out on the baking sheet.

Before serving, let the cookies cool completely on a wire rack.
Notes
It is always advised to work on room-temperature ingredients. Softened and room-temperature ingredients will help the dough or cake batter blend perfectly, whereas cold ingredients can turn your batter into a curdled, lumpy mess.
Nutrition
Calories:
91
kcal
Carbohydrates:
21
g
Protein:
1
g
Fat:
0.4
g
Saturated Fat:
0.1
g
Polyunsaturated Fat:
0.1
g
Monounsaturated Fat:
0.1
g
Trans Fat:
0.001
g
Cholesterol:
10
mg
Sodium:
80
mg
Potassium:
15
mg
Fiber:
0.3
g
Sugar:
13
g
Vitamin A:
15
IU
Vitamin C:
0.1
mg
Calcium:
25
mg
Iron:
1
mg
More Easy Dessert Recipe
Love healthy baking recipes? You could try these simple recipes at home to impress your loved ones. Perfect for after-meal treats, coffee, and tea parties with friends and family!
Vegan Carrot Cake Sandwich Cookies
Chocolate Chip Oatmeal Pumpkin Spice Bars
To Wrap It All Up 
This recipe is a great way to change up your usual cookie routine. The sweet and tangy flavors of these Lemon Gooey Butter Cookies create a melt-in-your-mouth goodness that will have you hooked on the first bite. So what are you waiting for? Grab those aprons, and let's get baking! We can't wait to see (and taste) your results!
Connect With Us
If you've tried these Lemon Gooey Butter Cookies don't forget to leave a rating on the recipe card. Tag us on our social media accounts and make sure to subscribe to our weekly newsletter, and follow the Best Baking Tips and Vegan Globetrotter sites for more delicious ideas!
Read More
Best Holiday Stuffing for Everyone – 2 Recipes
16 Different Types of Cakes to Make at Home