==================
Affiliate Statement
Best Baking Tips is supported by our audience. When you purchase through one of our links, we may earn a small affiliate commission.  As an Amazon Associate I earn from qualifying purchases. Your cost is not affected.
==================
These pineapple tarts have just the right balance of sweet and tart, and they make a delicious addition to any party or get-together. The best part is that they're so simple to make! Just follow the steps below and impress your guests in no time.
Pineapple Tarts: Your bite-sized go-to snacks
Enjoying some excellent and tasty tart is one of life's simple joys, but trying to bake a tart from scratch might seem a little intimidating, especially if you are only starting your baking journey. If you want to try making tarts but don't know where to start, this recipe is for you. With this super straightforward recipe, you can whip up one delicious pineapple tarts that will surely delight everyone.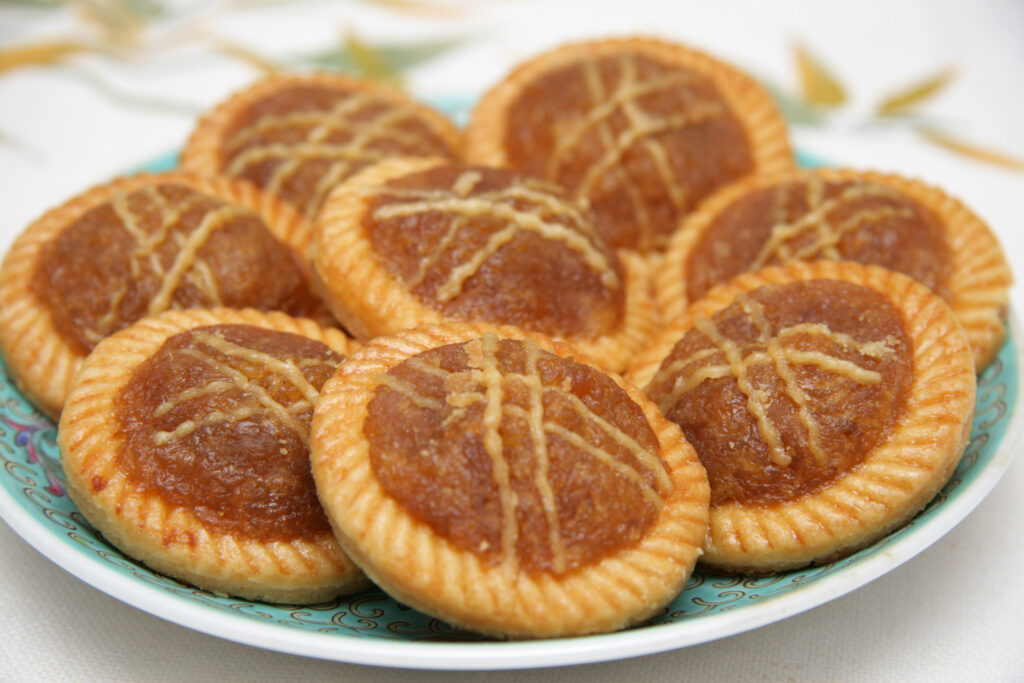 What are Tarts?
Tarts are one of the most versatile recipes invented for desserts. These are baked dishes with a pastry base and sweet or savory filling. Nowadays, most tarts are on the sweet side, like Portuguese egg tarts and lemon meringue tarts. But there was also a tasty savory tart variety that may be found in bakeries and cafes, like quiche. 
Pineapple Tarts
There are tons of tart varieties available globally. But in Southeast Asia, the most common type is Pineapple Tarts. It may appear in different forms and sizes, but the key ingredient will always be pineapple! Packed with flavors, it's a balance between sweet, tangy, and coconut goodness. It will definitely be one sure hit for family and friends. Aside from its goodness, this is also a healthy snack option as pineapples are known for their health benefits, like vitamins C, manganese, and more. It is also a good source of fiber and antioxidants that are really beneficial for one's health. 
Forms and Variations
As mentioned earlier, this recipe is easy. Instead of making your pastry crust or tart shells, you can easily find one on frozen and ready-to-bake. However, if you want to unleash your inner baker self, go ahead and make tart shells from scratch. As for the filling, you can use any fruit you wish or in season. I love adding mangoes to my pineapple or peaches for an extra fruity taste. And instead of coconut, you can also add chopped nuts for extra bite and crunch. So go ahead, explore and experiment until you create a specialty that you can call your own!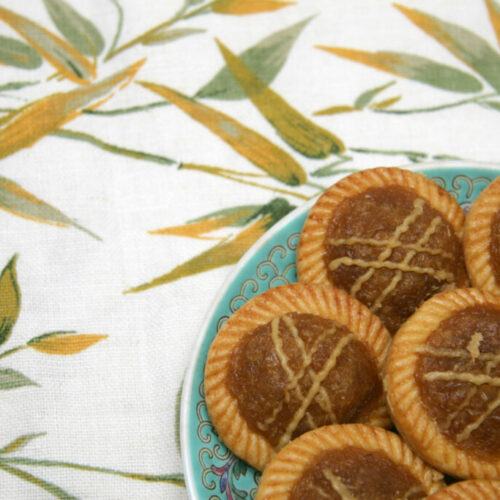 Pineapple Tarts
A delicious way to enjoy pineapples--make them into cute little tarts! Perfect as summer snacks, these simple tarts have a sweet pineapple filling inside and a buttery coconut covering on top.
Ingredients
1 14

oz

can crushed pineapple

2

tsp

cornstarch

3/4

cup

sugar

1

egg

1

tsp

butter

1

cup

shredded sweetened coconut

24

frozen tart shells
Instructions
Preheat oven to 325F.

After draining the pineapple, save the juice.

Add the cornstarch and pineapple juice to a small pot on medium-high heat. About 10 minutes after the liquid thickens, whisk occasionally and let it cool. Stir in the crushed pineapple to the mixture.

Scoop the pineapple mixture and fill the frozen tart shells until half full.

Meanwhile, mix sugar, butter, egg, and coconut in a separate bowl.

Top each tart with a tablespoon of the coconut mixture.

Bake the pineapple tarts for 25 minutes or until light brown in the preheated oven. Let them cool before serving.
Notes
Instead of adding coconut mixture on top, you can add chopped nuts like walnuts, cashews, or pecans for added texture and crunch. Also, if sweetened pineapple is unavailable, you can use desiccated coconut instead.
Nutrition
Calories:
53
kcal
Carbohydrates:
7
g
Protein:
1
g
Fat:
3
g
Saturated Fat:
2
g
Polyunsaturated Fat:
0.1
g
Monounsaturated Fat:
0.2
g
Trans Fat:
0.001
g
Cholesterol:
7
mg
Sodium:
4
mg
Potassium:
24
mg
Fiber:
1
g
Sugar:
7
g
Vitamin A:
10
IU
Vitamin C:
0.1
mg
Calcium:
2
mg
Iron:
0.2
mg
More Easy Dessert Recipe
Love healthy baking recipes? You could try these simple recipes at home to impress your loved ones. Perfect for after-meal treats, coffee, and tea parties with friends and family!
Classic Snowball Cookie Recipe
To Wrap It All Up 
With this recipe, you can now bake classic pineapple tarts at home with little effort. The key to a good tart is in the pineapple filling- it has to be fragrant and not too sweet. If you like your tarts on the sweeter side, you can add more brown sugar to the filling. You can also use fresh pineapples for the best results! Give this recipe a try, and let us know how it turns out.
Connect With Us
If you've tried this Pineapple Tarts, don't forget to leave a rating on the recipe card. Tag us on our social media accounts, subscribe to our weekly newsletter, and follow the Best Baking Tips and Vegan Globetrotter sites for more delicious ideas!
Read More
Air Fryer Pumpkin Banana Nut Bread
Molasses Gingersnap Cookie Recipe