==================
Affiliate Statement
Best Baking Tips is supported by our audience. When you purchase through one of our links, we may earn a small affiliate commission.  As an Amazon Associate I earn from qualifying purchases. Your cost is not affected.
==================
This year, ditch the boring ol' veggie tray and make something really festive – like a Spinach Dip Stuffed Crescent Roll Christmas Tree! This easy yet impressive appetizer will surely be a hit at your holiday party. Plus, it's so simple that even the most culinary-challenged among us can whip it up easily. So get into the holiday spirit and give this recipe a try!
Spinach Dip Stuffed Crescent Roll Christmas Tree
Every year, we want to evolve and impress our guests; we often find ways to be more creative and innovative regarding recipes. So this holiday season, replace the boring old spinach dip recipe and try something new! This spinach dip stuffed crescent roll Christmas tree is a festive and tasty alternative that will have your guests asking for seconds. Best of all, it's easy to make and only requires all the basics for that spinach dip. After a few mixing, you simply need to stuff crescent rolls with your chosen dip recipe, bake according to package directions, and then arrange them in the shape of a tree–and after 30 minutes, you will enjoy this fun, tasty treat with your family and friends!
Pantry Staples
Holidays are already hectic, and we don't want any more hassle finding ingredients for our holiday feast. The good thing about this recipe is that it only needs pantry staples in order to whip up this dish. Spinach, bell pepper, garlic, and pepper flakes are all probably already available in your kitchen. While dairy products like sour cream, butter, cream cheese, and parmesan are easily found in grocery stores. As for the dough, frozen crescent rolls can be readily available in any frozen corner of your nearby groceries. They usually come in packs, rolled or sheets. If crescent roll doughs are unavailable in your area, you can use frozen puff pastry instead. 
Variations and Substitutions
Spinach is among the most versatile vegetable, as you can cook it in various ways. Other than that, spinach is relatively very healthy and can be beneficial to one's diet. However, if you are not a spinach eater or simply looking for some other healthy variations, why not try other fillings like creamy pesto, sundried tomato salsa, or your own mix of vegetables for a different twist? You can experiment with flavors according to what's in season and what everyone would love. Nevertheless, I will still go for the classic favorite-spinach dip.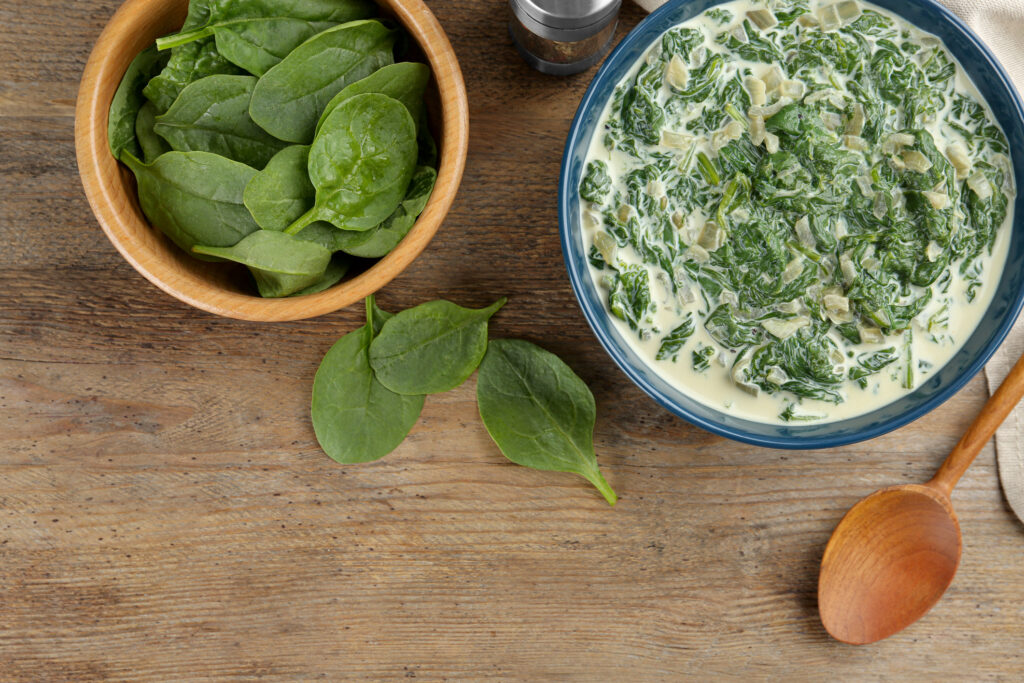 Let's Make It Vegan 
Making this recipe vegan may need to redo the whole thing. But don't fret, because it is still easy to make. First, replace your cream cheese with a vegan alternative. You may need to opt out of the sour cream and the rest of the cheese and replace it with plant-based milk like soy and nutritional yeast. Add a tablespoon of flour as a thickener, salt, and pepper; before you know it, you already have a vegan spinach dip.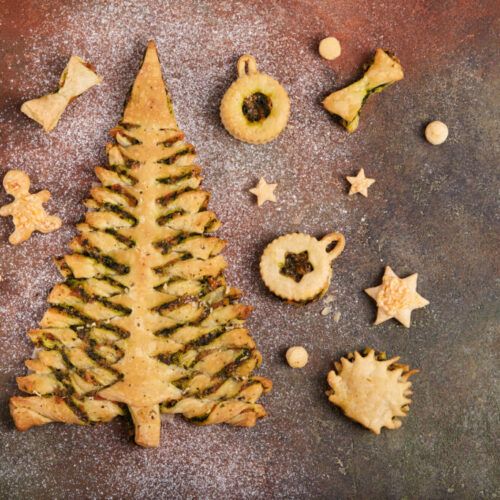 Spinach Dip Stuffed Crescent Roll Christmas Tree
If you're looking for a fun and festive way to spruce up your holiday dinner spread, look no further than this spinach dip stuffed crescent roll Christmas tree! This dish is sure to impress your guests, and it's actually quite simple to make. Whether you're serving it as an appetizer or main course, this spinach dip stuffed crescent roll Christmas tree is guaranteed to be a hit!
Ingredients
1

tbsp

unsalted butter

4

oz

cream cheese

1/4

cup

sour cream

1/3

cup

red bell pepper

diced

1

clove

garlic

minced

1

cup

fresh spinach

chopped

1/4

tsp

red pepper flakes

crushed

1/2

cup

Parmesan cheese

grated

1/4

tsp

salt

1

pack of frozen crescent rolls
Instructions
Set the oven to 375 degrees F.
Spinach Dip Filling:
Melt the unsalted butter in a medium saucepan over medium-low heat. Sauté the red bell pepper and garlic in butter; this will take about 3 minutes.

Stirring frequently, add the spinach to the pan, and simmer until barely wilted. Then add the sour cream and cream cheese to the pan and heat until melted.

Mix in the salt, crushed red pepper flakes, and Parmesan cheese. Cook until the cheese melts, then remove the pan from the heat and set it aside.
Assembling:
Roll out the crescent roll dough on a floured surface. Shape the dough into a rectangle, pressing the seams to seal.

Cut the dough into a sizable triangle tree shape with a sharp knife or pizza cutter.

To create a second triangle, take the two triangles you removed from the outside and press the dough together down the middle.

On one of the triangles, evenly spread the spinach dip. Add the second triangle of crescent-shaped dough on top.

Leave a strip of dough in the middle uncut and cut 1-inch strips into the tree, starting from the sides and moving toward the center. Twist the strips many times carefully.

Bake the dough for 13 minutes in the preheated oven or until golden brown. Serve warm.
Notes
Keep your crescent dough chilled until you're ready to use it. When working with it, you want it to be comfortably chilly.
Before spreading the dip onto your dough, ensure it's cooled enough to make it easier to twist.
Nutrition
Calories:
137
kcal
Carbohydrates:
2
g
Protein:
5
g
Fat:
12
g
Saturated Fat:
7
g
Polyunsaturated Fat:
0.5
g
Monounsaturated Fat:
3
g
Trans Fat:
0.1
g
Cholesterol:
35
mg
Sodium:
293
mg
Potassium:
65
mg
Fiber:
0.2
g
Sugar:
1
g
Vitamin A:
696
IU
Vitamin C:
11
mg
Calcium:
129
mg
Iron:
0.1
mg
More Easy Dessert Recipe
Love healthy baking recipes? You could try these simple recipes at home to impress your loved ones. Perfect for after-meal treats, coffee, and tea parties with friends and family!
Pfeffernusse German Christmas Cookies
Almond Sandwich Cookies with Orange Marmalade Filling
Hausfreunde Cookies With Walnuts 
To Wrap It All Up
This dish is the perfect party appetizer for your next holiday gathering! It's easy to make and only requires a few ingredients that you probably already have in your kitchen. So why not try baking this Spinach Dip Stuffed Crescent Roll Christmas Tree at home? Your guests will be impressed, and it'll be one less thing for you to worry about when hosting.
Connect With Us
If you've tried this Spinach Dip Stuffed Crescent Roll Christmas Tree, remember to leave a rating on the recipe card. Tag us on our social media accounts, subscribe to our weekly newsletter, and follow the Best Baking Tips and Vegan Globetrotter sites for more delicious ideas!
Read More