==================
Affiliate Statement and a Caveat 
First off, a little caveat: within my articles you will find affiliate links, meaning if you buy them, I get a small commission. Your cost is not affected. In addition, I am an Amazon Associate and I earn from qualifying purchases on Amazon.
And yes, if I say that I recommend a product here, it means I truly believe it is a good product. I refuse to recommend any product that I have not researched and believe to be a good value.
Even better, I provide you with a very clear picture of the product, it's use, and the probable value.
Earning your trust is important to me. I run this website myself and the commissions and donations help support the site.
Sound reasonable and fair enough? Let's continue to the article.
==================
Whip up some classic Italian pizzelle and add a bit of sweetness to your day! Pizzelle, sometimes spelled pizelles or even picelles, are traditional Italian waffle-style cookies that are made with anise flavoring – giving them a unique aroma and flavor. These thin yet crispy treats can be eaten as is or brought to life by adding a variety of toppings for endless possibilities in creating the perfect dessert. With warm holiday flavors, these delicious pizzelle will fill your home with nostalgic smells and bring friends and family together as you share these special moments over delightful conversations.
Classic Italian Anise Pizzelle: Not just delicious, but also very pretty to look at!
Classic Italian Anise Pizzelle is a traditional Italian Florentine treat that takes you back in time. This classic cookie is made using a pizzelle iron and simple ingredients like flour, sugar, eggs, butter or vegetable oil, and of course, anise extract for flavor. With crispy edges and slightly chewy middles, these delicious cookies are perfect for holidays and special occasions. Not only are they delicious on their own but can be used to make creative sandwiches and traditional desserts such as cannoli or ice cream cones. No matter how you enjoy them, the warm aroma of anise will fill your kitchen while baking Classic Italian Anise Pizzelle!
What is a Pizzelle Iron?
Pizzelle irons are a unique and interesting kitchen tool that adds a fun dimension to any dessert or snack. The pizzelle iron is actually a type of griddle that looks like two circular plates pressed together. When these plates are heated with oil, you can use the pizzelle iron by pouring on the dough to make delicious thin Italian-style wafers called "pizzelle".
In recent years, the pizzelle iron has made a comeback – but undergoing some major upgrades! Nowadays it is equipped with temperature settings and buttons for extra versatility. Moreover, many models come in stylish stainless steel rather than aluminum, making them even safer to use in your kitchen! So if you're looking for an exciting new addition to your kitchen supplies, look no further than a pizzelle iron – it'll add flair and flavor in all the best places.
Best Baking Tips; Ingredient Tips!
Pizzelles have something special that sets them apart from other classic Italian desserts: their unique, irresistible flavor. Made with a blend of eggs, butter, sugar, and flour, these crispy waffle-like treats are light yet wonderfully flavorful with the addition of vanilla extract and lemon zest. Other ingredients such as anise extract can be added for extra flavor variations. They are easily modified to fit specific lifestyles – gluten-free variations exist and nut-or berry-based flavors can be included for those with dietary restrictions. From traditional recipes passed down through generations to modernized gluten-free versions, it's no wonder that these delicious cookies have maintained their presence in homes around the world.
Classic Italian Anise Pizzelle
If you want to try this Vegan Yorkshire Puddings Recipe, share your photo and experience with us. In addition, let us know what you think in the comments below by using #bestbakingtip and #italiananisepizzelle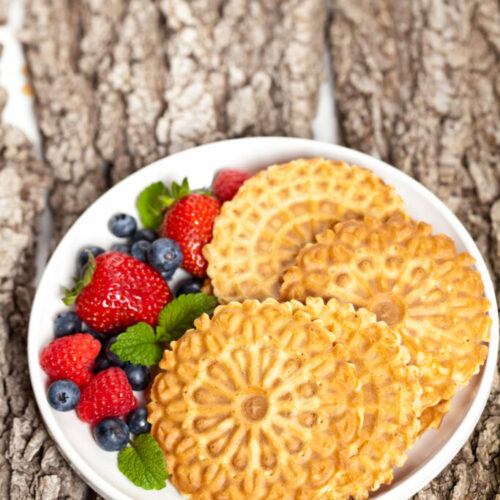 Classic Italian Anise Pizzelle
Do you love the taste of freshly made Italian treats? Then you'll adore Pizzelle! The classic, delicious and delectable Italian cookie. Whether it is your first time trying waffle-like Pizelle or if you're a long-time fan, this post will open up new possibilities to enjoy the flavors of Italy! We'll show you why Pizelle has been adored for centuries and explore ways to make creative variations of this timeless snack.
Ingredients
Let's gather the ingredients!
3

large

eggs

fresh, room temperature

¾

cup

granulated sugar

½

cup

unsalted butter

melted

1¾

cups

all-purpose flour

sifted

2

tsp

baking powder

1

tsp

aniseed

ground

½

tsp

vanilla extract

½

tsp

anise extract
Instructions
Let's Begin!
In a large bowl, beat the eggs, sugar, and butter until smooth and pale.

Combine flour and baking powder, then gradually to the egg mixture and mix well. Stir in the aniseed, vanilla extract, and anise extract.

Bake in a preheated pizzelle iron according to the manufacturer's directions until golden brown. Transfer to wire racks to cool.

Serve and enjoy with family and friends!
Nutrition
Calories:
101
kcal
Carbohydrates:
13
g
Protein:
2
g
Fat:
5
g
Saturated Fat:
3
g
Polyunsaturated Fat:
0.3
g
Monounsaturated Fat:
1
g
Trans Fat:
0.2
g
Cholesterol:
33
mg
Sodium:
45
mg
Potassium:
21
mg
Fiber:
0.3
g
Sugar:
6
g
Vitamin A:
152
IU
Vitamin C:
0.02
mg
Calcium:
26
mg
Iron:
1
mg
Must-Read Articles
Below are the must-read articles about baking. You will enjoy them reading as they are full of information and helpful tips. Read them and share your thoughts.
2. No-Bake Peanut Butter Bars with Pretzels
4. Healthy Edible Chocolate Chip Cookie Dough
5. Homemade Healthy Fruit Pizza
To Wrap It All Up
Pizzelle are a traditional Italian cookie, typically made around Christmas time. They are usually flavored with anise and have a distinct crispy texture. This recipe is my take on the classic pizzelle, using a vanilla bean paste to give the cookies a beautiful flecked appearance and flavor. I hope you enjoy them!
Connect With Us
If you've tried this Classic Italian Anise Pizzelle Recipe, please don't forget to leave a rating on the recipe card. In addition, Take a ? and tag us on our social media accounts: Facebook, Twitter, Instagram, and Pinterest. For more baking recipes make sure you subscribed to our weekly newsletter. ?
Read More
Classic Cream Puff Recipe – Amazing!
Classic Lemon Bars Recipe, Sunshine to Your Tastebuds!
Almond Cantucci (Biscotti di Prato)