==================
Affiliate Statement
Best Baking Tips is supported by our audience. When you purchase through one of our links, we may earn a small affiliate commission.  As an Amazon Associate I earn from qualifying purchases. Your cost is not affected.
==================
It's Cookie Dough season! Who else has been dreaming of a spoonful of that delicious, creamy, chocolatey goodness without the guilt? Well look no further, I'm here to share with you a recipe for healthy edible Chocolate Chip Cookie Dough that will blow your mind. Yes, I said it – HEALTHY edible cookie dough! And yes, it can be done. With some smart substitutions and a few tips, you won't even miss the traditional cookie dough. This healthier version is just as tasty but with none of the worry about raw eggs or other questionable ingredients- so indulge away friends!
Healthy Edible Chocolate Chip Cookie Dough: Indulge yourself with a snack that's too good to be true!
If you thought that you had to sacrifice all the deliciousness of cookie dough for its potentially dangerous raw ingredients, think again! Healthy edible chocolate chip cookie dough is the perfect way to indulge without compromising your health. It provides an alternative for those who want to enjoy the classic taste in a much healthier way – with none of the worries of eating uncooked eggs or flour. Rich in protein and fiber, this protein-packed snack can be enjoyed guilt-free anytime! So next time you're craving cookie dough, reach for healthy edible chocolate chip cookie dough, you won't regret it!
Choose your Nut Butter!
Peanut Butter
Peanut butter is a healthy, hearty, and delicious alternative to many of our favorite snacks. Not only can it be used as a spread or topping on toast or sandwiches, but it can also be found in an endless array of interesting recipes such as Healthy Edible Chocolate Chip Cookie Dough. Peanut butter contains high amounts of protein that can help us stay fuller longer while providing us with healthy sources of fat to get us through the day. With its creamy consistency and mildly sweet flavor, there is something for everyone when it comes to peanut butter!
Almond Butter
Almond butter is a healthy, delicious option when on the lookout for nut butter. Perfectly smooth and spreadable, almond butter has a sweet, nutty flavor that's satisfying in sandwiches, baked goods, or just by the spoonful! Plus, it can be used to make Healthy Edible Chocolate Chip Cookie Dough. From breakfast bars to smoothies, there are countless delicious ways to enjoy the nutty goodness of almond butter. Crammed with nutrients like vitamins A and E while being low in saturated fat, there's no question why almond butter continues to be a pantry favorite.
Hazelnut Butter
Hazelnut Butter is an incredibly versatile health food. It's made from pure hazelnuts, making it a great source of protein and healthy fats! Plus, it makes a delicious Healthy Edible Chocolate Chip Cookie Dough that you can snack on without any guilt. You can spread this nut butter on toast or crackers for a quick and nutritious breakfast or snack, or add it to smoothies for a healthier alternative to ice cream or sugary milkshakes. With its naturally sweet taste, creamy texture, and unique flavor profile, hazelnut butter is sure to be a staple in your kitchen!
Healthy Edible Chocolate Chip Cookie Dough
If you want to try this Healthy Edible Chocolate Chip Cookie Dough Recipe, share your photo and experience with us. In addition, let us know what you think in the comments below by using #bestbakingtip and #chocolatechipcookiedough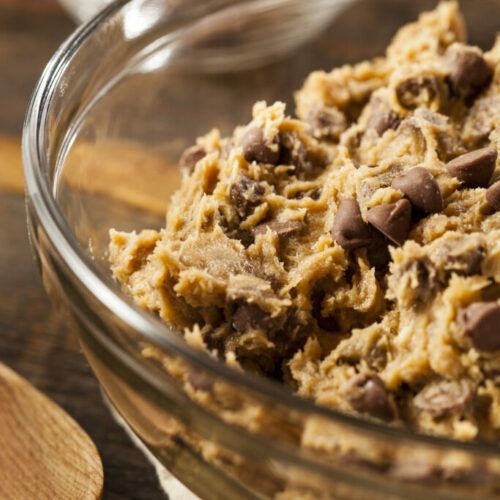 Healthy Edible Chocolate Chip Cookie Dough
We all love the delicious taste of freshly baked chocolate chip cookies, but what about their rawest form? Have you ever wanted to eat cookie dough without having to worry about potential health risks? Well, now you can! Today, I'm excited to share with you my recipe for a healthy edible version of everyone's favorite dessert - Chocolate Chip Cookie Dough. It tastes just as good as regular cookie dough and is entirely safe for ingestion. Plus, it's simple and easy to make - so get ready for some gooey goodies!
Ingredients
Let's gather the ingredients!
1

cup

graham crackers

crushed

1

can

chickpeas

drained and rinsed

¼

cup

nut butter

unsweetened

¼

cup

brown sugar

1

tbsp

vanilla extract

¼

tsp

kosher salt

2

tbsp

almond milk

or other plant milk

⅓

cup

dark chocolate chips

mini
Instructions
Let's Begin!
In a food processor, add graham crackers, chickpeas, nut butter, brown sugar, vanilla, and salt.

Blend until smooth, add almond milk to lightly loosen if it's too thick.

Transfer the cookie dough mixture to a medium bowl, then gently stir in chocolate chips.

Press plastic wrap firmly on top of the cookie dough and refrigerate for at least 1 hour.

Serve and enjoy with family and friends!
Nutrition
Calories:
112
kcal
Carbohydrates:
14
g
Protein:
2
g
Fat:
5
g
Saturated Fat:
2
g
Polyunsaturated Fat:
1
g
Monounsaturated Fat:
2
g
Cholesterol:
0.05
mg
Sodium:
108
mg
Potassium:
92
mg
Fiber:
1
g
Sugar:
8
g
Vitamin A:
1
IU
Vitamin C:
0.03
mg
Calcium:
46
mg
Iron:
1
mg
Must-Read Articles
Below are the must-read articles about baking. You will enjoy them reading as they are full of information and helpful tips. Read them and share your thoughts.
2. No-Bake Peanut Butter Bars with Pretzels
3. Brandied Strawberry Shortcake Biscuits
4. Poached Rhubarb with Granola and Yogurt
5. Homemade Healthy Fruit Pizza
To Wrap It All Up
All in all, making your own healthy edible chocolate chip cookie dough is a great way to indulge your sweet tooth in a healthier way. Plus, it has added benefits like being able to experiment with different natural flavors or even using food coloring for an array of fun visual effects. You don't have to worry about getting raw eggs involved due to the lack of egg-based dough used and also know that you're consuming fewer calories while enjoying a yummy treat. Best of all, you can enjoy it with friends and family when you whip up a batch together! If you're trying to make smarter snack choices but don't want to give up delicious treats altogether, give some homemade edible cookie dough a go — somehow the classic flavor doesn't get old, no matter how many times we make it!
Connect With Us
If you've tried this Healthy Edible Chocolate Chip Cookie Dough Recipe, please don't forget to leave a rating on the recipe card. In addition, Take a ? and tag us on our social media accounts: Facebook, Twitter, Instagram, and Pinterest. For more baking recipes make sure you subscribed to our weekly newsletter. ?
Read More
Chocolate Chip Oatmeal Pumpkin Spice Bars
Pistachio and White Chocolate Pudding Cookies
Dark Chocolate Mousse Filled Cookie Cups