==================
Affiliate Statement
Best Baking Tips is supported by our audience. When you purchase through one of our links, we may earn a small affiliate commission.  As an Amazon Associate I earn from qualifying purchases. Your cost is not affected.
==================
Who doesn't love a good doughnut? I know I sure do! And when it comes to doughnuts, the Germans certainly know how to make them. In fact, German doughnuts are some of the best in the world. If you're a fan of doughnuts or just looking to try something new, then you'll definitely want to check out these delicious German delights. Trust me, they're worth every bite!
The Classic and Original German Doughnut 
When we say classic, it never goes out of style. Something that will always remain the high standard of the norm–is precisely what German Doughnuts are. Sure, you may think that with thousands of types of doughnuts out there, I might be probably wrong. I may have seen these doughnuts in other parts of the world, with only a different name, but in Germany, it is often called Kreppel, Berliner, Krapfen, or Pfannkuchen; the name varies depending on the region. 
German Doughnuts and What Exactly It Tastes Like
If you see these traditional doughnuts on the street, you will notice nothing fancy about them. The original recipe also does not include sugar on the dough; the only thing that makes it sweet is the powdered sugar dusting and the jam filling. Lemon peel is added to doughs to give them a distinctive taste and aroma. However, these doughnuts have evolved through the centuries, embracing other cultures and adapting their flavors to fit people's palates, thus adding sugar and different flavors to make them more enjoyable to outsiders. 
Traditions and Variations
Doughnuts are a part of Germany's tradition. It is often consumed during carnival time, before people go fasting. Local bakeries stock up on their original recipes and new flavors to look more festive. Several variations were created; besides the classic one, you'll also see other variants with different fillings and toppings.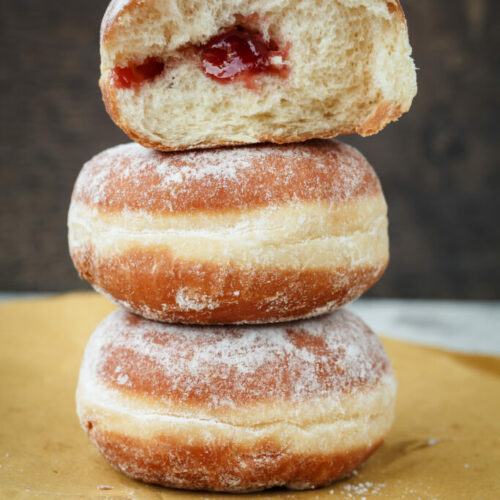 Original German Doughnut Recipe
This authentic German doughnut recipe has been passed down through the generations. The German Doughnuts have more names than any other pastry. In Germany, they are also known as Fastnachtskrapfen, Fasnachtskuechle, Kreppel, or Berliner.
Ingredients
750

g

of all-purpose flour

100

g

of sugar

200

g

of unsalted butter

melted

3

pcs

eggs

large

375

ml

milk

lukewarm

2

pouches

active dry yeast

1

pinch

salt

lemon peel

(1 lemon)

vegetable oil

1

jar

red raspberry marmalade or jam

1

cup

caster sugar or powdered sugar

for dusting
Instructions
Dough:
Mix the dry yeast, flour, sugar, salt, and grated lemon peel in a bowl.

In the center, make a hole, add the eggs, and then cover it with the flour mixture.

Using the microwave, warm the milk and pour it into the bowl.

Next is the melted butter. The butter and milk should both be lukewarm, not super hot.

Using a mixer with a hook attachment, mix all ingredients until you form a dough.

The dough is ready when it's no longer sticking to the sides of the bowl.

Once done, cover the dough with a kitchen towel. Let it rest for 2 hours or until it doubles the size.

Roll out the dough on the floured surface. Using a rolling pin, roll it out to about 1.5 cm thick.

Using a cookie or doughnut cutter, shape the dough into circles.

You can make a different shape if you are making another variant of doughnut.

Place all the cut doughnuts on a baking sheet and cover them again with a towel to proof them for another hour or until it doubles the size.

While waiting for the doughnuts, you can prepare the frying section.
Frying:
Pour enough oil into a large saucepan to allow the doughnuts to float to the surface. Place your cooling rack or drip tray on your right side with kitchen paper towels.

A rack will help drain excess oil while cooling the doughnuts.

When the oil is ready, you can fry all the doughnuts by batch.

Make sure there is enough space in the pan to let the doughnuts float on top. Flip the doughnuts on the other side, then ready.

Remove the doughnuts from the pot with a spider strainer and lay the fried doughnuts on a cooling rack or drip tray with paper towels.
Garnishing of German Doughnuts:
Fill a small bowl halfway with marmalade or jam and stir until smooth. Fill the doughnuts with an injector tip or a pastry injector after placing them in a decorating bag.

After filling the doughnuts, roll them in a bowl of caster sugar or powdered sugar.
Notes
In frying the doughnuts, the temperature is very crucial. Using a deep-fry thermometer is the best way to keep the oil at the proper frying temperature.
Also, make sure to use a pot that is large enough as the oil will rise and may splatter on the stove once you add the doughnuts.
Nutrition
Calories:
12
kcal
Carbohydrates:
1
g
Protein:
1
g
Fat:
1
g
Saturated Fat:
0.4
g
Polyunsaturated Fat:
0.02
g
Monounsaturated Fat:
0.1
g
Cholesterol:
3
mg
Sodium:
10
mg
Potassium:
30
mg
Fiber:
0.03
g
Sugar:
1
g
Vitamin A:
32
IU
Vitamin C:
0.001
mg
Calcium:
24
mg
Iron:
0.004
mg
More Easy Dessert Recipe
Love healthy baking recipes? You could try these simple recipes at home to impress your loved ones. Perfect for after-meal treats, coffee, and tea parties with friends and family!
Chocolate Hazelnut Cookie Cups
To Wrap It All Up 
Now that you know the origins of this delicious treat and the secret behind its delightful flavor and texture, why not try baking a batch at home? You can easily whip up a batch of these light and fluffy doughnuts with just a few simple ingredients. So what are you waiting for? Grab your mixing bowl and get started on this delicious German recipe today!
Connect With Us
If you've tried these Original German Doughnut Recipe, remember to leave a rating on the recipe card. Tag us on our social media accounts, subscribe to our weekly newsletter, and follow the Best Baking Tips and Vegan Globetrotter sites for more delicious ideas!
Read More
Baking with Whole Grain Flour, Top Choices
Best Types of Thermometers for Baking