==================
Affiliate Statement
Best Baking Tips is supported by our audience. When you purchase through one of our links, we may earn a small affiliate commission.  As an Amazon Associate I earn from qualifying purchases. Your cost is not affected.
==================
Can't decide between a cookie and a cupcake? Why not have both? These Chocolate Hazelnut Cookie Cups are the perfect treat for any occasion. Made with a shortbread cookie base and topped with chocolate hazelnut frosting, they're sure to satisfy your sweet tooth. So what are you waiting for? Preheat your oven and get started on these delicious creations!
Chocolate Hazelnut Cookie Cups
There is nothing better than combining chocolate with hazelnuts–at least in my opinion. There is no doubt that they are an excellent match for each other. As a matter of fact, these two flavors had already been combined in a multitude of treats. When we hear chocolate and hazelnuts, immediately, we think of something warm and cozy, something soothing– and that's precisely what your desserts should be!
They produce this unequaled balance and harmony, whether it's cakes, cookies, ice cream, or gelato. Having said that, these cookie cups are one of those combinations that let you indulge both in their flavors.
Hazelnut and Why You Should Add It To Your Desserts
Due to its compatibility with chocolate and vanilla, hazelnut is commonly used in desserts. It is also prevalent in coffee flavors, puddings, and the like. Well, the good thing about adding hazelnut to your "dish" is that it is considered one of the healthiest nuts you can munch on. It is, in fact, more nutritious than almonds, making it richer in vitamins. It has nine times more Vitamin A, three times more Vitamin B6, and two times more Vitamin B1. They are also richer in Vitamin C, K, vitamin B5, and folate, and of course, it has this super feel-good taste and aroma that you can't definitely say no to.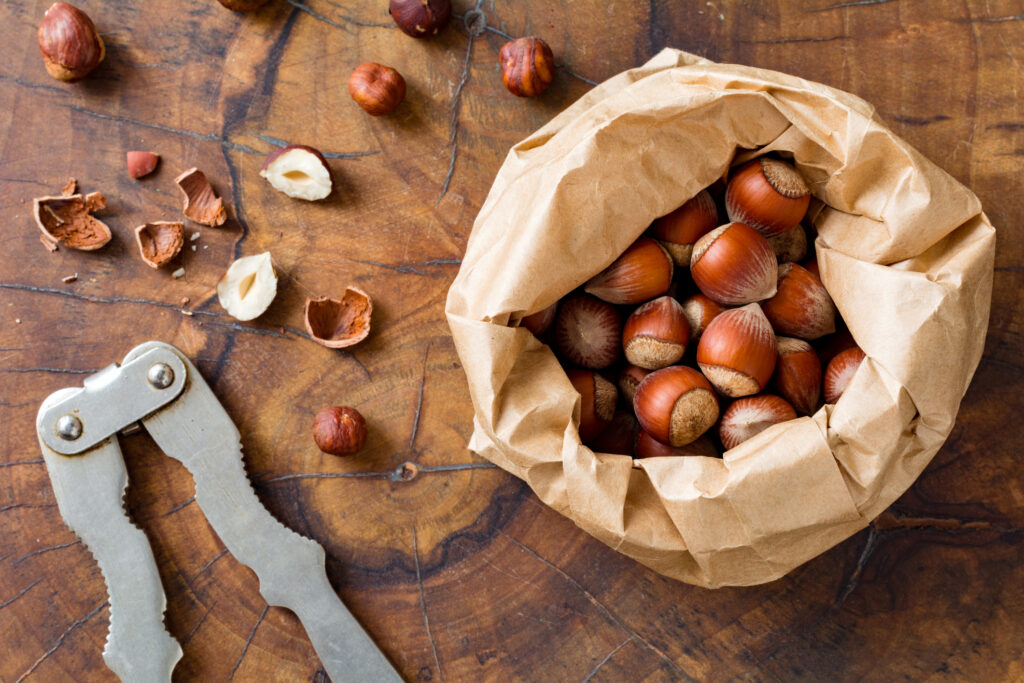 Chocolate Hazelnut Cookie Cups: Your New Addiction
Ok, enough of the filling, but have I mentioned that this dessert also has a shortbread cookie crust that is so soft and moist that it crumbles when you bite into it? It has this buttery taste with just the right amount of crispiness that matches perfectly with the chocolate hazelnut filling. So in case you are in the mood for weekend baking, I recommend you add this recipe to your list. 
Healthy Substitutions
This recipe calls for store-bought hazelnut spread for convenience. However, if you want to unleash your baker-pro instincts and make a homemade version from scratch, you can do so by combining hazelnuts, sugar, oil, and cocoa. You can customize it depending on your sugar level preference and consistency and even make it into a vegan version if desired.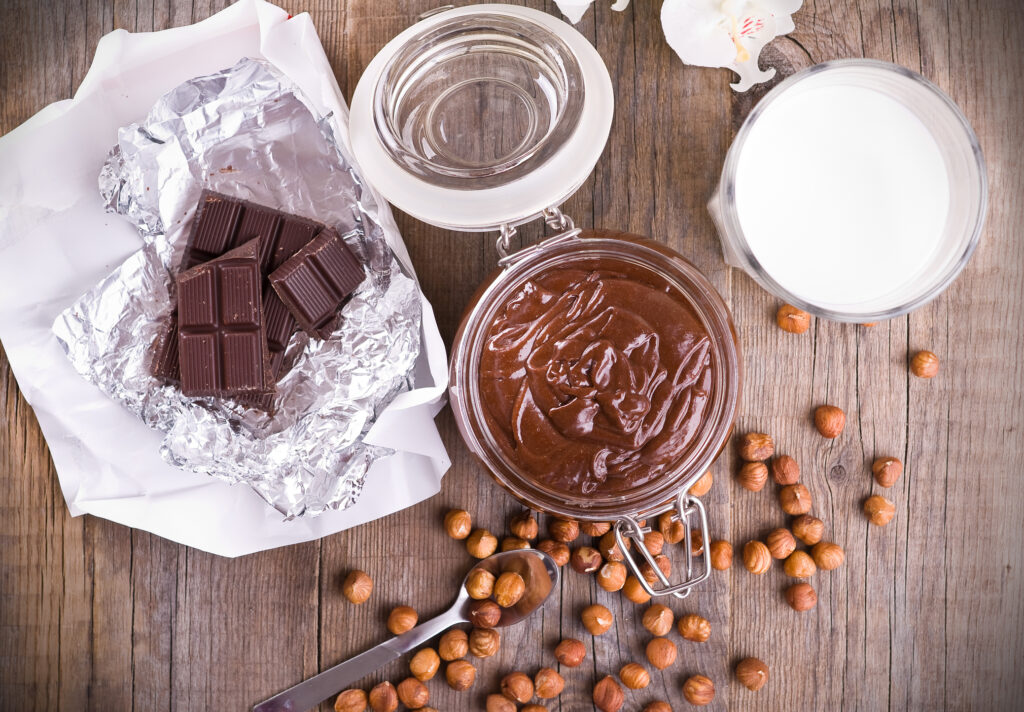 Storage
Making these treats can actually be really time-consuming, so the key is to make each component in advance. Make all your cookie cups the day before serving is possible; just store them in airtight containers inside the fridge. as for the filling, you can make a double batch of this yummy frosting and keep the rest with other recipes. 
Chocolate Hazelnut Cookie Cups
Who doesn't love the taste of chocolate and hazelnuts together? These cookie cups are the perfect combination of those two classic flavors. Plus, they're super easy to make! You'll love these cookie cups whether you're a beginner baker or a pro.
Ingredients
For shortbread cookie cups:
1

cup

unsalted butter

2 sticks

2

cups

flour

1/2

cup

confectioners sugar

1

teaspoon

vanilla extract

1/4

teaspoon

baking powder
Hazelnut Filling:
1

cup

unsalted butter

softened

4

cups

confectioners' sugar

3/4

cup

hazelnut spread

1/3

cup

heavy cream or whole milk

1

tsp

pure vanilla extract

pinch

salt
Instructions
To make the shortbread cookie crust:
Beat the butter and sugar together in a mixing dish or food processor until the butter is fluffy.

Add the flour together with your baking powder and mix it using the paddle attachment of your mixer.

Then lastly, add the vanilla extract, and mix until you form a dough.

Divide the dough depending on how many muffins pans you are using.

Shape and press it tightly in the bottom up to the sides of the muffin pan.

Bake it in a preheated oven of 350'F for 8 minutes.

Let it cool completely before adding your filling.

Set it aside while you do the filling.
Hazelnut Filling:
Cream softened butter using a mixer until smooth.

Add the confectioner's sugar, hazelnut spread, heavy cream, and vanilla extract.

Continue mixing it on low speed for about 30 seconds, then increase to medium-high until stiff peaks.

You can add more confectioners' sugar to the frosting if it is too thin.

Or a tablespoon of cream if too thick.

Balance the taste by adding a pinch of salt to the frosting.
To assemble:
Transfer your hazelnut filling into your piping bag with a piping tip.

Pipe it on your cooled cookie cups and make a swirl.

You can garnish it with either chopped or whole hazelnuts.
Notes
For leftover hazelnut filling, cover and freeze it for up to three months or up to a week in the refrigerator. After freezing, thaw in the fridge then whips the frosting for a brief period at medium speed to bring back its creamy texture. If the frosting becomes too thick after thawing or cooling, adding a little heavy cream or milk can help.
More Easy Dessert Recipe
Love healthy baking recipes? You could try these simple recipes at home to impress your loved ones. Perfect for after-meal treats, coffee, and tea parties with friends and family!
Christmas Shortbread Cookies with Nuts
Peanut Butter Cup Chocolate Cookies
To Wrap It All Up 
So there you have it, the recipe for my all-time favorite chocolate hazelnut cookie cups! I hope you'll give them a try the next time you're in the mood to bake something special. And if you do, be sure to let me know how they turned out. Until then, happy baking!
Connect With Us
If you've tried these Chocolate Hazelnut Cookie Cups, don't forget to leave a rating on the recipe card. Tag us on our social media accounts, subscribe to our weekly newsletter, and follow the Best Baking Tips and Vegan Globetrotter sites for more delicious ideas!
Read More
Best Types of Thermometers for Baking