==================
Affiliate Statement
Best Baking Tips is supported by our audience. When you purchase through one of our links, we may earn a small affiliate commission.  As an Amazon Associate I earn from qualifying purchases. Your cost is not affected.
==================
Have you ever had a sopapilla? They're a traditional Mexican pastry, and they're absolutely delicious. But have you ever had a sopapilla cheesecake bar? If not, you're in for a treat! These bars are soft and fluffy, with a creamy cheesecake filling and a hint of cinnamon. Trust us; they're totally addictive. So whether you're looking for something new to try or just want an excuse to eat cheesecake, give these Sopapilla Cheesecake Bars a go!
Sopapilla: A Mexican Dessert Treat
What exactly is a sopapilla? A sopaipilla, sopapilla, or sopaipa is a Mexican pastry or quick bread usually made with leavened wheat dough mixed with fats like butter or vegetable shortening. Afterward, you will let the dough rest until it rises before you rolled into a sheet and cut it into round, square, or triangular forms. These sopapilla pieces are usually deep-fried in oil until it puffs, creating hollow pockets in the center. Sopaipillas also resemble French beignets and taste similar to American donuts.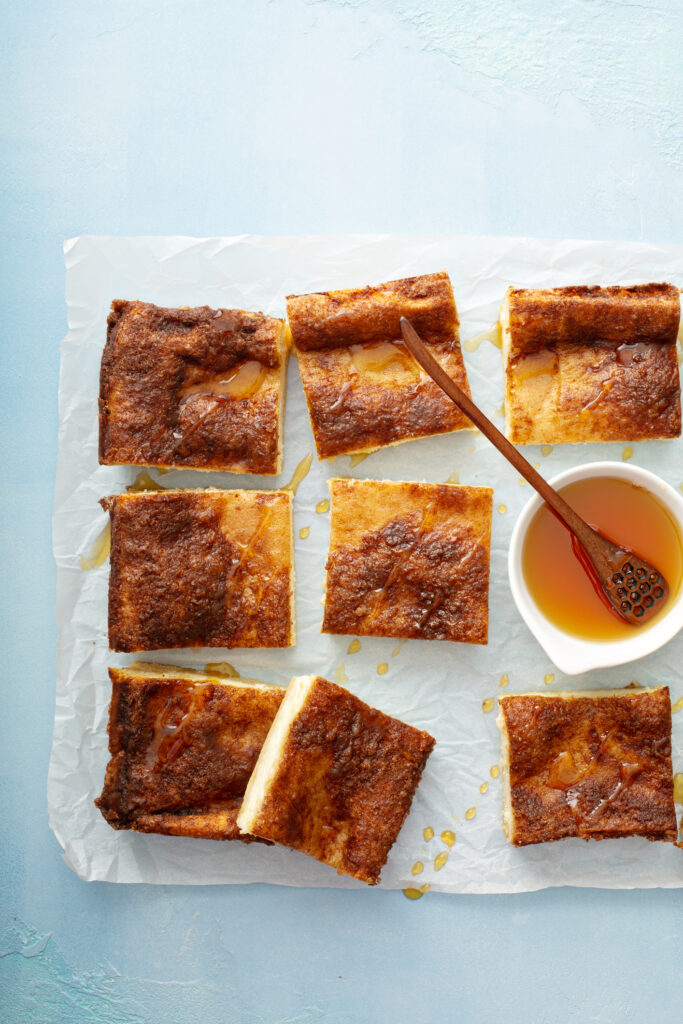 Sopapilla Cheesecake Bars
Over time sopapilla desserts have emerged with new flavors and forms, thus the invention of sopapilla cheesecake bars. This treat has puffy, crispy layers of pastries with a creamy cheesecake filling in between. On top of it has this buttery taste with a cinnamon and sugar mixture. This is often served with a drizzle of honey like the old and classic sopapillas. 
Variations and Substitutions
For this recipe, we opted to use the store-bought crescent rolls for less hassle preparation. However, if you want to unleash your inner pro-pastry chef and whip up this dessert from scratch, you can use the sopapilla recipe below:
Sopapilla Dough: 
4 cups all-purpose flour

4 tablespoons shortening

2 teaspoons baking powder

1 teaspoon salt

1 ½ cups warm water
Combine flour, shortening, baking powder, and salt. in a large mixing basin Mix in the water until the dough is smooth. Allow to stand for 20 minutes, covered. Roll out the sopapilla dough on a floured surface until it is 1/8- to 1/4-inch thick. Cut to the shape and size you desire.
Let's Make It Vegan
You can make a vegan version of this recipe by replacing the cream cheese with vegan alternatives. As for the melted butter, you can replace it with coconut oil or any oil you prefer.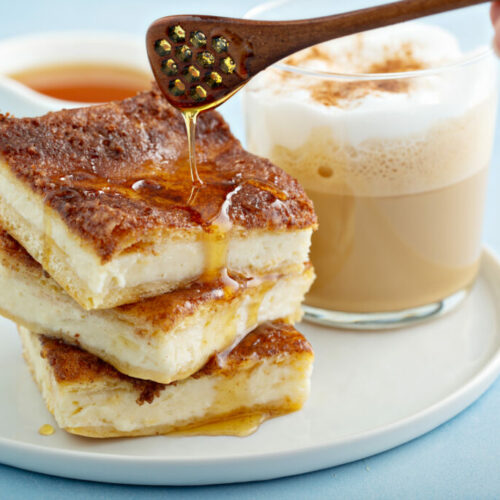 Sopapilla Cheesecake Bars
Inspired by the Mexican treat sopapillas, these Sopapilla Cheesecake Bars have a delicious, creamy cheesecake filling sandwiched between two buttery and crispy crescent sheets. It has this light, aromatic flavor of cinnamon, and sugar, then drizzled with honey.
Ingredients
2

packages

crescent rolls or sheets

chilled

3

packs

cream cheese

softened (8oz each)

1

cup

sugar

1

tsp

vanilla extract
Cinnamon Sugar Topping:
1/4

cup

butter

melted

1/2

cup

sugar

2

tsp

cinnamon powder
Instructions
Preheat oven to 350°F until ready.

Then prepare the baking 9×13 pan by spraying it with cooking spray.

Unroll one crescent sheet into your baking pan and stretch it out until it fully covers the bottom pan.

Don't worry if it's not perfect; the cheesecake layer will cover it up.

Afterward, bake the bottom sheet for 7 to 8 minutes in a 350°F preheated oven.

Next, in a medium mixing bowl, combine cream cheese, 1 cup of sugar, and 1 teaspoon of vanilla extract.

Pour the whipped cheesecake mixture on top of the baked crescent sheet and spread it out evenly.

Cover the top with another layer of crescent rolls and stretch it throughout until you cover the upper layer of the baking dish.

Pour melted butter on top of the sheet and dust it with the cinnamon sugar mixture until fully covered.

Bake for 35 minutes, or until the middle is firm, and allow to cool for about 20 minutes.

Refrigerate the Sopapilla Cheesecake Bars to allow them to solidify and make them easier to cut.
Notes
When serving the sopapilla cheesecake, you can drizzle it with some honey on top or dust powdered sugar and chopped nuts for extra crunch and bite.
Nutrition
Calories:
102
kcal
Carbohydrates:
25
g
Protein:
0.2
g
Fat:
0.3
g
Saturated Fat:
0.1
g
Polyunsaturated Fat:
0.01
g
Monounsaturated Fat:
0.1
g
Cholesterol:
1
mg
Sodium:
6
mg
Potassium:
10
mg
Fiber:
0.2
g
Sugar:
25
g
Vitamin A:
13
IU
Vitamin C:
0.01
mg
Calcium:
10
mg
Iron:
0.04
mg
More Easy Dessert Recipe
Love healthy baking recipes? You could try these simple recipes at home to impress your loved ones. Perfect for after-meal treats, coffee, and tea parties with friends and family!
Original German Doughnut Recipe
To Wrap It All Up 
Now that you know how to make Sopapilla Cheesecake, what are you waiting for? This dish is perfect for a special occasion or whenever you're in the mood for something sweet. And don't worry if it's your first time baking – this recipe is easy to follow and yields delicious results. So preheat your oven and get ready to enjoy a slice (or two) of this tasty dessert.
Connect With Us
If you've tried these Sopapilla Cheesecakes, remember to leave a rating on the recipe card. Tag us on our social media accounts, subscribe to our weekly newsletter, and follow the Best Baking Tips and Vegan Globetrotter sites for more delicious ideas!
Read More
Baking with Whole Grain Flour, Top Choices
Best Types of Thermometers for Baking