==================
Affiliate Statement
Best Baking Tips is supported by our audience. When you purchase through one of our links, we may earn a small affiliate commission.  As an Amazon Associate I earn from qualifying purchases. Your cost is not affected.
==================
Valentine's Day Dessert Recipes
These decadent Valentine's Day Desserts cakes, cheesecakes, cookies, and other sweets, can indulge your sweet tooth in some of our best romantic desserts. It's time to just give these desserts the chance they deserve this Valentine's Day cause dessert is the best way to say, "I Love You".
Get ready for the mushiest Valentine's Day ever! These decadent desserts are the perfect sweets for your perfect sweet. So if you are wondering what to make for yourself and your loved ones this Valentine's, then you have come to the right place.
Must-Try Valentine's Dessert Recipe
I've rounded up a wonderful collection of Valentine's desserts, every bite of this healthy sweet will melt-your-mouth goodness! They are the perfect Valentine's Day treat or for Date Night.
Amazingly rich, tender, and moist Chocolate Raspberry Cake. The combination of deeply-chocolate cake and fresh raspberries is indulgently rich yet fresh at the same time. The best chocolate cake you will ever have!
White Chocolate Raspberry Cake featuring sweet raspberry filling and delicious white chocolate cake. This pretty cake is awesome for any occasion but especially perfect for a valentines date. Just try to stop at once slice.
The red velvet cake became the pinnacle of festive desserts in America thanks to its vibrant red color, subtle yet tangy chocolate flavor, and refreshing French-style ermine icing.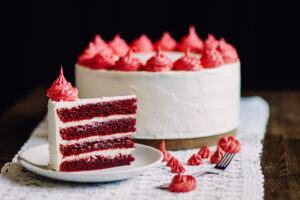 Silky smooth, rich and creamy Red Velvet Cheesecake Bites with whipped cream and white chocolate shavings. These decadent beauties are super elegant and impressive, yet crazy easy to make.
Grounds almonds give these cookies a hearty taste and extra crunch. We love the look and texture of raspberry preserves with seeds, but use seedless fruit spread if you like.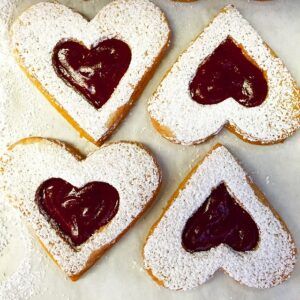 Want some more?……
These delicious Italian cannoli are one of my favorite things to eat. I love that creamy ricotta filling paired with the crispy fried shell. You can add candied fruit, chopped nuts, or chocolate chips to the filling but either way, it's going to be great.
This fresh strawberry cake is made from a fresh strawberry reduction! The cake is moist and tender with a beautiful pink color. The perfect cake for valentines day!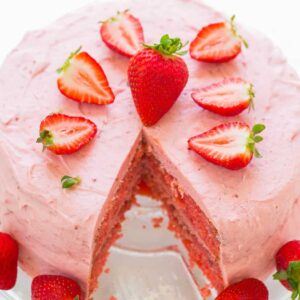 Red Velvet Crinkles Cookies are thick and fudgy with just a hint of cocoa flavor. They're the perfect easy and festive treat for Valentine's Day or Christmas.
Chewy red velvet blondies with white chocolate chips are a perfect Valentine's Day treat! They are chewy, fudgy, and delicious.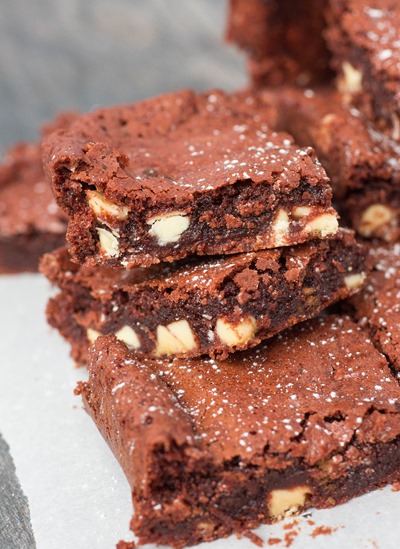 Sweet raspberry preserves and a gooey cream cheese filling take plain brownies from delicious to decadent.
There's more I am sure you will like these Valentine's treats!
These irresistibly soft and chewy red velvet cookies stuffed with the real deal cream cheese frosting, are pretty amazing. The best red velvet cupcake you've ever had.
These delicious chocolate chip roll-out cookies are topped with simple butter frosting and sprinkles, and with the addition of a lollipop stick, they make extra adorable Valentine's or sweet party favors.
Cherry Garcia Brownies is a little bit rich,  thus the middle is thick and chewy, while the top is creamy. Between the cheesecake and the brownie layer, there's a gooey tiny layer in the middle and that's great.
14. Chocolate Strawberry Cake
Chocolate Strawberry Cake with chocolate frosting, chocolate ganache, and sweet strawberries! This is the best chocolate cake recipe!
It's two desserts in one! Combine mini cheesecakes and chocolate-dipped strawberries to make the ultimate bite-sized treats.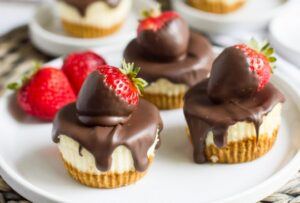 It's always fun when you discover a unique cookie recipe that somewhat symbolizes your relationship. If you're a pretty pink couple, here's the valentines dessert you need!
One way to validate the warm fuzzies and share a joyous experience is by sharing food. Sweets especially, considering the nature of the occasion.
We have a lot of desserts to enhance your Valentine's day.
READ MORE:
Bake Your Stress Away: 10 Benefits of Baking
Grandma's Waldorf Astoria Red Velvet Cake
Vegan Dessert Recipe-Valentines Day