==================
Affiliate Statement and a Caveat 
First off, a little caveat: within my articles you will find affiliate links, meaning if you buy them, I get a small commission. Your cost is not affected. In addition, I am an Amazon Associate and I earn from qualifying purchases on Amazon.
And yes, if I say that I recommend a product here, it means I truly believe it is a good product. I refuse to recommend any product that I have not researched and believe to be a good value.
Even better, I provide you with a very clear picture of the product, it's use, and the probable value.
Earning your trust is important to me. I run this website myself and the commissions and donations help support the site.
Sound reasonable and fair enough? Let's continue to the article.
==================
Calling all dessert lovers! If you're looking for a tasty, easy-to-make treat to whip up this weekend, the search stops here, prepare to be amazed by these delectable Brandied Strawberry Shortcake Biscuits. Brimming with delicious ingredients like fresh strawberries and brandy, these sweet treats are perfect for your next get-together or just a quiet night in. Plus, they can be made ahead of time! So grab your baking supplies and let's get started!
Brandied Strawberry Shortcake Biscuits
Brandied Strawberry Shortcake Biscuits are a delicious and unique twist on the classic dessert. Featuring fluffy, buttery slice-and-bake biscuits alongside juicy ripe strawberries with brandy and lightly sweetened whipped cream, this special dessert has all the elements of a decadent treat! Perfect for an afternoon tea party, these flavorful biscuits are sure to be a hit with any crowd. Plus, they're quick and easy to make, no fussing around in the kitchen! Try your hand at whipping up some Brandied Strawberry Shortcake Biscuits today for an unforgettable finish to your next gathering.
What Makes These Brandied Strawberry Shortcake Biscuits so Delicious?
Brandied Strawberry Shortcake Biscuits offer a delicious twist on traditional shortcakes. Made with light and fluffy buttermilk biscuits, these are "made-from-scratch" desserts you don't want to miss! But what really sets this biscuit apart from the rest is the added hint of cognac in combination with the fresh strawberries. A little added sweetness and complexity boost the flavor of this classic dessert, making it one of the most irresistibly delicious treats around! Treat your family or guests to a delightful surprise at your next celebration or gathering by serving Brandied Strawberry Shortcake Biscuits – they won't be disappointed!
Brandied Strawberry Shortcake Biscuits
If you want to try this Brandied Strawberry Shortcake Biscuits Recipe, share your photo and experience with us. In addition, let us know what you think in the comments below by using #bestbakingtip and #brandiedstrawberryshortcakebiscuits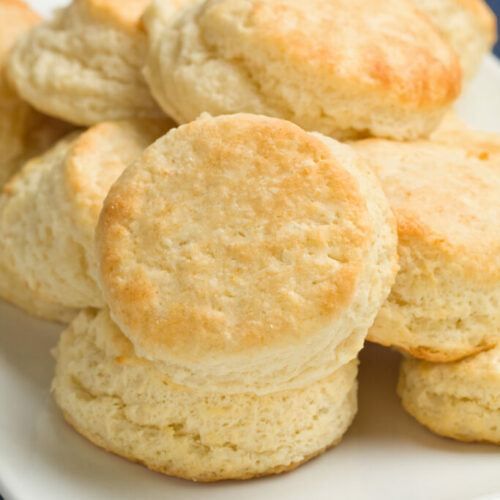 Easy Buttermilk Biscuits Recipe
Biscuits are classic Southern comfort food that are both easy to make and delicious. This easy buttermilk biscuits recipe is simple and straightforward, but the end result is fluffy, tender biscuits that your family will love. So go ahead and give it a try – you won't be disappointed!
Ingredients
Let's gather the ingredients!
2 ½

cups

all-purpose flour

2

tbsp

baking powder

1

tbsp

granulated sugar

1

tsp

kosher salt

½

cup

unsalted butter

very cold, plus more for brushing

1

cup

buttermilk

cold
Instructions
Let's Begin!
Preheat oven to 400°F. Line a baking sheet with parchment paper.

In a large bowl, whisk together the flour, baking powder, sugar, and salt.

Using a box grater, grate the butter over the flour mixture then quickly toss and rub the butter with your hands to incorporate.

Make a well in the middle of the dough then pour the cold buttermilk in the center. Stir until just beginning to come together, then pour out onto a lightly floured work surface.

Bring the dough together into a rectangle, about an inch thick. Fold the dough into thirds.

Using a rolling pin, gently pat back into a 1-inch thick rectangle, and repeat the folding process two more times. Work fast so the butter does not melt.

Once dough is folded three times, roll into a 1-inch thick rectangle again. Using a 2.5-inch round cookie cutter, quickly press down to cut the biscuits.

Place the cut dough on the prepared baking sheet, about half an inch apart.

Brush tops with melted butter, then bake for 20 minutes until golden brown and flaky.

Serve warm, enjoy with family and friends!
Brandied Strawberry Shortcake Biscuits
Let's take a delicious break from our day-to-day routine and whip up something special - brandied strawberry shortcake biscuits! Soft, tender biscuits are infused with luscious brandy then sandwiched together with freshly macerated strawberries, velvety whipped cream, and a hint of lemon zest to truly make these little indulgences stand out. Treat yourself or your loved ones to this decadent dessert that the whole family can enjoy - no baking skills required!
Ingredients
Let's gather the ingredients!
10

buttermilk biscuits

freshly baked

4

cups

strawberries

trimmed and quartered

½

cup

granulated sugar

¼

cup

cognac

or other brandy

2

cups

heavy whipping cream

2

tbsp

granulated sugar

½

tsp

vanilla extract

2

tbsp

malted milk powder
Instructions
Brandied Strawberries
Mash one-fourth of the strawberries with the back of a fork in a bowl.

Stir in the remaining strawberries together with the sugar and cognac.

Cover and refrigerate for at least 30 minutes and up to 2 hours.
Whipped Cream
In a large bowl, beat the cream, sugar, vanilla, and malted milk powder with an electric mixer on medium speed for 2 minutes or until soft peaks form.
Let's Assemble!
Cut the biscuits horizontally in half, then top the bottom half with strawberries and whipped cream, dividing evenly.

Place back the top half of the biscuit, then if preferred, a light dusting of powdered sugar on top.

Serve immediately, and enjoy with family and friends!
Nutrition
Calories:
305
kcal
Carbohydrates:
29
g
Protein:
3
g
Fat:
19
g
Saturated Fat:
10
g
Polyunsaturated Fat:
2
g
Monounsaturated Fat:
6
g
Cholesterol:
45
mg
Sodium:
269
mg
Potassium:
179
mg
Fiber:
1
g
Sugar:
15
g
Vitamin A:
591
IU
Vitamin C:
28
mg
Calcium:
50
mg
Iron:
1
mg
Must-Read Articles
Below are the must-read articles about baking. You will enjoy them reading as they are full of information and helpful tips. Read them and share your thoughts.
3. Dark Chocolate Dessert Hummus
4. Poached Rhubarb with Granola and Yogurt
5. Baked Apples with Nuts and Raisins
To Wrap It All Up
In the end, what matters most is how much you enjoy your homemade brandied strawberry shortcake biscuits. Whether you used a store-bought biscuit mix or made them from scratch, these delectable treats should be a family favorite. If you want to add something extra special to your recipe, try mixing in some fresh lemon juice into the glaze for an additional citrusy twist. However, if you chose to enjoy these scrumptious snacks, make sure it's with people you love, and just like the biscuits, savor every moment. With nothing else left to say but Bon appetite!
Connect With Us
If you've tried this Brandied Strawberry Shortcake Biscuits Recipe, please don't forget to leave a rating on the recipe card. In addition, Take a ? and tag us on our social media accounts: Facebook, Twitter, Instagram, and Pinterest. For more baking recipes make sure you subscribed to our weekly newsletter. ?
Read More
Chocolate Strawberry Cheesecakes