==================
Affiliate Statement
Best Baking Tips is supported by our audience. When you purchase through one of our links, we may earn a small affiliate commission.  As an Amazon Associate I earn from qualifying purchases. Your cost is not affected.
==================
Irish Oat Flapjacks
Rolling oats are used in Irish Oat Flapjacks. Just plain rolled oats. When baked, they become much crunchier and maintain their texture. The recipe is very simple and straightforward. The first step is to combine the golden syrup, butter, and sugar. When finished, stir in the oats. Place this on a baking sheet and bake for 25-30 minutes, till golden brown.
What Exactly Is a Flapjack?
Flapjack is a baked bar that is also referred to as a cereal bar, oat bar, slice, or muesli bar. Oatmeal, brown sugar,  butter, and golden syrup are common ingredients.
In Ireland and the United Kingdom, it is known as Flapjack. Muesli bars are also known as cereal bars in other countries. A flapjack is also known as a pancake within US and Canada.
Irish Oat Flapjack Varieties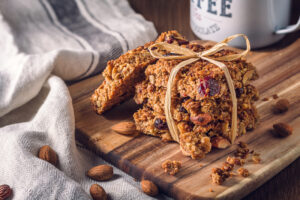 You can add your favorite seeds and nuts. Almonds, sultanas, hazelnuts, pistachios, cranberries, and raisins go well.
Pumpkin seeds, chia seeds, flax seeds, and sunflower seeds can also be added. Whole chocolate chips can be added if you like some cocoa powder.
Golden Syrup Substitute
I understand that not everyone has on-hand golden syrup. If you want to substitute it, use maple syrup or honey or maple syrup. Treacle or molasses can also be substituted, but they have a rich flavor.
If you still want more oats or nuts recipes you might consider this;
By making this recipe, you'll have a decadent Irish Oat Flapjack on your table on St. Patrick's Day.
Try Our Irish Oat Flapjacks:
Irish Oat Flapjacks
Irish Oat Flapjacks are perfect treats for St. Patrick's Day. They are made with on-hand ingredients and are easy to make.
Ingredients
3.5

cups

oats

3/4

cups

butter

plus extra for greasing

5/8

cups

brown sugar

6-7

tbsp

maple syrup
Instructions
Preheat the oven to 180°F.

In a small saucepan, melt the sugar, maple syrup, and butter till the sugar dissolves. Stir it into the rolled oat blends.

Fill the prepared tin halfway with the mixture and press it down firmly.

Cook till golden brown. Allow the tin to cool completely on a cooling rack. Cut the excess on the edges.

Once the mixture is cool and firm, drizzle them to dark chocolate and scatter it evenly across the surface.

Add seeds, nuts, or rolled oats, if desired.
Please leave a comment below and rate the recipe on the recipe card if you make these Irish Oat Flapjacks.
In addition, please tag us in your photos on our social media pages as well. I love seeing your recreations!
READ MORE:
Butterhorn Rolls Recipe- Golden and Delicious!