==================
Affiliate Statement
Best Baking Tips is supported by our audience. When you purchase through one of our links, we may earn a small affiliate commission.  As an Amazon Associate I earn from qualifying purchases. Your cost is not affected.
==================
Get ready for a treat! This Mixed Berry Pavlova Cake is the perfect summer dessert and totally worth the effort. Spiked with tart flavor from fresh berries, it's sweet, light, and fluffy; melt-in-your-mouth meringue on top of creamy whipped cream. Every bite takes you to pastry paradise – and even better, if you follow our directions your masterpiece can be ready in no time! Plus, this cake gives off an amazing presentation that will have everyone at your next get-together oohing and ahhing! So give it a try today – you won't regret it!
Mixed Berry Pavlova Cake: Light, Airy, and Fruity!
An exquisite dessert to end your dinner party with a bang, the Mixed Berry Pavlova Cake is a show-stopping treat. Made with a crisp meringue shell, this luscious cake is a mouth-watering combination of lemon zest, soft cream, and tangy berries.
The cake is baked perfectly golden, giving it that irresistible crunchy bite that complements the creamy, fluffy center. Delicious and sophisticated, Mixed Berry Pavlova Cake is sure to be the highlight of your next special meal. Get creative and layer up for an impressive presentation – with bright tart raspberries, plump blueberries, and sweet strawberries. For an extra special touch, scatter crunchy cacao nibs or chopped macadamia nuts over the top – either way, you'll be sure to amaze throughout dinner and dessert!
Best Baking Tips; Ingredient Tips!
Making a Mixed Berry Pavlova Cake requires a few helpful ingredient tips to ensure its decadent, light, and fluffy meringue exterior. Egg whites need to be at room temperature in order for them to whip into the stiff peaks desired for such a dessert. Incorporating lemon zest into the egg whites adds flavor as well as helps with keeping the meringue moist. Lastly, don't forget about the fresh berries like raspberries, strawberries, and blueberries that ultimately garnish this luscious cake. Use these helpful tips when crafting your own delicious Mixed Berry Pavlova Cake today!
Mixed Berry Pavlova Cake
If you want to try this Mixed Berry Pavlova Cake Recipe, share your photo and experience with us. In addition, let us know what you think in the comments below by using #bestbakingtip and #mixedberrypavlovacake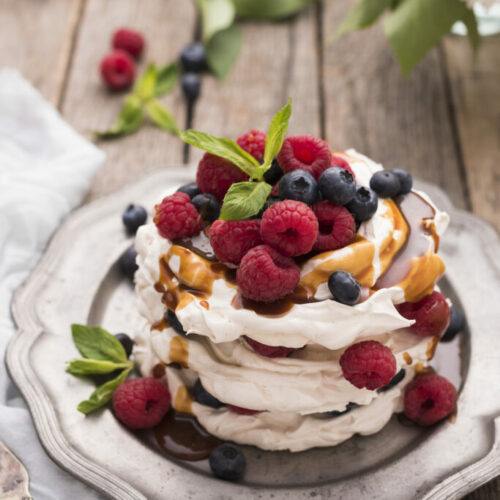 Mixed Berry Pavlova Cake
An absolute showstopper that everyone is sure to love - this lush meringue affair encloses a dreamy whipped cream center surrounded by an abundance of fresh berries. What's not to love? It's sure to be a crowd-pleaser and has all the flavors you'd expect during summertime: tart, tangy yet sweet – perfect for any special occasion or just as an afternoon treat! Let's get baking!
Ingredients
Let's gather the ingredients!
Meringue
6

large

egg whites

1½

cups

granulated sugar

½

tsp

kosher salt

2

tsp

vanilla extract

1

tsp

lemon zest
Whipped Cream and Berries
3

cups

heavy cream

cold

½

cup

confectioner's sugar

2

tsp

vanilla extract

2

cups

strawberries *quartered

or raspberries

2

cups

blueberries
Instructions
Let's Begin!
Preheat oven to 275°F. Line two large baking sheets with parchment paper. Cut out 3 8-inch rounds of parchment paper, then place two rounds on one baking sheet, then one on the other. Set Aside
Meringue
Place the egg whites, sugar, and salt into a clean, dry bowl of your electric stand mixer and place over a pot of simmering water, creating a double boiler.

Whisk the mixture constantly over a low flame for a few minutes until the granulated sugar is dissolved and the mixture is warm to the touch.

Transfer the bowl to a machine fitted with a wire whip attachment and whip on high speed until you have a glossy meringue with stiff peaks. Add the vanilla extract and lemon zest, then whisk very briefly just to incorporate.

Spread the meringue evenly into the 3 prepared circles with a spatula, then bake for 50-60 minutes, or until the meringues are dry and crisp on the outside and the edges can be lifted off the sheets.

Let the layers cool completely and firm up some more before assembling.
Assembly
Beat the heavy cream, confectioner's sugar, and vanilla extract with a wire whisk, then whip for a few minutes until you get soft peaks.

Place the thickest meringue layer on the cake board or serving platter so it can hold the weight of the other layers. Spread ⅓ of the whipped cream over the meringue. Sprinkle the berries on top of the cream.

Place the second thickest layer on top and spread with cream and fruit again.

Place the last layer on top, spread with the final ⅓ of the cream, and top with a generous layer of berries.

Refrigerate until ready to serve.

Enjoy with family and friends!
Nutrition
Calories:
399
kcal
Carbohydrates:
45
g
Protein:
5
g
Fat:
26
g
Saturated Fat:
16
g
Polyunsaturated Fat:
1
g
Monounsaturated Fat:
7
g
Cholesterol:
81
mg
Sodium:
169
mg
Potassium:
170
mg
Fiber:
1
g
Sugar:
37
g
Vitamin A:
1069
IU
Vitamin C:
20
mg
Calcium:
56
mg
Iron:
0.3
mg
Must-Read Articles
Below are the must-read articles about baking. You will enjoy them reading as they are full of information and helpful tips. Read them and share your thoughts.
To Wrap It All Up
Mixed Berry Pavlova Cake is a delicious dessert that is sure to satisfy. While the meringue base may seem intimidating at first, it is surprisingly easy to master with some light practice and a few useful tips. The luscious cream and sweet berries make for an elegant combination that will stand out on any dinner table. For those who are real cakery enthusiasts, don't miss the chance to experiment with different types of berries and toppings until you find your perfect recipe.
Whether you're entertaining guests or simply looking for something special to indulge yourself, this cake is sure to hit the spot! As always, should you have any questions regarding the steps outlined in this post or if you ever feel like sharing your creations with us – let us know what you think!
Connect With Us
If you've tried this Mixed Berry Pavlova Cake Recipe, please don't forget to leave a rating on the recipe card. In addition, Take a ? and tag us on our social media accounts: Facebook, Twitter, Instagram, and Pinterest. For more baking recipes make sure you subscribed to our weekly newsletter. ?
Read More
Peppermint Meringue Cookies Recipe